Protesters returned to the streets of Baltimore on Saturday, a day after the city's top prosecutor announced charges against six police officers over the death in police custody of Freddie Gray.
On Friday night, with national guard troops patrolling the city and a curfew in effect, Baltimore was largely quiet. The calm stood in contrast to rioting and looting that broke out in the aftermath of Gray's funeral, almost a week before.
Gray died a week after he was arrested on 12 April, then handcuffed and shackled in the back of a police van without a seatbelt. The announcement by state attorney Marilyn Mosby on Friday that officers will face charges over the incident, ranging from depraved heart murder to involuntary manslaughter, eased tensions in the city and prompted celebrations among many of its residents.
Gray's family also called for peaceful demonstrations, his stepfather Richard Shipley saying: "We ask that whoever comes to our city, a city that we love, comes in peace. If you are not coming in peace, then please don't come at all."
On Saturday afternoon, large crowds marched calmly to city hall, where organizers expected several hundred people to attend an extended "victory rally". By early afternoon, around 2,000 people had gathered in the spring sunshine as a DJ played Public Enemy's Fight the Power on a huge sound system erected on the lawn.
Speakers ranged from reverends to young organizers to the mothers and fathers of people killed by police. Intermittently, calls were made for people to "use your cellphone, film the police".
"We need a conviction," said Marion Gray-Hopkins, the mother of Gary Hopkins, a college student who was killed by police 1999. "This is a national issue, this is not a Baltimore issue …
"Black does matter. We are killed disproportionately to any other race in these United States of America."
Detia Adams, a 30-year-old from the Gilmor Homes, the housing project where Gray was arrested, brought her three-year-old son Kahlil. He was wearing a baseball cap with the words "Justice 4 Freddie" emblazoned on the front.
"It's great that everyone is coming together," Adams said. "I just hope for no more burning or rioting."

She told the Guardian the looting and rioting had left the already impoverished neighborhood with even fewer resources. "Now everything's worse. Things we need in the neighborhood are burned and gone."
Catherine Pugh, a Maryland state senator who has been present at many of the protests since a citywide 10pm curfew was brought into effect following the rioting, addressed the assembled crowd.
"We know that police reform is on the way," she said. "And I have said that … this is a moment in which we can begin to elevate the conversation about race and race relations in this country."

The loudest cheers came when the senator paid tribute to Mosby. "Let's give a real shout out to Marilyn Mosby," she said, "who's shown America how we go about this process."

"Trust her!" Pugh shouted three times, "to continue to move the ball of justice forward."

Other speakers included 20-year-old Kwame Rose, who gained the national spotlight after he entered into an altercation with Fox News reporter Geraldo Rivera, which was caught on video.
"When Freddie Gray was in the back of that van, for four stops, they didn't hear him, did they?" Rose said on Saturday. "When we were protesting before peacefully, did they hear our voices? How many marches did we have before Saturday, before Monday? Did they hear our voices?
"But see America didn't care until it started affecting things they profit from, right? So when that CVS [drugstore] got burned down, what were we saying? Were we saying let's just light a fire? Let's just burn down whole communities? Or were we saying let's get you out of our communities? Let's burn something that benefits them."
Rose also paid tribute to Mosby. "When she made that announcement, she stood alone," he said.
One of the main organisers of the rally, Malik Shabazz, told the crowd: "Buckle your seatbelts. I'm the man they love to hate."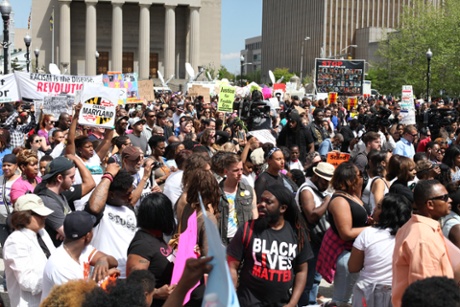 Shabazz has been criticized by many in Baltimore as an "interloper" and "troublemaker". The 48-year-old president of the Washington-based Black Lawyers for Justice is a controversial figure who has made appearances at protests over police brutality in Ferguson, Missouri, and Charleston, South Carolina.
"Don't believe the lies of the mainstream press," he said. "I'm not some bourgeois lawyer. I'm a man down with the people."

He added: "I have no intent for us to have an incident today. We will gather in peace and we will leave in peace."
Despite the marked change in atmosphere after the announcement of charges, police made more than 50 arrests on Friday night, with some protesters refusing to abide by the 10pm curfew.

One marcher, AC Castro, told the Guardian on Saturday two of his fellow members of the Industrial Workers of the World, which joined its May Day demonstration with the protests around the country, had been arrested for breaking the curfew.
One was "roughed up" by police and had "black and blue marks along the side of his face", Castro said, adding that both protesters had been released.
Castro said the arrests had been in sharp contrast with the rest of the day, when he had seen Baltimore filled with "a totally jubilant atmosphere".
"People were celebrating the charges," he said.
The 10pm curfew remained in effect for Saturday night.