A lava flow snaking through Hawaii's Big Island was on the verge of consuming homes on Tuesday.

The lava from Kilauea volcano advanced to within 70 yards of a rental house in Pahoa village, putting residents on evacuation alert.
A farmhouse and a half-dozen other homes stood in its path a bit further back. The black molten flow overran a mostly Buddhist cemetery on Sunday. It is 110 yards wide and chest-high in places.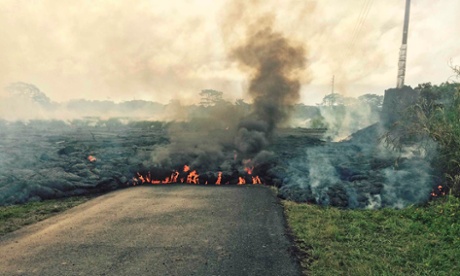 "Everybody, including myself, is quite nervous," one resident, Rod Macland, told KITV-TV. "We don't know. We can't see the future. The flow does what the flow does."
The lava first seeped out of the continuously erupting volcano on 27 June, paused in late September, then resumed in fits and starts, crawling at about eight to 15 yards per hour towards Pahoa, on its way to the ocean.
The former sugar plantation has a population of about 800 people and comprises small shops, homes and farmsteads.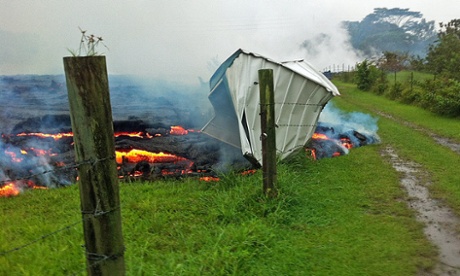 County of Hawaii authorities have placed residents in its path on alert for possible evacuation, and issued smoke advisories for downwind areas.
Emergency crews are building temporary access roads and trying to protect Highway 130 lest 8,000 people in Puna district become trapped.
Hawaii county's civil defense director Darryl Oliveira said people will be allowed to watch the lava destroy their homes to "provide for a means of closure", the Associated Press reported. "You can only imagine the frustration as well as … despair they're going through," he said.