An attorney for the city of Detroit told a federal bankruptcy judge on Monday that the city's survival depended on the approval of a plan that would right decades of irresponsible city management, a tumbling economy and systemic population loss.

"Detroit needs all the relief it can get from this court," Bruce Bennett told judge Steven Rhodes. If Rhodes does not approve the city's plan next week, Bennett said Detroit's "situation would get worse and worse. No one would come here."
The closing arguments in what is the largest chapter 9 bankruptcy case for a US municipality stretched all day Monday, representing the final phase of an often contentious saga for Detroit involving financial creditors and pension groups representing public workers clamoring before Rhodes to say they are owed more than originally stipulated in the city exit plan.
On Monday, Bennett said the city had reached deals with most of its major creditors, particularly the final holdouts: Financial Guaranty Insurance Co and Syncora Guarantee Inc. One aspect of the latest wrangling involves making the creditors allies in the city's future. FGIC, for example, was guaranteed the lead role in a redevelopment of a downtown riverfront site, which was formerly the home of the Joe Lewis Arena. The bond insurer says it is owed about $1bn by the city.
Syncora reached a deal with the city last month that allowed it to recover 14% of the more than $333m it says it is owed.
"Every party gets exactly what they need, not a penny more. That's how these things have a tendency to work," Bennett said.
Rhodes must decide this week if the city's so-called "plan of adjustment" is feasible and fair to all parties. He said he will announce his ruling 2pm on 7 November.
Michael Sweet, a municipal bankruptcy attorney in San Francisco, said that creditors likely agreed to the late-hour deals because they realized it was the best they would get when assessed against the millions of dollars they would potentially spend in court pursuing numerous appeals that could stretch for years.
"They're getting certainty and certainty goes a long way in the financial markets and certainty goes a long way for folks looking at the long horizon," he said. "They're also not having to worry about further uncertainty when it comes to the cost of litigation."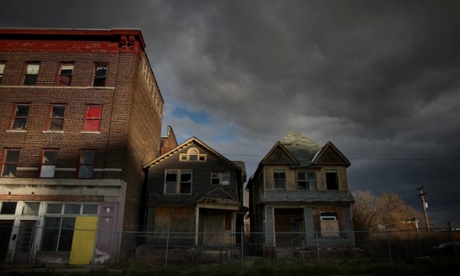 When Michigan's Republican governor Rick Snyder dispatched an emergency financial team to Detroit early last year, the city faced insurmountable odds: a staggering $18bn in debt and mounting long-term obligations analysts said it had no chance of meeting due to a shrinking tax base over decades. The city filed for protections in July 2013 and today says it plans to shed $7bn of its debt while spending $1.7bn over the next decade to improve public services and safety, as well as blight removal.
Key to that plan is the $800m the city wants to leverage from the Detroit Institute of Art; a combination of state and private foundation money will be used to ensure the city-owned art collection is not sold. Rhodes still has the power to force Detroit to liquidate the art to pay retiree benefits, but he has not yet indicated he will do so.
Rhodes also heard from attorneys who represented retiree association groups and the state of Michigan. They too advocated that the court approve the city plan. Objections from the daylong session only came from individuals who said the city violated provisions in the state constitution that guaranteed pension agreements remain intact.
John Quinn told Rhodes the plan was "defective" according to the law. "They have a fiduciary obligation to pay me my pension," he said.
Bennett noted in his argument Monday the speed – just over 15 months – in which it took for Detroit to reach deals with all parties and file its plan to Rhodes. Stockton, California, and San Bernardino, California, the two other municipalities in the US that are in federal bankruptcy court, both filed for protections a year earlier than Detroit and neither cases are resolved.
Bennett told Rhodes the city hopes to exit from bankruptcy before the Thanksgiving holiday on 27 November.