Here's a sure sign the Democrats are on course to win in Michigan: they're actually letting Barack Obama campaign there today. The president flies to Detroit on Saturday afternoon for a rally on behalf of fellow Democrat Gary Peters, who appears to be winning his Senate race by about 13 points. But the party calculates that Obama, who won the state in 2012 by almost 10 points, can also give a boost to gubernatorial candidate Mark Schauer, who is in a very tight race with incumbent Rick Snyder. More from the president in a moment. But first here's today's...
Indispensable number
Lucky 13. That's the number of House seats Republicans would need to pick up to claim their largest majority in the chamber since 1928 and attendant bragging rights, the Guardian's Paul Lewis writes. A net gain of eight seats would give Republicans the same majority they had in 2010 – a high-water mark for the party in recent years. The current split is 233-199, with three vacant seats.
Here's more on the state of the race …
In his weekly radio address on Saturday morning, Obama pressed the case that the economy was improving. "We've got to harness this momentum and make the right choices so that everyone who works hard can get ahead," Obama said. The president's approval rating is languishing at 41, according to Gallup daily tracking figures.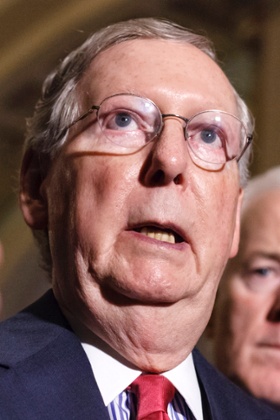 Representation by women in the US legislature may end up declining from already low levels after the midterms, the Guardian's Alberto Nardelli and Paul Lewis write over on the data blog:
Only 18.3% of members of the House of Representatives are women. (Senate representation is only slightly higher, at 20%.) [By comparison], among the 28 member states of the European Union, the average proportion of women in lower legislative chambers is 26.9%.
You know those must-reads that aren't, really? For connoisseurs of American politics in all its magnificent grotesquery, this isn't one of them. The Guardian US interactive team has produced a tool to show how candidates cooperate with outside groups to make campaign ads without actually "coordinating", which is illegal. Here's the trick: campaigns upload a bunch of B-roll of the candidate looking electable to YouTube or elsewhere. And then if a nonprofit with millions to spend from undisclosed donors wants to use some of that footage to cut a few ads, well, who's stopping them?
One neat thing about the tool is you can scan through outside ads for, say, Mitch McConnell, and see at a glance which parts came from the campaign's footage dump. Enjoy.
Taxing democracy
Some Republican legislatures have already succeeded in passing laws making it more difficult – and more expensive – for disenfranchised citizens to vote. At least in the 1960s after you paid to vote they gave you a receipt:
'Ello Guv'nor
The latest analysis from FiveThirtyEight lists 12 gubernatorial races running within five points, with half of those races leaning ever so slightly to the Democratic side and one, in Alaska, seeming to lean toward the independent, although polling in Alaska is notoriously sketchy. There are 36 gubernatorial elections this year, with Republicans currently holding a 29-21 advantage nationwide.
Trail running
Hillary Clinton is in Kentucky today, a day after her husband paid a second visit on behalf of Democratic Senate candidate Alison Lundergan Grimes. They have their work cut out for them: a final Bluegrass Poll of the race has found incumbent Mitch McConnell with a 5-point lead.
If you love polls
YouGov has drawn fresh samples in seven close races and published the results last night. Visit YouGov for the full results, or just skim this summation while nodding:
Whither the Senate
It continues to look good for the GOP. The average probability of Republicans taking the Senate, according to three top elections modellers (538, theNew York Times and HuffPost Pollster), is 68.8% – holding steady from a day earlier.
In other news …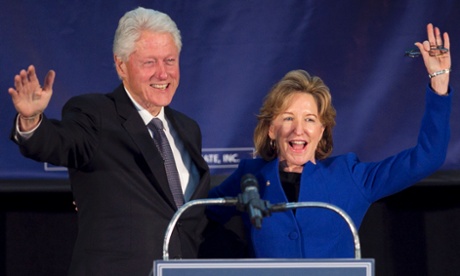 Georgia, North Carolina midterms: Race matters – AP
Early voting totals suggest reasons for optimism for Sen. Kay Hagan in North Carolina and Democratic hopeful Michelle Nunn in Georgia, as returns from both states show strong turnout in majority Democratic, heavily African-American urban counties. Nunn must offset Republican advantages among whites by having blacks account for about 30 percent of the ballots cast, while Hagan needs the African-American share of the total vote to approach 23 percent, the level it reached in 2008 and 2012.
Republicans take big lead in Colorado early voting – AP
A report from the Secretary of State on Friday showed 104,000 more Republicans than Democrats had cast their ballots as the state conducts its first major mail-in election.

The figure amounts to a 9-percentage point lead with more than half the expected ballots already cast.

[...]

Chris Harris, a spokesman for Udall, said Democrats expect the Republican advantage to dwindle significantly by Election Day.

"As we've seen historically, Democrats and younger unaffiliated voters vote late," Harris said. "Things are tracking with our expectations."
Absentee voting increases in Wisconsin, but which candidate will benefit is unclear – AP
Voters had cast 240,308 absentee ballots by mail or in-person as of early Friday morning, according to state election officials. That's about 10,000 more absentee ballots than voters cast in the November 2010 gubernatorial election that saw Walker defeat Democrat Tom Barrett.

The absentee turnout tends to favor Walker…
Illinois Dems dig deep to keep governor's office – AP
Quinn, the often-folksy Chicago Democrat who has campaigned with his 97-year-old mother, notes that he also was counted out four years ago but eked out a win. Known as a tireless campaigner, he's held his own despite the state's many crises and assures voters he will power through to Election Day.

"I ain't sleepin'," he says.
Kansas tax collections short as election nears – AP
Kansas reported Friday that its October tax collections fell short of expectations, potentially complicating conservative Republican Gov. Sam Brownback's efforts to win a tough a re-election race after successfully pushing for large personal income tax cuts.

The Department of Revenue report that the state collected $23 million less than anticipated this month, a shortfall of 5.2 percent, came days before Tuesday's election.
Armed guard on CDC elevator with Obama was not a convicted felon, as first reported – Washington Post
An armed security guard who was on an elevator with President Obama had not been convicted of a felony, as previously reported, according to two people briefed on the incident.
The bright side
Is your daily consumption of political news harming your ability to love your country? Have some extra sleep! Daylight savings time ends overnight, meaning it will be an hour later when you wake up at your usual time Sunday morning than it would have been if the USA did not use DST, like some countries. Sweet dreams.