It's sink or swim time for live music in Sunderland. The city is set to lose its one purpose built music venue when Independent shuts its doors for the final time in January. The demolition of the music venue and nightclub was ordered by the Homes and Communities Agency back in May and its closure represents a watershed moment for a city so fiercely protective of its musical institutions and heritage.
Independent's owner, Paul Smiles, has been given the go ahead to move into a new home, a former designer clothing store and hair salon, situated directly opposite the current premises on Holmeside; a move which offers an opportunity to take stock of personal and citywide ambition for Paul and Independent's lead promoter Ben Wall.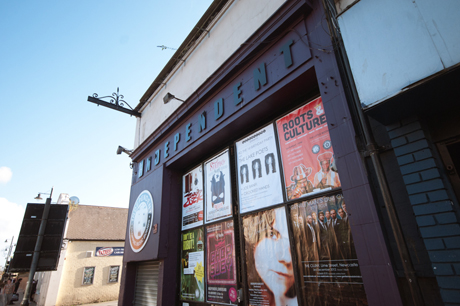 There are few jobs more stressful than that of music promoter; long hours spent in loud surroundings, juggling petulant musicians, awkward agents and rowdy punters. Large sums of money are gambled with a slim chance of a return on your investments; it's a job that requires patience and a music promoter needs time to unwind, something that Ben does better than most. We find him sprawled out on a battered leather sofa in the cosy surroundings of the soon to be demolished Independent; he's tired and hungover but full of philosophical insights.
"I think you can either do two-hundred or a thousand," he says, taking a long glug of his piping hot coffee before continuing:
We're going to do two-hundred and offer bands the whole package in terms of hospitality with new dressing rooms, a green room, showers and kitchenette.

At the moment, Independent can hold four hundred gig-goers in the larger of its two rooms; so does the decrease in capacity at the new premises signify a paring back of Sunderland's musical ambitions? Ben doesn't think so. He says:
There's not much point in having anything in between [two-hundred and a thousand] in Sunderland. Manchester, Birmingham or Leeds but not Sunderland. We think a two-hundred capacity venue will make for a better show.

That's a point Ben is keen to stress about the new 'Independent 2': improved surroundings leading to a better experience for gig-goers and bands alike.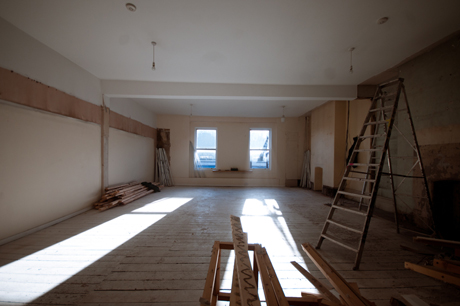 The wonderfully airy first floor music room looks out over busy Holmeside; it already feels light and inviting despite its stripped-back interior; the high ceilings are certain to provide gorgeous complementary acoustics for the new and improved PA system on order. This is under no circumstances a regression, or a sidestep for a music city fighting to have its voice heard; this is years of perseverance in the live music and cultural sectors beginning to bear fruit, righting a ship that was perhaps being blown off course in the quest for quantity over quality.
So what exactly can this newly=streamlined music venue do for local music? Ben sucks air through his teeth before carefully beginning:
There are loads of different issues surrounding local music. We want to support the local music scene in absolutely any way we can. What is the local music scene? That's a totally different question and I won't delve into that for now.

It's no secret that stakeholders in Sunderland's musical community are often at loggerheads trying to define the term 'scene' and apply it to what is occurring in the city at present. However, it's threatening times like these when musicians, promoters, venue managers and fans bond together better than ever and Ben hopes a fresh start for Independent will also prove to be an indirect shot in the arm for live music on the whole:
Bands record videos here, photo shoots and there's space here now for local musicians to practice; we'll carry all that into the new premises. In terms of how we can help the local music scene; I don't honestly know what more we can do than just be there. We can provide the bricks and mortar but that's all we can do: music scenes are organic, they happen when they happen. We can't seed them, we can water them I suppose but we can't plant them.

The frost is certainly due to thaw on the fertile ground that sprouted Field Music, The Futureheads and Frankie & the Heartstrings in recent history but even with an influx of new bands, does Sunderland have a big enough core of gig-going individuals to support Independent 2? Ben would like to think so although he wants to see more involvement from the city's eighteen-thousand university students:
We have a huge body of students here who could be supporting the cultural sector but they aren't, they're here to drink because they seem to think that's all Sunderland is good for. I didn't go to Manchester [University] because they did the best chemistry degree around; I went there because it's Manchester. I would have taken a degree in pottery if it meant being there. That's what Sunderland lacks and needs so badly, that influx of students who want music and culture. It has to become a symbiotic relationship: if Sunderland were a more vibrant and happening place, we would attract more students of that type.

Enter Independent's owner, Paul, dressed head to toe in protective clothing which is in turn covered in a thick film of dust. He's project=managing the refurbishment of the new venue himself and provides a more sobering, technical take on the transition which contrasts with Ben's wild eyed idealism.
We're going to take it back to brick and keep things as basic as possible, because at the end of the day it's not about what the place looks like, it's about the entertainment on offer.

Those themes of practicality, taking substance over style and correcting past errors resurface again as Paul remarks of the eight-hundred capacity nightclub being moulded downstairs:
We're making the ground floor multi-functional. We're not going to build a stage, we're going to bring in production as and when it's needed because the amount of requests we've had from bands over the years is ridiculous: different stage heights, different stage sizes, all sorts.

This is no scaling back, just common sense and proper planning finally being applied.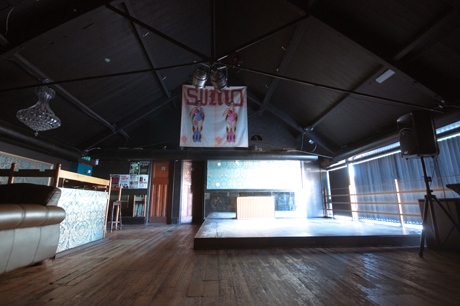 Just before we leave the venue, possibly for the final time before it is reduced to rubble; Paul nods toward his new premises and says:
There are a lot of things that haven't happened right here, but over the road, there's a chance to make things perfect.

You can tell this isn't just a change of bricks and mortar for Paul and Ben; this is the wind of change blowing down Holmeside and across the whole city bringing with it renewed passion combined with business guile. We'll know a lot more about the direction live music is heading when the venue opens in March but until then, we can maybe relax a bit, knowing the future is in these hands.

Dan Carson is a music promoter from Sunderland who also co-edits the local music blog, The Abacus Post.