Anyone who has dreaded the arrival of belly dancers after dinner at a resort hotel, or been ferried to a "cultural" show, will be familiar with the sinking feeling that you will probably be asked to join in. What is supposed to be an insight into a different culture tends to end up vaguely embarrassing for everyone. Prince Charles knows this more than most.
Earlier this week, he joined members of the Saudi royal family in a traditional sword dance, called an ardha, at a stadium in Riyadh. Also performed at weddings, an ardha consists of a group of a men with swords – for it is all men, of course – dancing in formation to the beat of drummers, while a poet sings. Hundreds of men and boys took part in the ceremony to mark the Janadriyah festival, a state-sponsored annual event in celebration of Saudi heritage.
Quicker than you can say "human rights record", Charles was dressed in a long garment known as a thobe, with a keffiyeh on his head and a sword in his hand, looking distinctly awkward.
It isn't the first time Charles has displayed his diplomacy skills via the medium of dance. It isn't even the first time he has danced with a blade; he held a sword and "shuffled" (as press reports had it) in time to music during a visit to Oman last year. Like a grey-suited Michael Flatley, Charles has taken his moves on many a tour. In 2012 he performed a jive at an agricultural show in New Zealand. He has danced the samba in Brazil, and to jazz in Zanzibar. And his moves at a Guernsey fete to celebrate the Queen's diamond jubilee became a meme in its own right.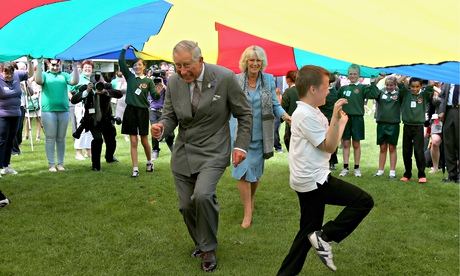 If it's ever tiresome for the prince, his dance partners always seem wildly grateful. Dancing with Charles, the actor Emma Thompson told Vanity Fair last year, is "better than sex". If the image of our future monarch prancing around in Riyadh with a sword isn't imprinted on your brain forever, that thought probably will be.