Privacy has never been "an absolute right", according to the new director of GCHQ, who has used his first public intervention since taking over at the helm of Britain's surveillance agency to accuse US technology companies of becoming "the command and control networks of choice" for terrorists.
Robert Hannigan said a new generation of freely available technology has helped groups like Islamic State (Isis) to hide from the security services and accuses major tech firms of being "in denial", going further than his predecessor in seeking to claim that the leaks of Edward Snowden have aided terror networks.
GCHQ and sister agencies including MI5 cannot tackle those challenges without greater support from the private sector, "including the largest US technology companies which dominate the web", Hannigan argued in an opinion piece written for the Financial Times just days into his new job.
Arguing that GCHQ needed to enter into the debate about privacy, Hannigan said: "I think we have a good story to tell. We need to show how we are accountable for the data we use to protect people, just as the private sector is increasingly under pressure to show how it filters and sells its customers' data.
"GCHQ is happy to be part of a mature debate on privacy in the digital age. But privacy has never been an absolute right and the debate about this should not become a reason for postponing urgent and difficult decisions."
Hannigan, who was born in Gloucestershire, not far from GCHQ's base, has advised the prime minister on counter-terrorism, intelligence and security policy, goes on to take aim at the role of major technology companies. A senior Foreign Office official, Hannigan succeeded Sir Iain Lobban at the Cheltenham-based surveillance agency.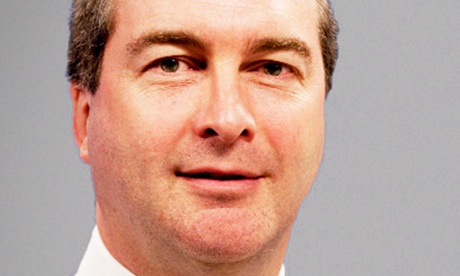 While not naming any company in particular, the GCHQ director writes: "To those of us who have to tackle the depressing end of human behaviour on the internet, it can seem that some technology companies are in denial about its misuse.
"I suspect most ordinary users of the internet are ahead of them: they have strong views on the ethics of companies, whether on taxation, child protection or privacy; they do not want the media platforms they use with their friends and families to facilitate murder or child abuse."
Hannigan asserts that the members of the public "know" the internet grew out of the values of western democracy and insists that customers of the technology firms he criticises would be "comfortable with a better, more sustainable relationship between the agencies and the technology companies."
Heading towards the 25th anniversary of the creation of the world wide web, he calls for a "new deal" between democratic governments and the technology companies in the area of protecting citizens.
"It should be a deal rooted in the democratic values we share. That means addressing some uncomfortable truths. Better to do it now than in the aftermath of greater violence."
In the same piece, Hannigan says Isis differs from its predecessors in the security of its communications, presenting an even greater challenge to the security services.
He writes: "Terrorists have always found ways of hiding their operations. But today mobile technology and smartphones have increased the options available exponentially.
"Techniques for encrypting messages or making them anonymous which were once the preserve of the most sophisticated criminals or nation states now come as standard. These are supplemented by freely available programs and apps adding extra layers of security, many of them proudly advertising that they are 'Snowden approved'. There is no doubt that young foreign fighters have learnt and benefited from the leaks of the past two years."
Among the advocates of privacy protection who reacted to Hannigan's comments, the deputy director of Privacy International, Eric King, said: "It's disappointing to see GCHQ's new director refer to the internet – the greatest tool for innovation, access to education and communication humankind has ever known – as a command-and-control network for terrorists."
King added: "Before he condemns the efforts of companies to protect the privacy of their users, perhaps he should reflect on why there has been so much criticism of GCHQ in the aftermath of the Snowden revelations. GCHQ's dirty games – forcing companies to handover their customers' data under secret orders, then secretly tapping the private fibre optic cables between the same companies' data centres anyway – have lost GCHQ the trust of the public, and of the companies who services we use. Robert Hannigan is right, GCHQ does need to enter the public debate about privacy - but attacking the internet isn't the right way to do it."
The Electronic Frontier Foundation (EFF) meanwhile rejected the notion that an agreement between companies and governments was needed.
Jillian York, director of international free expression at EFF said: "A special "deal" between governments and companies isn't necessary - law enforcement can conduct open source intelligence on publicly-posted content on social networks, and can already place legal requests with respect to users. Allowing governments special access to private content is not only a violation of privacy, it may also serve to drive terrorists underground, making the job of law enforcement even more difficult."
Welcoming Hannigan's participation in the public debate, the Labour Party MP Tom Watson said it helped to map out where we should draw the line on privacy and helps the same agencies "to rebuild their legitimacy post-Snowden".
But he added: "I hope they do not confuse the use of public propaganda through social media by extremists with the use of the covert communications. It is illogical to say that because Isis use Twitter, all our metadata should be collected without warrant."
Hannigan's comments come after the director of the FBI, James Comey, called for "a regulatory or legislative fix" for technology companies' expanding use of encryption to protect user privacy.
Reacting last month to the introduction of strong default encryption by Apple and Google on their latest mobile operating systems, Comey said "the post-Snowden pendulum has swung too far in one direction - in a direction of fear and mistrust."
"Justice may be denied because of a locked phone or an encrypted hard drive," said Comey. Without a compromise, "homicide cases could be stalled, suspects could walk free, and child exploitation victims might not be identified or recovered."