As the countdown to the Commonwealth Games begins, figures reveal that the city hosting the world's elite athletes has the worst life expectancy rates in Britain.
A report from the Office for National Statistics says the average life expectancy of babies born in the city, over the period from 2010 to 2012, was 72.6 years for boys and 78.5 years for girls – eight to 10 years behind the best performing areas in the UK.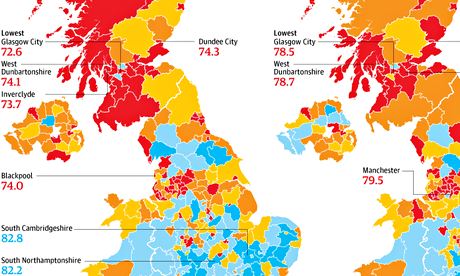 In Glasgow, just 75% of the boys born there and 85% of the girls would reach their 65th birthday. Boys born in east Dorset, the best performing area for males, could expect to live until 83, and girls who were born in the Purbeck area of Dorset could expect to reach 86.6 years.
The ONS said: "Life expectancy at birth has been used as a measure of the health status of the population since the 1840s. Glasgow city was consistently ranked as the area with the lowest male and female life expectancy between 2006-08 and 2010-12."
Overall, life expectancy at birth in the UK increased between 2006-8 and 2010-12 from 77.5 to 78.9 years for males, and 81.7 to 82.7 years for females. It was higher in England than elsewhere in the UK .
No local areas in Scotland and Wales, and only one in Northern Ireland, featured in the top fifth of those regions with the highest life expectancy at birth.
All of the UK, however, had had increases in life expectancy over time to varying extents. The greatest increase since 2002 was in Scotland for males (3.3 years), and in England for females (2.4 years).
The statistics also showed that the difference between the sexes was narrowing. The ONS said that life expectancy at 65 – the current average number of years lived – was highest for men in Harrow, north-west London, where they could expect to live for a further 20.9 years, compared to only 14.9 years for men living in Glasgow.
For women aged 65, life expectancy was highest in Camden, north London, with a further 23.8 years, and lowest in Glasgow, with 18.3 years.
Several studies have shown that decreasing life expectancy is associated with increasing deprivation.
Jackie Baillie, a Labour MSP and shadow cabinet member for health, wellbeing and cities strategy, said: "We have known for many years that there is a significant difference in life expectancy between the richest and poorest parts of Scotland. These new figures reinforce how much work is needed to tackle these outcomes.
"We need to redouble our efforts and have a clear focus on tackling inequality, whether it is in health, housing, education or wealth; all contribute to these figures.
"We can't continue to slash budgets dedicated to tackling poverty and inequality and expect a miraculous reversal of these figures.
"The Scottish government must now allocate its budget in a way that supports the poorest in our communities."