Naya Rivera: a gleeful cheerleader for all those coming out | Rebecca Nicholson
Her groundbreaking character Santana Lopez was truly inspirational
Rebecca Nicholson
18, Jul, 2020 @3:30 PM
Glee actor Naya Rivera found dead after drowning in California lake
The actor went missing on Wednesday at Lake Piru, where her four-year-old son was found on a boat
Hannah J Davies
13, Jul, 2020 @9:21 PM
School's out: how Glee made fans stop believin'
Ryan Murphy's high-school creation was bizarre and brilliant, until its leads graduated and self-awareness exited stage left
Isobel Lewis
21, Oct, 2019 @11:59 AM
The cast of TV drama Pose: 'Without us Madonna would be nothing'
Ryan Murphy's hit show brings New York's ballroom culture to the BBC. Its stars talk about taking the subculture to the masses
Malcolm Mackenzie
20, Apr, 2019 @6:00 AM
American success story: how Ryan Murphy became Netflix's $300m man
The creator and executive producer of shows such as Glee and American Horror Story will be moving to Netflix in a landmark deal. But what turned him into the most powerful show-runner in Hollywood?
Jake Nevins
16, Feb, 2018 @11:30 AM
Glee actor Mark Salling found dead aged 35
Salling, who played Puck on the hit series, was facing up to seven years in prison after pleading guilty to possession of child abuse images
Jake Nevins
30, Jan, 2018 @7:03 PM
Glee actor Mark Salling faces up to seven years in prison over child abuse images
The actor, 35, has pleaded guilty to charges of possession of child abuse images and in a plea deal will receive prison time and 20 years of supervised release
Jake Nevins
04, Oct, 2017 @9:12 PM
Why I love… Amber Riley
Sure, she has screen presence, but it's her voice that is truly arresting
Bim Adewunmi
06, May, 2017 @5:00 AM
Did Ellen's coming out episode really change TV for LGBT characters?
It's 20 years on from the landmark network TV moment that saw Ellen DeGeneres tell 42 million viewers that she's gay, but progress remains slow
Rebecca Nicholson
28, Apr, 2017 @12:00 PM
20th Century Fox loses appeal in Glee trademark row
British comedy business the Glee Club had claimed victory in 2014 after a judge ruled its trademark had been infringed
Ben Quinn and agencies
08, Feb, 2016 @7:57 PM
Glee actor Mark Salling's arrest has me wondering, where are the cast now?
It's safe to say that most of the stars of Glee are living normal, happy lives, and Salling – who is facing child abuse images charges – is an unfortunate exception
Dave Schilling
30, Dec, 2015 @9:46 PM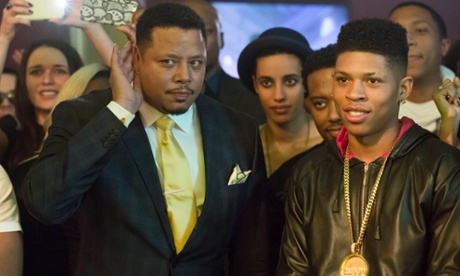 Empire's season two sound needs to look beyond industry cliche
The Fox drama has followed in Glee's footsteps by creating a ratings hit that also climbs the charts, but as it embraces mainstream sounds and artists in season two will it dilute a winning formula?
Christina Lee in Atlanta
23, Sep, 2015 @3:27 PM