The Many Saints of Newark review – Sopranos prequel keeps it in the family
Michael Gandolfini is goosebump-inducing as the young Tony Soprano, amid race riots and antagonism towards rival African American gangs
Peter Bradshaw
21, Sep, 2021 @4:00 PM
West Side Story, a Sopranos prequel and Bond: the best films to see in autumn 2021
Spielberg revamps Bernstein, young Tony is lured by the mob, Phyllida Lloyd tackles spousal abuse, Top Gun returns – and Daniel Craig calls time on 007 with bangs galore
Peter Bradshaw
24, Aug, 2021 @7:00 AM
The Sopranos: David Chase and mobster Johnny Sack on how they made a TV classic
'Fox turned down the first draft because I didn't put any murders in it. People watch mob shows because they like to see murders'
Interviews by Rich Pelley
08, Mar, 2021 @3:12 PM
War epics, airmen and young Sopranos: essential films for 2020
Daniel Craig bows out as Bond, the original Ghostbusters make a slimy return and Dickens gets a razor-sharp reboot – our preview of movie highlights this year
Peter Bradshaw
01, Jan, 2020 @9:00 AM
The most exciting movies of 2020 – crime films and thrillers
The Sopranos gets a prequel, Jennifer Lawrence jumps back into action and Jim Broadbent stars as a real-life cabbie who stole a Goya in next year's buzziest crime capers and thrillers
Guardian Film
26, Dec, 2019 @10:50 AM
David Chase on why he wrote The Sopranos: 'I needed help. I needed therapy'
As his mobster-in-therapy masterpiece is named the best TV of the century, its creator says he was just thrashing out his own issues with his domineering, suffocating mother
Emma Brockes
16, Sep, 2019 @5:00 AM
Hate the Sopranos finale? You're not a real fan of the series | Lanre Bakare
The series ending is a masterstroke – don't quibble with greatness, says culture editor and writer Lanre Bakare
Lanre Bakare
15, Jan, 2019 @9:00 AM
The Sopranos, glorious pioneer of today's TV golden age | Dorian Lynskey
Twenty years ago, the depiction of a grisly murder helped spark a cultural big bang that still reverberates on our screens
Dorian Lynskey
13, Jan, 2019 @5:59 AM
David Chase to make Sopranos prequel movie The Many Saints of Newark
The Emmy-winning creator of the hit crime drama series will revive the franchise with a 60s-set film featuring some familiar characters
Guardian staff
08, Mar, 2018 @5:37 PM
Can you imagine a world without Star Wars, Harry Potter or Oasis?
Or how about The Sopranos as a film? From The Apprentice to Seinfeld, our writers have a tinker with pop cultural history
Tim Jonze, Gwilym Mumford, Hannah Jane Parkinson, Steve Rose, Jack Seale & Graeme Virtue
10, Dec, 2016 @9:00 AM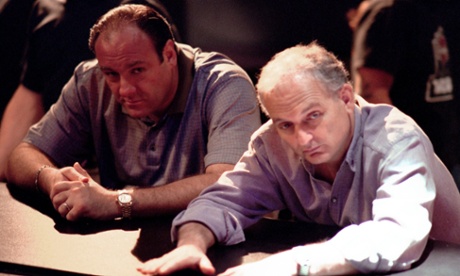 David Chase finally explains The Sopranos ending – or does he?
News: For a few short hours, it appeared as if Chase had revealed the fate of Tony Soprano – but of course, solving this seven-year-old mystery was never going to be so simple
Guardian TV
28, Aug, 2014 @9:13 AM

Spoiler alert: Downton Abbey is a waste of America's precious TV binge time | Martin Pengelly
Martin Pengelly: In the opinion of one transplanted Brit, it's a soap opera as inept as any other - and it doesn't live up to the new US standard
Martin Pengelly
23, Feb, 2014 @12:00 PM