The great escapists
It was towards the end of filming the third series of The Mighty Boosh that all hell broke loose.
"Alarm bells were ringing, 300 people were running around in silver foil coats," recalls Julian Barratt, wincing at the memory.
"There were lots of kids crying," adds his partner in comedy Noel Fielding. "It was like … Armageddon."
Whoever thought it a good idea to keep The Mighty Boosh holed up in a hotel in Surrey for two solid months of filming clearly didn't know them all that well. Bored out of their brain and full of devilish plans, they soon set to work drinking the bar dry, setting off the hotel fire alarms and – worst of all – defacing the hotel's prized possessions: sculptures of rabbits made out of lard. Tim Jonze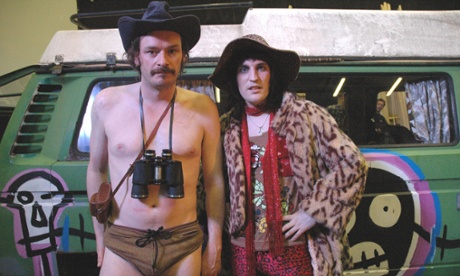 A documentary following three people with body dysmorphic disorder – a mental condition whose victims become obsessed with their own imagined ugliness. Convinced passers-by are recoiling in horror, they resort to hiding indoors, or behind a mask of makeup. In reality, they look fine: in their heads, they'd make the Elephant Man sick up through the hole in his bag. Charlie Brooker
Bafta winner Georgina Campbell: 'We wanted it to be truthful and real'
"What a drama queen!" Georgina Campbell says when reminded of how she reacted to her Bafta success on Sunday night. Her open-mouthed astonishment was caught on camera and now her friends are bombarding her with screengrabs of her face "looking like a fish".
It's a few days since the 22-year-old was named best actress at the TV awards and her excitement is still infectious. Pitted against a trio of critically acclaimed household names – Sheridan Smith, Sarah Lancashire and Keeley Hawes – Campbell didn't expect to win. She hadn't even bothered to write an acceptance speech. Homa Khaleeli
On their first night, the young goons (the youngest is 17, the oldest 25) blow their entire budget on a handful of yoghurts, a ton of alcohol and an air freshener. Then they stay up late drinking, despite being told they have to get up at 5.30am to spend the following day working in a hotel to see how they cope in the "real world". Once at work, they drop things, bump into walls, swear, throw tantrums and unwittingly insult their fellow colleagues. Being young, three of the girls look almost identical, so it's helpful when one of them (Rachel) bursts into tears, smearing mascara all over her face so you can tell her apart from the others. Charlie Brooker
"Don't Tell the Bride, now halfway through its seventh series, is less shy about its intentions. It occasionally features gay couples, but usually the format is this: a man is given £12,000 to execute his fiancee's dream wedding. She is not allowed to be involved in any of the planning, so at the end of three weeks, he presents her with a ceremony and party entirely of his own design. Its structure is shamelessly geared towards conflict: as the groom goes ahead with booking the venue and buying the dress, the bride picks out her dream outfit, hoping that he'll get it right, knowing he almost certainly won't." Rebecca Nicholson
Farewell and good riddance to Little Britain
There was the gormless teen mum Vicky Pollard; that creepy care-in-the-community skit, with Andy Pipkin, the guy in the wheelchair. And then there were dragged-up "women" so hideous they made Hinge and Bracket resemble glamour models. The relative charm of Daffyd, "the only gay in the village", just wasn't enough to save what was one of the most sneering, cold-hearted, nasty little shows ever seen on British TV. Barbara Ellen
How Being Human bit back to become BBC3's biggest hit
In eerie Bon Temps, Louisiana, Bill Compton skulks around segregation metaphors as all around him indulge in high-end intercourse. In dusty Phoenix, Arizona, Edward Cullen pouts demurely, romancing chaste schoolgirls like an undead Jonas Brother. And in, um, Bristol, John Mitchell … well, he works as a hospital porter, eats cornflakes and looks out for hapless housemates, George the werewolf and Annie the ghost. He is not your average vampire. Mitchell, played by Dublin-born Aidan Turner (recently seen in Desperate Romantics), is the star of Being Human, the breakout Brit fantasy drama and BBC3's most successful production ever. A first world war soldier who agreed to conversion in exchange for the lives of his men, he's now a recovering addict, having relinquished the bloodsucking (eternal) life and living as quiet a life as he can. Dan Martin
Look who's laughing now
At a certain point last year, life became a little surreal for Ruth Jones and James Corden. One afternoon Jones was in a cafe in Cardiff with a friend when her mobile rang. It was a withheld number but she answered anyway. And there was Peter Kay, a stranger till that moment, enthusing about Gavin & Stacey, and explaining how he'd been busy buying DVDs of the first series to distribute among friends. The same day, Corden also got a call from Kay. "He said Gavin & Stacey was the show he enjoyed watching most since The Royle Family. I love Peter Kay. I'd just read his book on holiday. I didn't know what to say."
Jones and Corden talk about Kay as though they exist on a quite different plane to the phenomenally successful comedian. And yet in the past six months Gavin & Stacey, the series they co-created, co-wrote and co-starred in, has not only won in three categories at the British Comedy Awards but also impressively beat Hot Fuzz to Best Comedy at the South Bank Show Awards. It seems that the simplest, most traditional story – boy meets girl and marries her – still has currency. Especially when told with great charm, warmth and enough of a dark side deftly to avoid sentimentality. Amy Raphael
Make Me a Baby is introduced by its host, Dr Simon Atkins, as "an insight into babymaking in the 21st century". It is actually more akin to one of those brightly coloured Usborne books middle-class children used to read in the 80s on the facts of life. On a fantastically cheap and unforgivingly lit set, 100 couples who have all been trying for a baby for the last month (and in some cases much longer) mill about and are periodically made to stand on giant red spots to show the world whether they are thin, average or lardbucket, non-, light or rehab-worthy drinkers and smokers, or bonking once a (mid-cycle) month, the recommended two to three times a week or so often that they are already edging out of shot to see if they can cram a quick one in before Dr Atkins arrives with another questionnaire. Lucy Mangan
Jack Thorne's writing is sharper than it was on Skins and the performances (especially Daniel Kaluuya as Nerdy Boy's wisecracking, Star Wars-quoting foil) are lovely. That said, I refuse to contemplate life in the aftermath of Thorne's looming apocalypse. If we're going to have to skin rabbits like Ray Mears and fist fight zombies for berries, kill me now. Stuart Jeffries
Things that telly should be for: sitting in front of while wearing mismatching pyjamas and no bra, but not in a sexy way; shouting at when people on it are idiots; filling a room with a welcoming, if not entirely worldly, glow as darkness falls and the only point of light is Ross wooing Rachel in a bone-strewn museum some time in the early 90s. Things that telly should not be for: shaming women into wiping off their make-up and/or putting down their drinks. Here is a genre of entertainment TV that relies on the misogynist impulse to control female sexuality; here is the new series of Snog, Marry, Avoid. Eva Wiseman
A message to whoever at the BBC is responsible for pulling Pulling. You are a selfish, boring, obnoxious, unfunny dog turd of a human being; you smell stale, and you have dust where your soul should be. OK, so I nicked the words from the show, Donna is addressing her new sort-of boyfriend, but she could well be talking about you. I am. You bowed to public pressure (or lack of it, low viewing figures), instead of doing what you must have known to be right. You are the Pontius Pilate of the BBC. And by killing off Pulling in its prime, you may well have ensured its mythical status; certainly, it will be remembered long after you, whoever you are … Sam Wollaston
The cast of Two Pints … suffers not because of what it is (although it doesn't help that it is uniformly attractive, and heavily culled from Hollyoaks), rather what it is not. There's no respectable-name standup comedian, no veteran of acclaimed absurdist sketch shows. There's just Will Mellor. Pete Cashmore
Nighty Night was attended by no hype at all. The people who watched the first episode did so, I imagine, by accident, but anyone who watched the second will have done so because someone told them to – it's absolutely jaw-dropping. Truly and arrestingly original, in the way it mucked with the sitcom genre, with the nature and interplay of characterisation and, most of all, the way it dispensed entirely with any consideration of taste. Zoe Williams