If anyone still needed convincing that television has a stupefying impact on the public at large, it's worth examining the case of doctor and BBC presenter Michael Mosley's episode of Horizon on the 5:2 diet, broadcast in August last year. Before he came along with a scientific take on the apparent health effects of fasting for two days out of every week, this was just another in a long list of fads.
Of course, it is now ubiquitous – Hugh Fearnley-Whittingstall, Benedict Cumberbatch and Beyoncé, among many others, are confirmed fans and this newspaper even tried to persuade readers to "5:2" their entire lives. In his programme, Mosley travelled across America, spoke to scientists and successfully tried the diet himself. It sparked a wild amount of attention for a programme that was largely about hormones, genetics and careful scientific trials with promising, but uncertain, results. Several million people tuned in on the night and, almost a year later, newspaper articles and diet tips are still coming thick and fast. Hundreds of thousands bought copies of the book, The Fast Diet, written by Mosley with journalist Mimi Spencer, sending it shooting to the top of Amazon's sales charts (it's at No 3 as I write).
This isn't what you expect from a science programme. We're used to science and natural history programmes being about shock and awe – Wonders of the Solar System, Operation Iceberg and anything with David Attenborough, of course – but information you can go out and do something with, almost immediately? This is the realm of consumer, reality or entertainment shows. You don't expect it from Horizon, a venerable, often mind-boggling, science strand.
But real life is, of course, what science is all about. Mosley's episode on intermittent fasting, and his earlier one about high-intensity exercise, were programmes that brought scientific thinking to its rightful place in the centre of our thinking as a society. This was science not as marvel and spectacle but as a toolkit, a way of answering questions we have about our bodies and the world around us. You want answers on how to live longer, better, fitter? Rational, scientific thinking is your best bet, so it makes sense to find out how to apply it to your life.
Bringing science to bear on the messiness of real-life decisions has become an important tool in the TV producers' toolkit. Critics scoffed at the relative scientific simplicity of Britain's Favourite Supermarket Foods but it's fair to say that it subtly brought rational thinking to a huge audience, many of whom have not thought about their world in that way. Science on TV (and in newspapers, for that matter) shouldn't only be about bringing audiences to where the scientists are, but also bringing scientists to where the audience is already. That thought was at the back of our minds when making Dara O Briain's Science Club, where the aim is to collide hard science with conversation. You often hear scientists argue that scientific ideas should be at the heart of culture, part of our everyday conversations in the way we discuss sport, books or music. One way to do that is to drag their ideas to the attention of interested, but not necessarily expert, people and let them toss these ideas around and ask questions that, perhaps, experts don't think too much about. Creating an emotional connection with scientific ideas and giving non-scientists some ownership of them is the route to increased cultural penetration.
Not everyone needs or wants to spend time on the detailed story of how cosmologists worked out how big the universe is (infinite, since you ask) or what might be at the centre of a black hole (no-one really knows). If you do want fireworks, though, science TV hasn't been shy in recent years of reaching ever further on that front too. Witness Supersized Earth, a BBC1 programme that gave us a glimpse of the impact of urbanisation on the planet via its most enormous engineering projects. Bridges, skyscrapers, entire cities sprang up in unexpected places in state-of-the-art graphics you'd expect to see in a Hollywood film. Most gasp-worthy for me were the aerial shots of the highest and longest bridges in the world – in China – and also the recreation of the London Underground as it would be if it was an equivalent height above ground, where tube trains trundled along, 10 storeys high in the air, passing through tunnels carved out in the skyscrapers.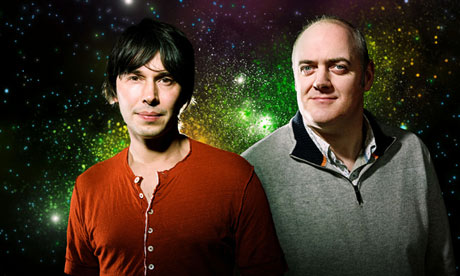 We had been spoiled before, of course, with Brian Cox's epic "Wonders" series in which the pop star-turned-physicist stood atop mountains while helicopters swirled overhead. The year the first series was broadcast, 2010, was a jewel in the crown for the BBC in terms of science TV, and no doubt a big contributing factor to science (sort-of) becoming cool.
The professor has become a regular on our screens at the start of every year, presenting Stargazing Live alongside O Briain, a programme that has nurtured a growing interest across Britain for amateur astronomy. In last autumn's Wonders of Life, the physicist gave us his take on biology and it was, to be honest, a curious thing for science on TV: it was hard. Very hard. The physicist said there was tension with his producersabout whether to keep in the difficult stuff, and it showed. You don't often (ever?) hear TV programmes get to discussing proton gradients within the first half hour, just as viewers are settling into the dreamy, cinematic visuals. Cox is now taking the "Wonders" treatment on to telling the story of humans and our (insignificant) place in the cosmos, with a programme called Human Universe.
And if you thought science TV couldn't get more epic or popular, have a look across the pond (not somewhere I'd regularly suggest if you want to see well-made scientific TV) to the sequel to the classic Carl Sagan series, Cosmos. Despite the utterly bonkers trailer, excitement is already building for the programme's release next year. Starring the accomplished American astronomer and broadcaster Neil deGrasse Tyson, it promises to use the latest film and digital animation technology to take up the story of science where Sagan left off in the late 1980s. And there is a lot to update since Sagan: genetics, nanotechnology, the web, the Higgs boson, synthetic biology. I won't lie to you: I can't wait.
• Alok Jha is a Guardian science correspondent and a presenter on the BBC2 programme, Dara O Briain's Science Club, which returns for its second series at 8pm tonight.