When Nadiya Hussain won this year's Great British Bake Off and gave her tearful winning speech, more than 100 people were surrounding her in the field in Berkshire where the show is filmed. The memorable scene, broadcast last Wednesday, was shot more than three months earlier at the end of June, which raises the question: how did the contestants and all those involved in the filming that day manage to keep her triumph secret for so long?
By their very nature, programmes such as Bake Off would be extremely difficult to broadcast live – episodes would end up being several hours long because of the length of the bakes. So they have to be recorded, and the BBC and independent production companies that make its big shows, such as Bake Off, The Apprentice and MasterChef go to great lengths to keep things secret.
Sometimes there are slip-ups – early in the series, Mary Berry accidentally gave away the name of one contestant who was leaving during an interview on Radio 2. And the issue of secrecy came to the fore as never before during this year's Bake Off as, on the day before the final, bookmakers Ladbrokes claimed that dozens of new gambling accounts with links to BBC staff had been opened just before the latest series launched in August. However, it is understood that Ladbrokes has yet to provide any evidence of this allegation and BBC executives are now considering writing to the Association of British Bookmakers to question the practice of taking bets on recorded programmes.
Hussain said on the day after the final was shown that she, her husband and her three young children had been forced to become "compulsive liars" in previous weeks. "It has been months of lying and making sure I don't give it away. It's been such a big secret to keep," she told Chris Evans on his BBC Radio 2 breakfast show last Thursday. "I might need therapy to try and fix myself."
Nancy Birtwhistle, who won Bake Off last year, explained how this pressure to keep the show's secrets could be agonising. Even the fact that she was on the show had to be kept quiet until its screening started. "The trouble was I couldn't share my secret with anyone outside the family. I remember fizzing inside, wanting to shout, 'Guess what? I am on Bake Off!' but I couldn't," she said. "I remember friends popping round for a cuppa and they said, 'Every time we come – you're baking!' I said I just loved it but they told me later they really thought I had some cooking-related OCD problem, which was being made worse since I had retired."
Birtwhistle said that keeping the secret had been fine during July because nothing had yet been broadcast, but from August, when the show hits the screens, it had become increasingly difficult.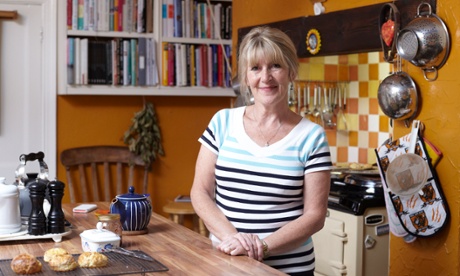 "I remember being so very guarded, being careful not to refer to a week beyond that which we were in. I must have made quite a good job of it because a reporter from our local Look North went back to the office and told the others that she thought I would soon be out, as I didn't seem to have much to say or know much about the show!"
Birtwhistle's family, including her grandchildren, attended the final and saw her win: "My grandson, who was 11 at the time and due to start senior school, was my main worry. It would do his street cred an awful lot of good if he could start his year in September stating his granny had won Bake Off. I had to warn him that if the secret leaked out then the police would come and ask him questions. It was the only way and bless him he didn't say a word."
Another BBC1 culinary hit, MasterChef, also goes to great lengths to keep things under wraps. Creative director Karen Ross explained: "We have a very small closed set the last few days when we film. There's only a small group of people who know [the actual winner] and a very small group of people in the edit obviously and then we deliver the show to the BBC the day it's broadcast.
"The people who do know you, just have a very strong sense of trust: we're all in it together. Only one or two people know at the BBC too. You just keep it as tight a circle as possible."
Contestants are encouraged to tell only one person about their involvement in the show and to call the production team if they are "going mad not being able to talk to someone" about their secret.
Ross often has people asking her who has won, even her own friends and family, but never reveals a thing: "I think the first thing for the crew when it finally comes out and that name's announced is we can just find ourselves jumping up and down shouting the name because we haven't been able to say it!"
Although people involved sign confidentiality agreements, even when MasterChef has to film in busy restaurants, members of the public do not reveal on social media who has made the cut. "They just don't want to be the person who gives it away," said Ross. "They don't want to be that one person who spoils it for everyone … it's really amazing. People invest in the whole story."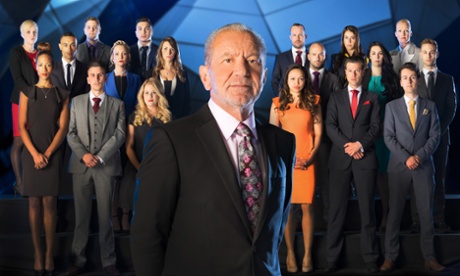 The Apprentice goes even further. The shooting of the latest series took place in the spring but to ensure nobody knows who has won, two endings were filmed.
Lord Sugar decided who he wanted to be his business partner on the final day of filming. However, two different outcomes were shot. Sugar will only tell the production team and the finalists who has actually won on the day before the final programme is broadcast.
But as James Herring, whose company Taylor Herring looks after the publicity for the show pointed out, even if the winner's name did leak out, most media outlets would choose not to publish it.
"In 10 years of The Apprentice our experience is that it's not in the interest of mainstream publications to spoil upcoming episodes," he said. He said it was a similar picture on social media where it is "self-policing" as "on the rare occasion someone has blurted out" they had taken down the offending post after being vilified by other social media users.
For the BBC, the key issue is about keeping the trust of viewers. "There is a sort of unspoken honour not to reveal who leaves the shows each week and who the ultimate winners are," said Mark Linsey, BBC deputy director of television and controller of entertainment commissioning.
And with almost 14 million viewers tuning in to see the Bake Off final, the proof of the effort the programme-makers put in is clearly in the pudding.