Brassy, fearless and totally comfortable barging into men's toilets, DI Vivienne Deering romps through the Mancunian landscape of No Offence like a steamroller in red high heels. You wouldn't mess with her. Joanna Scanlan describes Deering as someone with "an unorthodox approach to righting wrongs. She's a hardass". Which is quite a world away from her role as clipboard-clutching jobsworth Terri in the Thick Of It.
"It's funny, I can't stand watching myself on TV," she says. "I usually get my husband to tell me how shit I was on a scale of one to 10. This is the first thing I've watched and thought: 'I really am a different person.'"
Today, Scanlan is about to be reunited with her co-stars from No Offence, the upcoming police drama that's written by Shameless creator Paul Abbott. The setting, a genteel London restaurant, is about as far from the gents' bogs as you can get. First to arrive is Elaine Cassidy who plays DC Dinah Kowalska, a do-gooder with a fierce side. Dinah kicks her date (and his crutches) out of a taxi in the very first scene, announcing: "I'd rather have a wank." Next through the door is Alexandra Roach. Best known as Becky from Dennis Kelly's conspiracy drama Utopia, here she plays DS Joy Freers, recently promoted to sergeant despite being a bundle of nerves.
Those minor foibles aside, the trio's characters are all intelligent, crusading cops, cracking cases and busting balls. In the unlikely event that you were in any doubt, let's spell it out: in No Offence, it's the women who are in charge.
"This is the first project I've ever read with three female leads and I wanted to be part of this new wave," says Roach, who comes from a family of police officers and learned how to flash her warrant over FaceTime with her brother. "It's never referred to that we're three women. That's just the way it is." Feminine moments are delivered without apology. "I just used a tampon and I'm not even on," blusters Joy in one scene after her nerves get the better of her.
This is 2015, so isn't it about time that women taking centre stage in a police procedural became the norm? No Offence continues a reassuring recent trend, after the challenging Happy Valley and the more soapy Scott & Bailey. Yet it's bigger and brasher than either of those efforts, taking Abbott's trademark tone into darker places; body organ theft, racist attacks and a serial killer who targets women with Down's syndrome all being part of the plot.
"I was looking up the dates of Juliet Bravo and The Gentle Touch, which came out before these two were even born," says Scanlan, glancing at her co-stars. "They were the first female detective inspectors that appeared on British TV and that was 35 years ago. Yet the reality is, in policing this is perfectly normal. 24 Hours In Police Custody was populated by women. It seems to me that No Offence is only an accurate reflection of reality, but it's ridiculous that television's slower to catch up."
For Roach, who's about to serve up a fresh batch of bubbly milk as Helene in the forthcoming series of Hunderby ("It gets darker," she warns), this role and the chance to work with Abbott were ideal. "Shameless was the box set that got me through drama school," she says. "I practically begged for the part of Joy, then I grappled with her character for weeks and weeks because she's so unlike me. She's panicky and anxious; and unlike the other two, who follow their instincts, she does everything by the book."
There's no doubt that No Offence is a drama, but it does have its funny moments, most of them insult-based. Deering is the sort of woman who, precinct legend has it, once pinned a social worker to the floor and peed on her face. She describes a hapless colleague as someone who "couldn't find a clit with a ladyfuzz search engine".
"The lines have got something chewy about them," says Scanlan. "Other people might laugh at Deering, but she doesn't think she's funny." She definitely is, though, storming through a crime scene, ranting: "They've caught me on a full moon, so they won't know what's hit 'em."
"There are giggles to be had," says Roach, with a smirk. "But there's no mucking about. It's very serious, then all of a sudden someone says something and you're like: 'Should I laugh?'"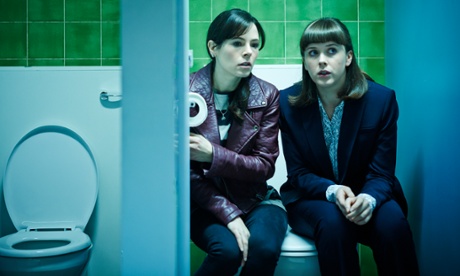 Abbott has described No Offence as "jet black" and it deals with its subjects with dignity. It's undeniably gritty, but as Scanlan notes, "it doesn't look rough at all. It's very easy on the eye."
Filming for six months meant relocating to Manchester and the cast were thrown together in a disused cash and carry. "There was no cleaning that place up," says Roach. There was a real-life murder around the corner in the third week. "I saw Bez canvassing for his political party and he had someone wearing a police uniform with a pig's mask and a baton," laughs Cassidy. "It attracted a very interesting crowd. That's Manchester."
Now that filming has finished, all three have gone off to do different projects. Scanlan's is a "top secret" film role, Cassidy is rehearsing for her part in Deluge at London's Hampstead Theatre, and Roach is filming the prequel to Snow White And The Huntsman in which she'll play a dwarf alongside Sheridan Smith, Nick Frost and Rob Brydon. "I've been doing dwarf training every day," she admits. "They're teaching us how to walk at the moment. Yesterday we just went to the woods and waddled around for hours."
Filming No Offence has left its mark, though. "You know when you've been through a trauma together?" laughs Cassidy. "That's how it felt. "By the last week of filming, everyone was getting hysterical. It was a tough job, filming on so many different locations and covering such dark stories, but it was definitely worth the blood, sweat and tears. Towards the end I was running on empty and couldn't wait to be back at home with my kids, but I still had a smile on my face."
Roach nods. "Usually I'm like: 'Don't tell nan I'm on the telly,'" she says. "But at last I've done something that my family will like."
No Offence starts 5 May, 9pm, Channel 4