Outlander (Amazon Instant Video) | watch
Inside No 9 (BBC2) | iPlayer
The Royals (E!) | watch
Well, this was pretty much your last chance. Last chance to feel any sympathy whatsoever for politicians before the gloves come off for the next six electoral weeks of slime-green whispers, blood-red lies and small, frantic psychodramas that will remind us it's high time for another MPs' pay rise in much the same way it's high time for another Gary Glitter convention.
But sympathy we did feel, if we had any ounce of soul, for the players caught up in Coalition, James Graham's extraordinarily gripping re-engagement of that long week in May 2010 when voters could only wait with a kind of frenetic boredom to find out who was to govern us for the next five years. Andrew Rawnsley, who had already seen it, wrote in this newspaper last week that it "smells highly authentic", and he, prince among informed chroniclers, should know. But it did more than that; it simply reeked of sulphurous credibility. First the black smoke, then the white. Writer Graham has cheerfully admitted some of the most serendipitous lines were tissues of lies, gossamered into being purely by his own imagination. As in: the sly smart Osborne urging Cameron to do the deal, without fretting about history. "People expect us to be ruthless. They'll [the Lib Dems] be seen as traitors." Or Gordon Brown insisting, to an oddly empathetic Peter Mandelson: "I'm not going to leave in the dark."
But no one who watched this can be in any doubt about the essential truths. That, despite his party's overwhelming distaste, Nick Clegg forced through a deal with the Tories with at least some of the very best intentions. That Paddy Ashdown, gagging on every morsel, swayed the day. That Clegg had always planned it thus, due to an inability to work with Gordon Brown. That he basically said so to Brown, in what was depicted here as, and must in truth have been, one of the most traumatic head-on-a-stick political conversations since the time of Thomas Cromwell. That Brown's negotiating team (including two certain chaps called Ed) was woefully underprepared, arrogant even, in its meetings with the Lib-Dem counterparts, and that Mandelson made another rare (if another catastrophically damaging) error of judgment there.
But above all shone through the humanity of the individuals involved. It was almost possible to believe, no matter how much the events of the last half-decade might militate against such ridiculousness, that, for six days that May, they all had the best interests of the country at heart. Except Osborne obviously. And the acting – well, Mark Gatiss could have been born to play Peter Mandelson, if he hadn't first been born to play Mycroft Holmes. Ian Grieve as Brown made one sweat and fret anew for his essential goodness despite being unaccountably labelled damaged goods below the Watford Gap, particularly as he blithely stormed off with "I'm away to see Clegg. I'll repair the damage myself." I physically winced. But Bertie Carvel in particular caught Clegg's complex and tortured credo down to a T. I was on a plane with Mr Nick just before that election, shared a ciggy with him in the sunshine, shared some Big Thoughts, and he's 17 times the man some of you love to so cheaply deride, and this fine drama caught much of that subtlety. Re-watch it before 7 May, and remind yourself that there are human beings at the heart of your drama. 650 of them. And 65 million of them.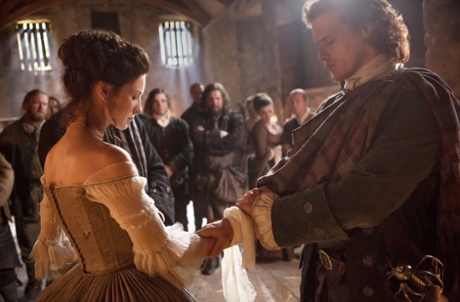 Outlander is a gorgeous piece of drivel. Hailed wrongly as the new Game of Thrones, it hasn't, quite, got the legs. The books it's based on were written by Diana Gabaldon, an Arizonan, who has done an immense amount of research into Scottish history, but not quite enough. It all hangs together superbly well on first sight, though. There's a sexy Irish star in Caitriona Balfe, a ditto Scot in Sam Heughan, and time travel, and the second world war and redcoats, surely settings for two of the most alluringly uniformed bloodbaths in history (the Phoenicians had rubbish garb).
And it has, which is welcomely unusual for normally dimly underimagined time-travel sagas, someone actually using future knowledge to help in the past, rather than some cloth-loin loon chanting woo to save us moderns from skyscrapers or Marmite or books or some such. Claire, Caitriona's character, is "mysteriously swept back in time to 1743" – know how she feels, it's always happily just before a quarter to six in my world – but, rather than freaking out with feminine inevitability, uses her hard-headed knowledge to dig out musket bullets, sterilise them and save a few fine lives. VisitScotland's website has understandably taken a gadzillion extra hits since this was first aired in America last year, and no surprise: in echoes of the 1986 film Highlander, it becomes entirely possible to believe a claymore fight can take place simultaneously between jump-cut locales of a) the Cioch Buttress on the Black Cuillin of Skye; b) the pretty village of Culross; c) a trawler; and d) the Rosslyn Chapel. (I just threw that in for America's Dan Brown fans: the "Rosslyn Chapel" doesn't actually exist.) Gorgeous drivel. I may, and quite energetically, eat my words.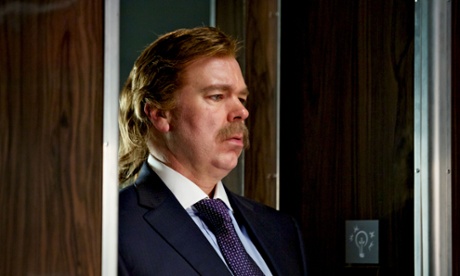 Inside No 9 was a perfect little half-hour of claustrophobic grand guignol, and Reece Shearsmith and Steve Pemberton are the bastard love-children of Alfred Hitchcock and Roald Dahl. A Eurostar six-berth couchette from Paris to Bourg-St-Maurice, a scarily thin, scarily ambitious doctor, a fat farting Kraut, a northern top-bunk couple anticipating their mad daughter's wedding, Jack Whitehall as a spoilt-posh delivering seriously undeliverable lines with entirely believable gusto, an unnerving twist in the tail. Beautifully, beautifully dark, and guiltily funny, and nobody now does it better.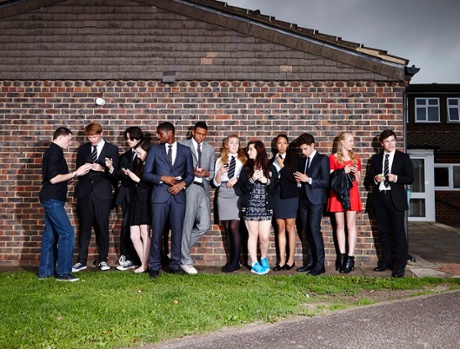 Teens has had a bit of press. The C4 machine is working as well as ever – last week's Trevor Phillips doc won much attention – and I suspect it was hoped that the pre-publicity would accord it similar cojones. But this documentary – despite mention of "friendship groups" – what happened to "friends", whatever happened to teens' famed ability to acronymise, or at least shorten? – was all about a nice group of cloyingly middle-class youngsters. Obsessed with their phones, yes, and I kind of hate that, but: look. There is no other time in life when self-determination – who am I? What do I want to bloody be? – is so tumescent as between the ages of 15 and 19, and the clever ones will get over it. All worked out OK. More worrying are the 35-year-olds, 55-year-olds, similarly angst-ridden. If you haven't gained a life by now, chummy, perhaps time to rethink.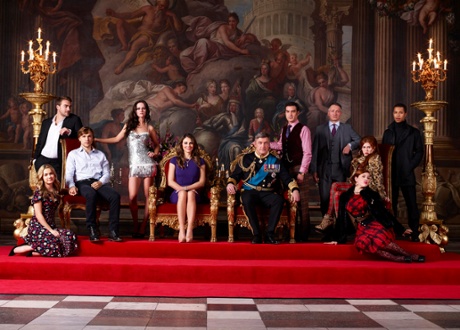 The Royals is a drivelly piece of gorgeousness. It's as if Dynasty, Ben-Hur, Liberace, Jason Statham, Lycra McShimmer, Snob McSnob and a monkey with a typewriter had somehow been invited to write a soap starring Liz Hurley as the "Queen of England". It's truly unpardonable. It's also unstoppable, immense, fun. I particularly loved the sequence when Alexandra Park, as the fabulously slutty Princess Eleanor, who looks the spit of a younger Hurley, marks the death of her older brother, the heir, at a garden party by lighting a spliff, grabbing a champers bottle from the crowd and sashaying along to the soundtrack – Band of Skulls, as if you needed to know – Death by Diamonds and Pearls.