An unknown 65-year-old woman this week became one of the most famous, overnight. Caitlyn Jenner was introduced to the world via an Annie Leibovitz shoot for Vanity Fair and a Twitter account that amassed 1 million followers in four hours – faster than the account launched by the US president, Barack Obama.
It was an extraordinary reaction, a defining moment in a life that has already had more than its fair share of defining moments. Caitlyn is formerly Bruce Jenner, the Olympic hero who found fame, again, as the patriarch of the most successful reality TV family, the Kardashians. "If I was lying on my deathbed and I had kept this secret and never did anything about it," she said, in an interview with Vanity Fair about her transition, "I would be lying there saying, 'You just blew your entire life.'"
In April, in a television interview with Diane Sawyer for ABC, Jenner publicly said for the first time that she identified as a woman. "[Bruce has] lived a lie his whole life about who he is. And I can't do that any longer." This revelation followed months of tabloid speculation about Jenner's changing appearance.
According to the Vanity Fair profile, Jenner underwent facial feminisation surgery in March and had started wearing her hair long and her nails painted. In December 2013, the website TMZ reported that Jenner had had a consultation for a tracheal shave to reduce her Adam's apple. (Jenner told Vanity Fair that she had pleaded with TMZ not to publish the story and had considered suicide because of it.)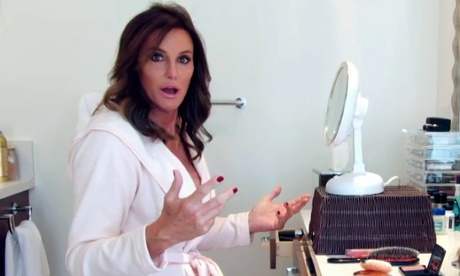 These rumours weren't the first. In the 1980s, Jenner attempted transitioning but did not complete because of her family's reaction and societal attitudes. Thirty years later, however, the clamour of the internet meant the signs of Jenner's transition were becoming harder to ignore.
For many, Jenner is the put-upon father in the reality show Keeping Up with the Kardashians, but older people will remember Jenner as the all-American hero who won the gold medal for decathlon at the Montreal Olympics in 1976 – an event which saw her being called "the greatest athlete in the world". Back then, as now, Jenner's looks were routinely commented on. In a 1976 interview in the wake of her Olympic success, Jenner's agent George Wallach described Jenner as having "the face of Robert Redford and the body of Tarzan".
Jenner grew up in the suburbs of New York City, then Connecticut, the second of four children. Her father, Bill, a tree surgeon, ran the 100m in the 1945 US army Olympics and her mother, Esther, was a stay-at-home mother and secretary. Jenner was a shy, insecure child who struggled at school because of severe dyslexia – not a widely understood condition then. Sport, Jenner wrote in the motivational self-help book, Finding the Champion Within, "was my only redemption".
A football scholarship at Graceland College in Iowa followed, but a knee injury soon ended Jenner's playing career. Recovering from surgery, and determined to continue in sport, Jenner found the different disciplines of the decathlon – which includes sprinting, hurdles, high jump and pole vault – rewarding. In Jenner's first decathlon event in 1970, she came sixth. A year later, she won.
In those days, Jenner's track rival was Rick Wanamaker, now a real estate agent in Iowa. Wanamaker remembers Jenner, whom he first met at track meetings in the late Sixties, as "a regular kind of guy, real serious about sport, real competitive … He was very ambitious. He was out to fulfil the American dream – fame and fortune". Although they were not particularly close off the track, Wanamaker had no hint about how Jenner felt. "You couldn't detect anything. He was about as manly as they got. Macho."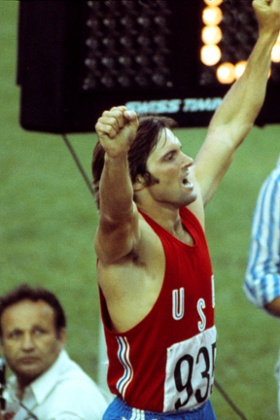 At Jenner's first Olympics in 1972, she came 10th. Shortly afterwards, Jenner married her college girlfriend Chrystie Scott and they moved to California where Jenner could continue her training. Scott was a flight attendant, while Jenner sold insurance and worked for a while was as an estate agent. The couple also had a public profile and in a 1982 newspaper article looking back at Jenner's life they were described as "beloved, much as Prince Charles and Lady Di have managed lately".
For four years, Jenner trained hard. She was determined to win. "If I go out second," she was reported as saying before the 1976 games, "I go out a loser."

Jenner broke the world record, took a victory lap to a stadium-wide, standing ovation and became a star.Advertising campaigns and endorsements followed. Jenner sold everything from cameras to orange juice and appeared on the boxes of Wheaties cereal. Public appearances, sport broadcasting and motivational speaking filled the gap where sports once was. Jenner also had a short-lived acting career and auditioned for the part of Superman.
A rather overblown piece for Sports Illustrated in 1980, headlined Hey Mister Fantasy Man, focused on Jenner as the all-American action hero, with his sports cars, women and ludicrous good looks. "I've made a lot of money and I've learned a lot," said Jenner. "I've worked hard and now I'm playing hard. Look at all these toys. It is kind of a fantasy life, isn't it? But … I'll always have that tremendous feeling of accomplishment, the satisfaction of walking away from that arena and saying, 'Hey, I did it.' And now come the good times."
Jenner's first marriage to Scott ended in 1981, and she soon married Linda Thompson, best known at the time for being one of Elvis Presley's girlfriends, after meeting her at the Playboy mansion.
In the mid-80s, according to a piece Thompson wrote for the Huffington Post earlier this year, Jenner told her that she identified as a woman. It came as a shock: "The Bruce I knew back then was unstudied, affable and seemingly very comfortable in his own skin. So it seemed."
Thompson wrote that they went to therapy together to try to save their marriage, though they separated six months later. Jenner was already considering gender confirmation surgery and they talked about what they would tell their two sons. By then, Jenner had started taking hormones and was undergoing hair removal on her face, although she stopped transitioning in the late 1980s because, as the Vanity Fair profile puts it, "the context of the times made Jenner scared".
By 1990, Jenner wrote in her book, Finding the Champion Within, that she had turned 40 and was living "in a one-bedroom bungalow where the dirty dishes filled the sink and a dried-out Christmas tree from the holidays four months ago sat in a clump beside the door". She had, she wrote, "lost all direction in life … I thought I was really unattractive, so unattractive that I spent thousands of dollars I didn't have on a nose job." She had debts of half a million dollars and just a couple of hundred in the bank, surviving on a few personal appearances. Her gold medal lay forgotten in a sock drawer.
It was meeting Kris Kardashian, she wrote, that turned her life around. They met on a blind date and got married seven months later (they divorced last year). "The issue of how much Bruce Jenner told Kris of his gender-identity issues is a matter of dispute," writes Buzz Bissinger, who spent months with Jenner for the Vanity Fair profile. In her book, Jenner describes Kardashian as her "soulmate" and "mentor". "It was like the angels arrived, the skies parted and the seas split, allowing me to run through."
Kardashian, the former wife of the LA lawyer Robert Kardashian, masterminded several business projects for herself and Jenner, including marketing fitness equipment and running an aeroplane supplies company. These were successful, but not as successful as the reality show she would go on to help create, founded partly on the fame of her socialite daughter Kim's leaked sex tape. Keeping Up with the Kardashians started in 2007 and became a phenomenon. The Kardashian empire, controlled by Kris, has made the family millions of dollars and turned each member into a celebrity.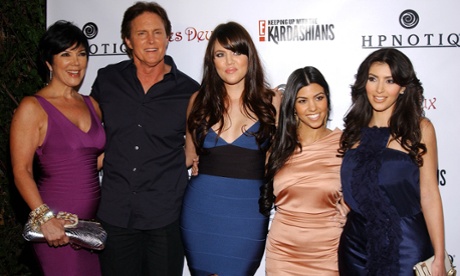 But Jenner's coming-out has eclipsed anything her publicity-savvy family members could possibly conceive of. She has become a hugely powerful cultural figure almost overnight and could become an important voice in the transgender rights movement. There is caution though, not least about whether Jenner's spinoff series, which starts next month, will become a tabloid spectacle. In addition, her fame and wealth, many trans-activists point out, are a long way from the experiences of many trans people, who often suffer from discrimination and violence and do not have access to life-changing medical procedures.
"It's great that she has been able to come out so successfully, that is very encouraging for every trans person," says Richard Köhler, senior policy officer of the human rights organisation Transgender Europe. "People are talking about her beauty and how well she passes as a woman, but [that is] another objectifying portrayal of a woman."
It has taken Caitlyn Jenner 65 years to become the person she always knew she was. "She is happy, over the moon, but more important, I think she is shocked by the overwhelming reaction and I think it has caused Caitlyn to realise that she has a greater responsibility than just crafting an entertaining show," said Bissinger this week. "She can do something really, really powerful. And permanent and timeless."
Potted profile
Born: 28 October 1949
Career: Jenner became an athletics star at college and competed in the 1972 Olympics. She won a gold medal in the decathlon at the 1976 Olympics and went on to become a sports broadcaster, motivational speaker and actor and had a range of endorsements. Later, she ran an aeroplane supplies company. In 2007, Jenner became a recurrent star on her family's Keeping Up with the Kardashians reality show.
High point: Becoming "the greatest athlete in the world" in 1976, and nearly 40 years later, becoming the world's most high-profile transgender woman.
Low point: The late 80s – difficulty transitioning, two failed marriages and a career that had disintegrated.
She says: "I'm so happy after such a long struggle to be living my true self," Jenner tweeted on Monday.
They say: "It takes courage to share your story," Obama tweeted in response.