You kinda assume that they've just been printing the legend since the day he died. But watch the footage of radio presenters smashing records on their turntables and promising not to play any more of the devil's music, or of severe women in severer hats saying things like "I watched him gyrate his legs and swivel his hips and our parent-teachers' group feels he should not be on TV" and you goggle and you boggle and you realise that there was a time, there genuinely was a time when Elvis Presley was the greatest, filthiest threat to innocence, to society that there had ever been.
Almost more implausible, when you watch the likes of BBC4's three-part documentary Rock'n'Roll America, is the fact that it happened well within living memory. There's his drummer and his guitarist. There's Wanda Jackson, who toured with Presley early in her career. Still hale, hearty and full of stories about the turbocharged years of undreamed-of fame, courtesy of that lividly beautiful, hip-swivelling man channelling Memphis gospel music and turning everything he sang into gold.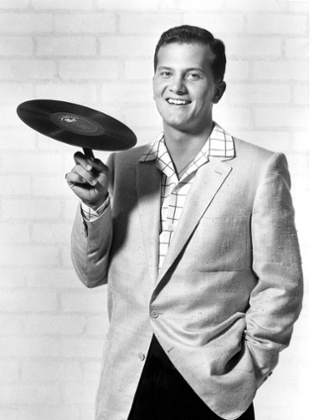 Pat Boone (who must have some terrible be-cardiganned portrait in the attic because he looks 40) gave us his account of reworking Fats Domino's Ain't That a Shame. He was majoring in English at Columbia and changed it to Isn't That a Shame. His producer persuaded him to change it back. The radio stations began playing the original as a novelty item. The teenagers bought it in droves.
Jerry Lee Lewis – perhaps slightly less hale, but still almost dangerously hearty – gave us his account of setting fire to Chuck Berry's piano on stage when they were touring together. The former bible-college boy once asked Elvis if he thought they'd go to hell for inventing rock'n'roll. "Jerry Lee, don't you ever say that to me again," came the reply.
Don Everly and a couple of Buddy Holly's Crickets contributed too. Tales of demos being made and released straight off as number one singles, of eternal classics springing forth at late-night bars or out of John Wayne quotes between friends, of last-minute title changes to impress girlfriends named Peggy Sue came thick and fast. Who's to say it isn't all as simple and as true as that? Maybe the legends are only a B-side.