A farm near the Berkshire village of Lambourn is about to play host to a second gruesome killing. The first happened some weeks earlier, when a boy was discovered under the wheels of a tractor. But there's no mystery about today's murder. Jordan Stephens, one half of hip-pop duo Rizzle Kicks, is standing in a scrapyard preparing to slaughter Mambo No 5. Firstly, there is an animated debate over the exact running order of Lou Bega's conquests ("No, it's Monica, then Rita. Then Tina.") Then, as a camera crew sets up around him, Stephens breaks into song. Right on cue, a mare pokes its head over a fence before bolting. Glue, E4's new eight-part teen thriller, is already frightening the horses.
Stephens plays Rob, the linchpin of a group of young friends in the fictional village of Overton. Its population barely sustained by farming and breeding racehorses, this rural community is torn apart when the aforementioned boy – one of Rob's mates – is found dead. Screenwriter Jack Thorne's latest project certainly sounds like a straight whodunnit ("Midsomer Murders without the old people," as Stephens pithily suggests). But Thorne's working life has been spent subverting genres, through his Bafta-winning work on supernatural thriller The Fades and Shane Meadows's bleak, beautiful coming-of-age miniseries This Is England '86 and '88. Like those shows and its E4 youth-drama predecessors Misfits and Skins (which Thorne also worked on), Glue's distinctive setting is the jumping-off point for an irreverent, empathetic exploration of characters and relationships that are given a severe jolt by an unthinkable event.
Where Glue really scores is in its depiction of country life beyond the pages of Horse & Hound. Rob and co are casting around for a future – and, more immediately, for ways to kill the tedium of the present: sex, drugs, diving into silos filled with wheat grain and getting pulled out on the point of suffocation, that sort of thing. The opening sequence of Glue captures this ennui in unsettling, semi-hallucinatory fashion. It's a combination of the dreamlike and visceral, the celebratory and the critical, an examination of a dying way of life in the Shires that brings to mind Jez Butterworth's superlative state-of-the-nation stage play, Jerusalem.
While 35-year-old Thorne's own career began in the theatre, he's better known for leading the vanguard of brilliant young British writers breaking into TV: Dominic Mitchell (BBC3's In The Flesh), Lucy Kirkwood (Sky 1's The Smoke) and Tom Bidwell (E4's My Mad Fat Diary) have all followed in his wake. Glue recycles some elements of Thorne's past triumphs: the on-point indie soundtrack, the elegiac "last gang in town" feel, the tabloid-troubling teenage misdemeanours. But his knack for blending humour, melancholy and transgression has repeatedly cast new light on familiar growing pains. It proved irresistible to Stephens, a self-confessed fan who was surprisingly nervous about approaching Thorne at the read-through.
Surprising, because Stephens seems largely untroubled by self-doubt despite this being his first acting role ("I'm a natural in front of the camera, that much I know"). Yet his apparently limitless energy has kept spirits up during an exhausting shoot. He's regarded on set like an occasionally annoying but basically well-meaning little brother, whose boisterous enthusiasm for everything from cornfields ("How can you not skip through crops?") to pigs ("They chew – chk, chk, chk – just like humans!") is hard not to warm to. When the cameras are on, however, he's all business. "I owe the casting director a pint," says the Brit School grad. "I was a wildcard and I'd never done any proper acting in my life, so to be part of something I'd actually watch myself blows my mind. My graft was in the music industry; it gave me a cheeky opportunity that I've capitalised on."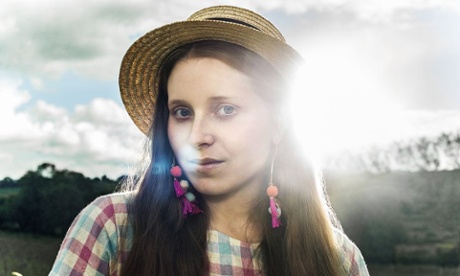 After the scrapyard scene wraps, I join some of his young co-stars for lunch. And if you haven't heard of Jessie Cave, Yasmin Paige or Charlotte Spencer yet, you soon will. Cave played Lavender Brown in the Harry Potter films, Paige has featured in both of Richard Ayoade's, and Spencer made a big impression in the small role of Carly Kirk in Line Of Duty. They're all aware of Thorne's track record for kickstarting careers (Nicholas Hoult in Skins, Vicky McClure in This is England '86, Iain De Caestecker in The Fades) and acknowledge that the layered characterisation and emotional heavy-lifting of Glue offers similar opportunities. Consequently, there's a sense of quiet professionalism when Stephens isn't around.
The literal standout is 6'2" Callum Turner, last seen seducing Helen McCrory in ITV's generation-gap romance Leaving. Gangly, good-looking and with a swagger that contrasts sharply with his brooding on-screen demeanour, Turner plays Eli, Gypsy stablehand and older brother to the murdered boy. Eli has just two friends: one is Tina (Spencer), an aspiring jockey; the other is a horse. Eli represents a bold gamble for Glue: a fair and balanced Romany character portrayal from the broadcaster responsible for My Big Fat Gypsy Wedding.
Turner's attempts to mix with Gypsies and work at a stables were initially rebuffed. "We sat down with a Romany writer called Dan Allum, trying to pick apart how we'd represent this world," Thorne explains. "He said that Roma weren't interested in equal rights because they feel superior; there's no sense of being poor or downtrodden. They're trying to preserve something that matters. It's not about outsiders, it's about separateness." Relations warmed up when the show's honourable intentions became clear; both Turner and Spencer were invited to a "mad" end-of-season jockeys' party. "They got seriously drunk," recalls Turner, "but they are quite short." He won't go into detail – jockeys, it seems, abide by some form of omertà – but his sly grin speaks volumes.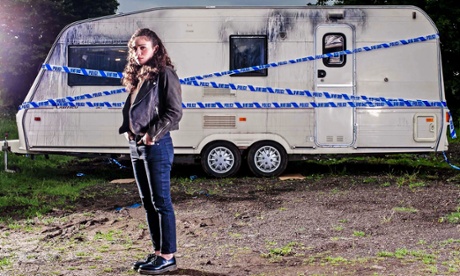 "I did know some stable lads growing up," explains Thorne, who was raised in nearby Newbury. "They were on £1.50 an hour, got up at four in the morning, and went to bed at two at night. That sort of devotion is really interesting. People sometimes forget [that age] isn't just about having fun, but about ambition and trying to get somewhere."
Thorne has been delving into the trials of youth and young adulthood ever since co-creating Skins in 2006. Small wonder that he contests the idea that kids are giving up on TV and regards the effective demise of BBC3 as a dereliction of duty.
"I'm furious about it," he says. "I learnt a lot as a kid from watching TV, about what sort of human I wanted to be. Bailey from Party Of Five, John Carter from ER… These guys were important to me. The BBC has a responsibility to that audience and they're betraying them. It shouldn't be that shows for young people stop at the age of 13 and then suddenly you can watch something again when you're 23. This is the age when people are formed, and TV dramas like Glue are crucial to that."
Glue starts on Monday, 10pm, E4