Billie Piper, Doctors: Christopher Eccleston and David Tennant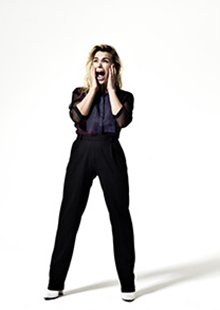 Doctor Who launched my acting career. I was in this awful transitional period, going from singing to acting, so getting the part of Rose Tyler felt like a real vote of confidence. I'm not sure the fans were as happy – loads seemed hacked off, as they often are about change – but they soon seemed to accept me. I've signed quite a few fans' bodies over the years, but my fan mail has been very gentle: these are smart people, with sci-fi intellects.
At first, I didn't know whether the show was going to be a success or die a death. It was such a hard shoot: nine months, with pretty much everyone using CGI for the first time. There were times when I thought, "Is this ever going to pay off?" But it did. I remember being in a London hotel for the launch of the first episode. There was such a buzz; it was thrilling. I called a friend and said, "I'm going to remember this feeling for the rest of my life."
I loved the character of Rose; the fact that she was a girl who went from a small, domestic life to experiencing time travel with this strange guy. She was both strong-willed and vulnerable. I think that's a really healthy representation of women. Instead of showing a female character endlessly striving towards perfection, here we saw a range of genuine female reactions. The show seemed to say, it's OK to cry, it's OK to question yourself, and it's OK to be excited about someone else coming up with a great idea.
I've had some discussions recently with a friend who is convinced the next Doctor needs to be a woman. I don't think he does. I like that he's a man and that he has his little time-travelling mate. You see what's important in that kind of relationship: what a man can offer, what a woman can offer. It's OK to feel small against this enormous male character. It's actually quite romantic.
• Billie wears shirt, trousers and boots, all from a selection, by paulsmith.co.UK. Makeup: Kim Kiefer at Frank Agency using Chanel Le Weekend and A/W 2013. Hair: Ernesto Montenovo at Phamous Artists.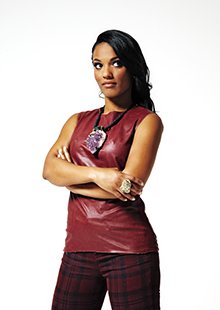 Being in Doctor Who changed my life. I went from being a steady, guesting actress to people recognising me and knowing my name.
I auditioned a couple of times, and for the spin-off show, Torchwood. Then the producers called to ask if I could come to Cardiff, tomorrow, to screen test with David Tennant. I was really nervous. David sent me a note saying, "Just be yourself, have fun." The next day the producers called when I was driving with my sister and said I'd got it. I nearly drove off the road.
David was a dream to work with. He is a huge Doctor Who fan and as a child dreamed of being in the show. He was always being hoisted up, dragged around, put in prosthetics. I don't think I heard him complain once. It's an incredibly physical show. I'm 5ft 2in and I think David's 6ft 1in – so to get us both in shot, I was always running in heels, often on cobblestones.
The show was hilarious to work on. The whole period John Barrowman was with us was so funny. We would often get the giggles. I remember shooting Daleks In Manhattan. We were in a music hall and the Daleks had these humans on a leash. We were supposed to be hiding and suddenly we all got the giggles. It wasn't a funny scene, but we were all hysterical.
Shows reflect life and society. Look at the Carry On films from 40 years ago, all that bum slapping and "phwoar!" Things have changed and Doctor Who has changed, too. The companions today are there to challenge the Doctor, to contribute. They are intelligent, gutsy, strong, positive role models. Do I think there is room to change further? Yes. I'd love to see the Doctor be a woman one day, or a different ethnicity. It's one of the major strengths of the show. The Doctor can be anything.
• Freema wears top, from a selection, by BCBG. Plaid jeans, £99, by Karen Millen, necklace and ring, both from a selection, by Adina Mills Design House. Stylist: Alison Lang. Makeup: Elisa Tallerico. Hair: Betsy Reyes.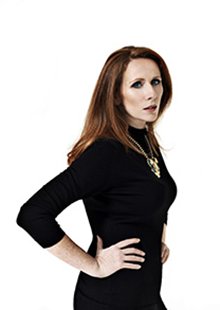 I was not a Doctor Who fan. As a kid, I thought it was scary and for boys. I started watching it when David Tennant became the Doctor. Then, in 2006, I was asked to be in the Christmas special, The Runaway Bride. In 2008 I came back as the Doctor's full-time companion for a series. Donna was a lairy temp from Chiswick: the Doctor used to refer to her as his "best mate".
Leaving was really emotional, both within the series and in real life. Donna said, "I thought we were going to be for ever together, best friends, travelling the universe." She loved the Doctor. John Barrowman pulled his pants down at my leaving do. It was by no means the first time. So many of my highs and lows in Doctor Who are encapsulated by John pulling his pants down.
In the early days, Doctor Who was pretty sexist. But later on we were given more to say. It would be nice to see a woman Doctor, but only when it's the right one. They shouldn't make the Doctor a woman just for the sake of it, and I think Peter Capaldi will be amazing.
Some would say there has been a female Doctor: me. I know it is a source of much debate among the cognoscenti, whether or not I am an official Doctor. I was Doctor Donna for a little while – all of one episode. The sceptics will doubtless point out that I merely became an amalgamation of David and my characters, so wasn't in any real sense the Doctor.
The most important way that Doctor Who changed my life was that David became a good friend. We went on to work together in the theatre, and I recently saw him in Los Angeles. The Doctor Who love in the States is huge.
More than anything I've done, it will live on – because the fans keep all things Doctor Who alive.
• Catherine wears turtleneck, £125, by John Smedley, from fenwick.co.uk. Makeup: Victoria Bond at Mandy Coakley Represents using Chanel Le Weekend and A/W 2013. Hair: Enzo Volpe at Mandy Coakley Represents.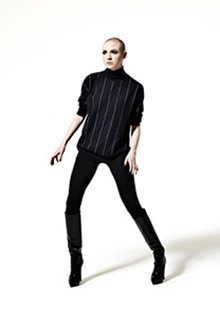 Doctor Who changed my life drastically. It takes over everything. You film for nine months of the year. You move to Wales and work with the same people every day. And then you come out of this little bubble and it's this hugely popular show that everybody watches. That's a pretty strange sensation. I feel like I've spent all of my 20s so far on that show.
It was the most fun ever. No other job is like that. I mean, when you're filming outside and it's -9C and you're eating ice cubes so nobody sees your breath, that's pretty tough. But I'm Scottish, so I'm used to the weather.
Things were just ridiculous between takes. One of my favourite memories is of Matt Smith hiding in my trailer. He used to do that on a regular basis. I'd walk in, and he would jump out at me and scream absurdities and freak me out.
I've had a really good experience with the fans. It's amazing to work on something that people feel so passionately about. When I do conventions, it's fun because they really care. One time, me and Matt and Arthur Darvill [Rory Williams in the series] went to a Doctor Who Tumblr party at Comic-Con in San Diego. They didn't know we were coming, and I've never experienced anything like it. It was like being in the Beatles.
What I loved best about Amy is that we got to see her entire life play out. We see her as a little girl when she meets the Doctor. Then she grows up and gets married, and then we see her have a kid, and then we see her die. Rather than a snippet of her time with the Doctor, we got this epic journey.
But I feel I made the right decision to leave when I did. It was really difficult, because I was having so much fun and I could have carried on for many more years. But I had to put my own personal desires to one side and choose what was best for the character.
• Karen wears jumper, £765, by Stella McCartney, from harveynichols.com. Leggings, £24, by americanapparel.net. Hair and makeup: Helen Bannon at Mandy Coakley Represents.
The 50th anniversary episode of Doctor Who will screen on BBC1 on 23 November. Interviews by Laura Barnett, Stuart Heritage, Simon Hattenstone, Becky Barnicoat and Dominic Rushe