Death Comes to Pemberley (BBC1) | iPlayer
Downton Abbey (ITV) | itvPlayer
Doctor Who (BBC1) | iPlayer
Call the Midwife (BBC1) | iPlayer
The BBC's three-part Death Comes to Pemberley – a fine knitting together of costume drama and murder mystery adapted from PD James's imagined sequel to Pride and Prejudice – was pretty much perfect Christmas TV. It looked the business, with its generous views of well-kept parkland, handsome coaches and scurrying flunkeys on the eve of the Darcys' annual ball – the pale and wonderful Anna Maxwell Martin as Elizabeth, serene in her lady duties; Matthew Rhys's Darcy striding about in a long coat as if he owned the place. Birds sang, maids polished the coal. All was well! If Jane Austen still had her say there would have been concerned twitterings about someone catching a cold about now, but no, here instead was foolish, wayward Lydia (Lizzie's uninvited sister, wife of the unmentionable Wickham) squawking the house down and Captain Denny out there in the dark woods with his head caved in. Cancel the ball!
Had Wickham done the dastardly to Denny? He had blood on his hands, a delirious confession on his lips and an ignoble deed he wanted kept quiet. His reputation as a bad egg – not paying his debts, sneering at his betters, bringing shame upon respectable women – looked likely to seal the case for investigating magistrate Hardcastle (Trevor Eve in authoritative form). But why had Colonel Fitzwilliam suddenly gone riding off to who-knows-where on the night of the murder? And who was the mysterious unhinged woman seen losing her bonnet that afternoon? And the half-burnt letter in the grate! A satisfying plot led back into the woods and eventually – with a quite thrilling race against time – to Derbyshire assizes and the gallows.
With proceedings spread over successive evenings there was leisure enough to poke fun at the frantic Mrs Bennet (Rebecca Front) and follow the fortunes of Darcy's marriageable sister Georgiana, faced with Austen's familiar choice between love and fealty to class. There was always more to fathom than a simple whodunnit. In a contemplative moment with Lizzie ( "It's easy to forget the chaos and darkness when nature lies so close…") we saw an inkling of fear – of the outside coming in, of the interloper who arrives and ruins everything. Had she herself not once been an outsider, opening Darcy's heart and heritage against the stern judgment of tradition?
Now, through her sister's marriage to the vainglorious bounder (and possibly killer), she had brought calamity upon his house. If Wickham hanged, Pemberley – tainted by association – hanged with him. I didn't quite buy Lizzie's impulse to self-flagellation. After all, Darcy had known Wickham (the son of his father's steward) since boyhood. And wasn't it the fact that Darcy's sister had once eloped with him that finally made him a pariah? Lydia was a fool for him but she wasn't the first one.
What you admired in James's story, though, was the way it didn't simply impose itself on Austen's setting, but reached into her characters' pasts, tying Wickham to each so that his fate was in some way also theirs. That kept you on your toes. Contrasted with Austen, prejudice had its way over what we would call justice (the law being slower to change than the ways of love). We might have got the ending she would have wanted, but only through the conventions of a newer, different literary genre.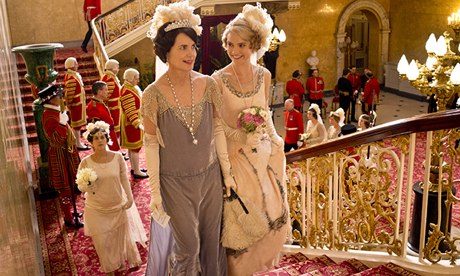 Anyone hoping to have their festivities enlivened with a difficult birth or sudden road death at Downton Abbey this year must have been disappointed to see the entire household decamp to London for Lady Rose's coming-out celebration with its endless tiaras and feathers and cast of thousands. There was a lot of eating (or at least unconvincing holding of knives and forks) and drinking while characters politely regaled one another with arcane points of 1920s debutante protocol for the benefit of modern ignorance. There was more to laugh at than usual – Cora's brash American mother (Shirley MacLaine, looking more than ever like Tony Curtis in Some Like It Hot) and brother (Paul Giamatti) kept Maggie Smith provided with wide targets, while the visitors' valet, roped in for canapé duty, was soon being barked at by Mr Carson for being overfriendly with guests ("You're a footman, not a travelling salesman!"). The Bates murder saga fizzled briefly with the discovery of a damning train ticket in his coat (if he knew it was there, why didn't he throw it away last November at the end of episode 8?).
Meanwhile, the discovery of a letter from the Prince of Wales in a married woman's handbag prompted an unlikely caper – instigated by Lord Grantham, if you could believe it – that not only drew on Mr Bates's hitherto unknown skills as a forger and pickpocket but required Lady Mary and entourage to gain unlawful entry to a man's flat with a view to rifling through his private drawers. I don't know about you but I can only stand so much gaiety on a full stomach.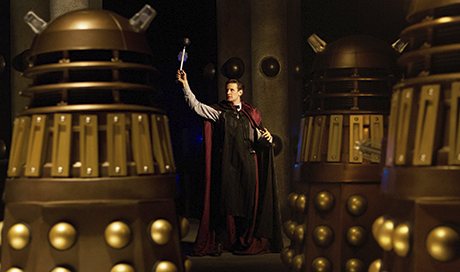 For those who hadn't been able to get enough of Doctor Who recently, here it was again, colourful, inventive, quick-firing, worryingly rude in the presence of Daleks and not always (to the casual observer) 100% comprehensible. But even if you're not always quite on top of what is being said or done or planned or shown, the appealing (now outgoing Doctor) Matt Smith has been the man to leap the chasm of one's befuddlement with wit, cleverness and hyperactivity. The Christmas special saw him in the Christmassy town of Christmas, defending Christmasers (I suppose) from a coalition of top foes, aided by Clara (Jenna Coleman), who was supposed to be at home pulling crackers with her folks and had only popped out to the Tardis to get the turkey cooked quicker. How was she to know it would take 300 years?
In that time the Doctor was starting to look the worse for wear and (or so I gathered) on the last of his lives. But, as if from nowhere – or somewhere only known to people with superhuman powers of attention – he suddenly had the wherewithal to treat invading hordes pouring through a crack in the universe to a hurricane-force firestorm. Hurrah! All that remained was the painful job of turning into a bug-eyed Peter Capaldi, punctuated by the apparition of long-legged Amy Pond (Karen Gillan), arriving for a fond farewell. Another day and, as if we didn't know, another Doctor.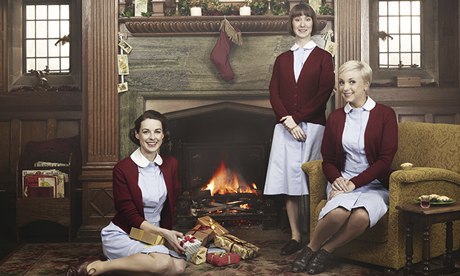 Newborns and multitudes on the move made a Christmas story of Call the Midwife, with its winning mix of grit and sentimentality, an unexploded bomb being the catalyst for drama as Poplar's residents, nurses and nuns crowded into a church hall while a defuser was summoned from Scotland. It wasn't quite as honed as its previous outings – I've lost patience with drippy ex-Sister Bernadette and her impending nuptials (still beating herself up for leaving the brides of Christ to become a real one), and a father-to-be suffering shell shock from the Korean war seemed an unnecessary addition to a local polio epidemic. But the hour-and-a-quarter was soon gone, a baby duly awoke and lo, there was comfort and joy.