All systems glow: 10 of the UK's best winter light festivals
Gaze upon shimmering forests and postapocalyptic sunsets, chase the northern lights or let ancient tales guide you along city walls
Phoebe Taplin
17, Jan, 2022 @7:00 AM
It's snow time: 10 new winter holidays in Europe for skiers and non-skiers
Fresh ideas from the Dolomites to the Arctic include rail tours, gourmet mountain huts, eco-friendly snowmobiling – and great skiing
Gemma Bowes
30, Oct, 2021 @10:00 AM
Amateur stargazers capture new form of northern lights
Aurora enthusiasts discover new phenomenon in Finland
Nicola Davis
29, Jan, 2020 @4:00 AM
Aurora adventure: Norway's northern lights, on a budget
A cottage stay in a remote winter wonderland is an affordable way to see the northern lights – but will the aurora show its true colours?
Jane Dunford
26, Nov, 2019 @6:30 AM
5 of the best holidays in Norway – chosen by locals
Islands, rivers, mountains and pretty villages: holiday destinations from those in the know
Interviews by Gunnar Garfors
02, Sep, 2018 @9:00 AM
Are pop-up igloos the new Christmas markets?
Pop-up snowglobes are appearing on roof terraces, and in back gardens and holiday resorts – with Instagram feeds set to be filled with #igloo pics all winter
Emine Saner
19, Nov, 2017 @2:00 PM
'It's the closest thing to the moon': my space odyssey to Iceland
How Iceland became a magnet for star-gazers, film-makers – and astronauts

Purple streaker Steve a mystery of the night sky
Weatherwatch Given a 'down to earth' nickname for the time being, a newly found fast-moving gas ribbon is fascinating astronomers
David Hambling
30, May, 2017 @8:30 PM
Five phenomenal night skies visible in Britain
From the fabled northern lights to the meteor shower that inspired one of John Denver's most famous songs, stunning celestial wonders can be seen beyond the UK's street lights
Phil Daoust
06, Feb, 2017 @7:30 AM
Insider's guide to Rovaniemi: heavy metal in snow-muffled silence
Finland's Rovaniemi is the 'official home town of Santa Claus', but local journalist Emma Kähkönen shows us there's more to this Arctic city than reindeer
Emma Kähkönen
10, Oct, 2016 @10:03 AM
Northern lights holiday guide
Tour operators are thinking up new ways to marvel at the aurora borealis. We pick their best trips and activities – plus some surprising places to stay
Jane Dunford
31, Oct, 2015 @7:00 AM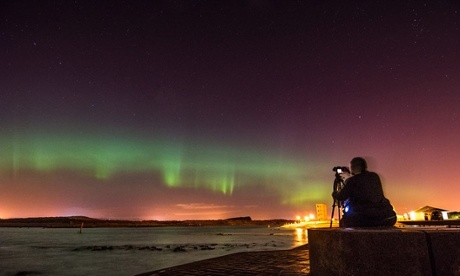 How do I ... see the northern lights?
Getting to see aurora borealis is down to the whims of space weather, which is almost as unreliable as British weather
James Walsh and Peter Kimpton
16, Oct, 2015 @11:00 AM