Mumbai: a virtual tour through books, film, music and food
India's most cosmopolitan city offers a dramatic blend of Bollywood idols, opera, street stalls and gripping tales of the underworld
Taran N Khan
22, Mar, 2021 @6:30 AM
I ate three in a row: the Bombay burger, India's favourite fast food – plus the recipe
Vada pav – spiced potato balls in a soft roll – is the quintessential Mumbai street food. BBC presenter Leyla Kazim devours the city's best
Leyla Kazim
01, Mar, 2021 @6:30 AM
10 of the best books set in India – that will take you there
Tired of narratives that obsess over spices, colours and cows on the road? These books, all by Indian writers, paint realistic pictures of the country's geographical, cultural and political landscapes
Monisha Rajesh
16, Jun, 2020 @5:30 AM
Tourists offered night's stay in Mumbai slum
Travellers can taste life of city's millions of slum residents – but critics call it poverty tourism
Amrit Dhillon in Delhi
29, Jan, 2018 @2:02 PM
Cricket is fierce in Mumbai's field of dreams
At the Oval Maidan recreation ground in Mumbai young cricketers can imagine they are the next MS Dhoni or Virat Kohli
Toby Chasseaud
06, Apr, 2017 @5:18 AM
Sunrise to sundown, Mumbai is a vegetarian's paradise
Speciality dishes from all over India are showcased at the street food stalls and cafes of Mumbai. Here, food writer Meera Sodha spends a whirlwind 24 hours sampling as many vegetarian 'greatest hits' as she can
Meera Sodha
27, Jul, 2016 @5:30 AM
Is India ready for wine pilgrimages?
Never mind the Kumbh Mela, tourists could soon be flocking to Nashik not for its holy riverside, but for vineyards like Sula
Shafik Meghji
22, May, 2016 @10:00 AM
Mumbai by bike: a night cycle tour
Pedalling around India's biggest city would, by day, mean taking your life in your hands. But a night tour offers a new look at its palaces, temples and gardens, while most inhabitants sleep
Kate Eshelby
03, Apr, 2016 @6:00 AM
Story of cities #11: the reclamation of Mumbai – from the sea, and its people?
Transforming Bombay's seven islets into land fit for a city was a daunting challenge. Its success created one of the world's megacities – but today Mumbai faces the twin challenges of extreme population density and severe flood risk
Srinath Perur in Mumbai
30, Mar, 2016 @6:30 AM
Mumbai's Rhythm House record shop prepares for its swansong
Much-loved store in the city's Kala Ghoda district to close for good at the end of February with owners blaming online shopping for the decline in sales
Rebecca Bundhun
08, Feb, 2016 @11:11 AM
Round India on three wheels: the Mumbai to Chennai rickshaw rally
Raging traffic, breakdowns, dodging sacred cows, sensational scenery and the warmest village welcomes … the 1,100-mile Mumbai to Chennai Rickshaw Challenge is a blast from start to finish
Jamie Lafferty
24, Jan, 2016 @7:00 AM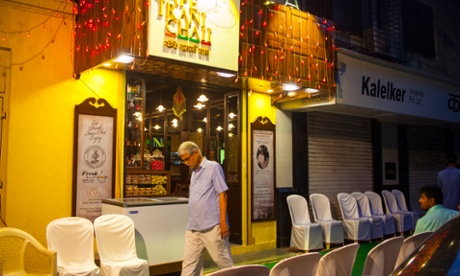 The foodie traveller … on a Persian cafe revival in Mumbai
Mumbai's Persian-style cafes were a dying breed until this week when filmmaker Mansoor Showghi Yezdi opened the first new one in the city in 30 years, giving a boost to a century-old culture
Priti Salian
16, Oct, 2015 @5:30 AM