Medical advice for travellers
'If you love or are a woman, don't go to Malta,' say couple in abortion drama
After her 'babymoon' became a tragic medical crisis, Andrea Prudente wants to use her story to oppose bans on abortion
Megan Clement
28, Jun, 2022 @5:00 AM
Super-rich jet off to disaster bunkers amid coronavirus outbreak
'Self isolate' for some of world's richest means Covid-19 tests abroad, personal medics and subterranean hide-outs
Rupert Neate wealth correspondent
11, Mar, 2020 @7:50 PM
Cheap hotels have killed the sleeper | Letters
Letters: Dr Hannah Ryan | Overnight trains | Oldest parliaments | Scandi detectives | Northern Ireland | April Fool's day
Letters
31, Mar, 2017 @5:47 PM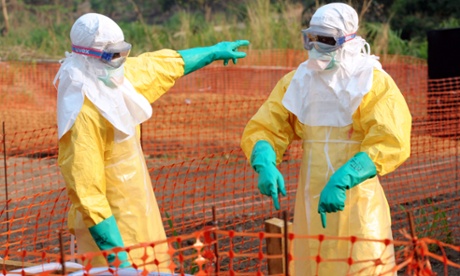 Guinea's Ebola outbreak: what is the virus and what's being done?
African nation is facing an Ebola epidemic of a 'magnitude never before seen', with nearly 80 deaths so far. So what's being done to stop its spread?
Alan Yuhas
01, Apr, 2014 @4:20 PM

Dengue fever rise prompts doctors to warn of insect bites abroad
Travellers to far east and Caribbean told to be on lookout for warning signs after cases of tropical disease rise threefold
James Meikle
15, May, 2013 @11:31 AM

Holidaymakers at risk as doctors run out of typhoid vaccine
Supply crisis sparked by manufacturer's recall – 700,000 people already injected could be affected
Haroon Siddique
25, Dec, 2012 @10:00 AM

Foreign hospitals count cost of young UK holidaymakers
FCO reports a huge rise in the number of British teenagers being hospitalised while holidaying abroad
Lisa Bachelor and Jill Insley
19, Jul, 2012 @6:00 AM

Owners of Ubertan tanning spray could face two years in prison
Government watchdog MHRA advises people not to use the tanning nasal spray, which was being sold illegally in the UK
Helen Clifton
19, Aug, 2011 @11:50 AM

Why do diseases love a good festival? | Riazat Butt
The Lancet is holding a conference on mass gatherings and how to prevent the globalisation of infection. Appropriately, says Riazat Butt, the venue is Jeddah, gateway to the hajj
Riazat Butt
11, Oct, 2010 @4:56 PM

Travel insurance: do you really need it for a European holiday?
Is the European health insurance card enough when travelling abroad or is full medical insurance an essential?
Jill Papworth
10, Sep, 2010 @11:01 PM
Response: Don't let the phoney melanoma scare keep you out of the sun
Response: There are many good reasons why we won't – and shouldn't – give up our tan, says Sam Shuster
Sam Shuster
20, Jul, 2010 @11:05 PM
Hindu pilgrims warned of high altitude dangers
Spate of deaths in Himalayas alarms medical experts
Ed Douglas
06, Jul, 2009 @5:49 PM