Rise and shine: bringing an old bakery back to life
Built in 1835 in the heart of the old town in Hastings, this former bakery has been lovingly restored and is now 'beautifully imperfect'
Emily Brooks
20, Feb, 2022 @9:00 AM
Art by the sea: a coastal home rich in treasures
Handcrafted wooden furniture lives in harmony with midcentury classics in this St Leonards home. By Carolyn Asome
Carolyn Asome
22, May, 2021 @3:00 PM
Is it the end of the pier for Hastings?
How a victory for community goodwill, lottery money and visionary design ended in outrage
Rowan Moore
24, Mar, 2019 @8:00 AM
Creativity in Hastings: designers do like to be beside the seaside
Nearly 950 years after its eponymous battle, the East Sussex town is undergoing an artistic renaissance
Katie Forster
13, Aug, 2016 @10:00 AM
Hastings Pier; i360, Brighton review – two magnificent achievements
Blue-sky thinking results in contrasting but equally ingenious projects to replace two piers on the Sussex coast
Rowan Moore
24, Jul, 2016 @7:00 AM
Once more on to the beach: how Britain's seaside towns bounced back
For years our coastal resorts have been in decline. But now bookings are on the rise, and over half of us will go to a British beach this year. So what has changed?
Peter Ross
14, May, 2016 @7:00 AM
Hastings Pier reopens following £14.2m restoration project
Local supporters and Heritage Lottery funding have helped restore 'the people's pier' following fire damage and eight years of closure
Will Coldwell
27, Apr, 2016 @4:45 PM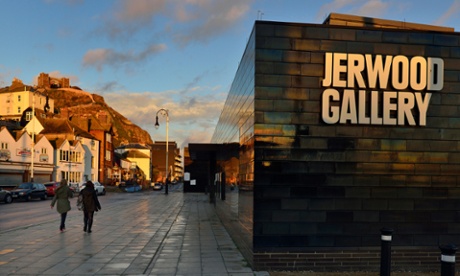 Let's go to … Hastings
There's more to Hastings than groynes and medieval history: a wave of new openings and its megabucks pier are giving the seaside town a revamp
Richard Mellor
10, Feb, 2015 @11:05 AM

Restaurant: AG Hendy & Co Home Store Kitchen, Hastings
Yes, it's contrived, expensive and not a little pretentious, but it's hard not to be charmed by photographer and food writer Alastair Hendy's labour of love by the sea, says Marina O'Loughlin
Marina O'Loughlin
21, Sep, 2012 @9:58 PM

Holiday ideas: tips and trips
East London's Olympic neighbourhoods, Pembrokeshire hideaways and three foodie festivals to make your mouth water
Joanne O'Connor
01, Sep, 2012 @11:05 PM

The rise of the seaside art gallery
Can art galleries save the British seaside? As yet another opens, this time in Hastings, Steve Rose finds out why it has so angered local fishermen – and asks if these regeneration projects really do any good
Steve Rose
14, Mar, 2012 @5:30 PM

Jerwood Gallery, Hastings – review
The controversial new Jerwood gallery, built amid Hastings's traditional cliffside fishermen's huts, is wonderfully fitting, writes Rowan Moore
Rowan Moore
11, Mar, 2012 @12:06 AM