My bad trip – my Spanish was improving, but my refusal to be taken for a ride got me kicked off the bus
As it sped off, I was euphoric. I had fashioned a complex sentence and hit a nerve with my pointed words. Or had I?
Janine Israel
07, Feb, 2023 @2:00 PM
UK Foreign Office warns against travel to Bolivia
Protests and political unrest following resignation of President Evo Morales, have led to FCO advising against all-but-essential travel
Antonia Wilson
13, Nov, 2019 @5:20 PM
High society: El Alto, Bolivia, steps into the spotlight
After landing at El Alto, canny travellers don't go straight to La Paz but soak up the exuberant architecture, culture and women's projects of Bolivia's second city

Claire Boobbyer
17, Oct, 2018 @5:30 AM
La Paz, Bolivia guide: what to see plus the best bars, restaurants and hotels
High in the Andes, Bolivia's de facto capital is having a moment, thanks to local artists, chefs and cafe owners on a mission to breathe new life into the historic centre
Sarah Gilbert
09, Dec, 2017 @11:00 AM
From Andes to Amazon: trekking through the Bolivian jungle
The real-life hero of adventure film Jungle helped set up an ecolodge in Bolivia's Madidi national park – a wild destination for trekkers, and a ray of light for a hunter-gatherer community under threat
Sarah Gilbert
20, Oct, 2017 @5:00 AM
Revolutionary road: on the trail of Che Guevara's last days in Bolivia
Ahead of the 50th anniversary of Che's death, our writer follows in his final footsteps in the Bolivian villages of La Higuera and Vallegrande
Claire Boobbyer
27, Sep, 2017 @11:49 AM
The Bolivian spirit that turned Steven Soderbergh's head
Singani is gaining an international following, thanks in part to the Che director, and Andean-influenced gin and vodka is following suit
Sarah Gilbert
17, Jul, 2016 @10:00 AM
Subway in the sky: has La Paz's cable car made a real difference to the city?
Almost two years on and the teleférico to El Alto has proved a cheap and stress-free way to link neighbouring cities that were long seen as social worlds apart
Jonathan Watts in La Paz
10, Feb, 2016 @2:11 PM
Camping around South America
After four years' travelling from the Caribbean coast to Patagonia, Paula Dear says camping in deserts, in the shadow of the Andes and by tropical beaches – all for under £10 a night – made her trip to South America
Paula Dear
14, Nov, 2015 @7:00 AM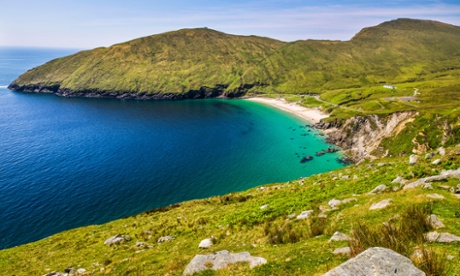 Islands and archipelagos: readers' travel tips
A remote paradise in Thailand, a landmark of Inca history and island hopping in Sweden. Readers tell us about their favourite islands and archipelagos
Guardian readers
12, Feb, 2015 @12:30 PM

Spotting river dolphins in Bolivia
The bufeo (river dolphin) is a creature of myth, but you're pretty much guaranteed a sighting on a river cruise in Bolivia's north-eastern wetlands
Ed Stocker
03, May, 2014 @5:59 AM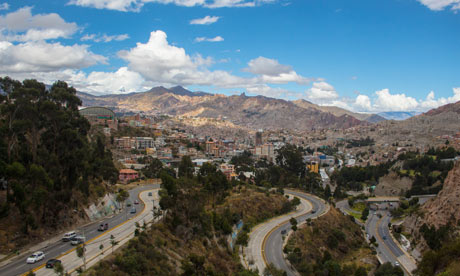 A culinary tour of Bolivia: cooking with altitude
Bolivia is hardly known for its foodie scene but that hasn't stopped the founder of one of the world's best restaurants opening an outpost in La Paz. Ed Stocker takes a culinary tour of the country
Ed Stocker
15, Jun, 2013 @8:00 PM