Inspired by a Todd Rundgren song, the Red Shoes is one of Japan's most intimate music venues, and sits a stone's throw away from Tokyo's famous Roppongi crossing. The atmosphere fizzes and crackles on a sold-out night; it reminds me of a scaled-down version of London's famous 100 Club, and resonates with that same energy just before stage time.
The cellar-style club has played host to many world-famous musicians over the years. Ronnie Wood and David Bowie hung out there in the 1980s, and since its rebirth in 2002 Wilko Johnson has played many sold-out shows.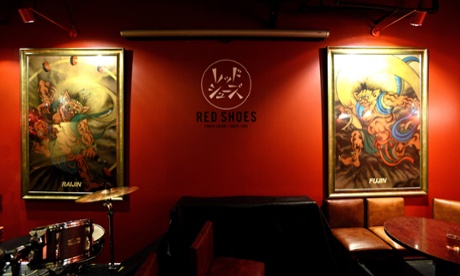 This was the venue that hosted Stone Foundation's first sold-out shows in Tokyo, long before we signed to (Japanese label) P Vine Records and went on to play Japan's biggest music festival, Fuji Rock, so it holds many special memories for me and the band. The crowd are close enough to touch, which as a musician makes the experience more enjoyable. A mixture of this and the fire-red logo adorning the walls – it depicts Raijin, the god of lighting, and Fujin, the god of wind, make for an intoxicating combination.
It even pipes the music out into the street for those unlucky enough not to get a ticket . We always try to visit when we are on tour in Japan. It feels like a home from home for us now.
• redshoes.jp
Stone Foundation's new album, A Life Unlimited, is out now; they are on tour in the UK and Europe until November