I am lying on the beach in the midday sun, my eyes shut, listening to the waves lapping on the sand. Then all too soon – after about 10 minutes, in fact – it goes dark and the stars come out. That's because this isn't some tropical island paradise, but a hotel near Leek, Staffordshire. The Beach Hut, a 25-minute light treatment designed to boost vitamin D levels, is one of several experiences on offer at the Three Horseshoes' new Mill Wheel Spa. It is very relaxing, though would probably feel more beneficial in the depths of winter than on a sunny May afternoon.
The Mill Wheel is more interesting than the average spa. It makes an effort to reflect the area's heritage, so the centrepiece is a huge wooden water wheel, homage to nearby mills. Rather than driving the levers of industry, however, this wheel pours water on spa-goers – at first pleasantly warm, then shockingly cold. Screams (some of them mine) ring out at regular intervals. The steam room is an actual Peak District stone barn, relocated from a nearby field. To create the steam, a basket of local stones is heated then plunged into a basin of cold water, hissing and sizzling.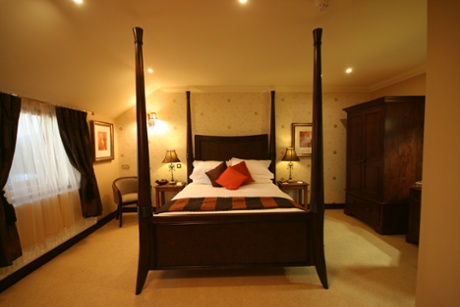 My herbal steam massage involves being buffed all over by a scented, heated pad. It's wet, warm and slightly rough – a bit like being licked by a big cat. I also try the Rasul mineral mud treatment, which sees me sitting in a pod and covering myself in three kinds of mud while the lights dim, music plays and steam pumps out. When my time is up, "rain" starts falling on me, sluicing the mud off.
The two-seater pod is popular with couples on "spa by candlelight" evenings. Slathering your partner in mud may sound sexy, but the pods get seriously hot and after 25 sweaty minutes, romance is the last thing on my mind; I am praying for rain.
Five new garden rooms next to the spa take the room total to 26. Mine has a garden with cedar hot tub, and a whirlpool bath indoors. These would be nice touches for longer stays but not, to my mind, worth the extra on an overnight spa break. The decor is muted and Scottish-feeling – tartan curtains, tweed cushions and bedspread. The only wow factor is the ornate four-poster. I would like squashier cushions; these are rock hard. I peep into several other rooms and all are similarly spacious and tasteful, if lacking originality.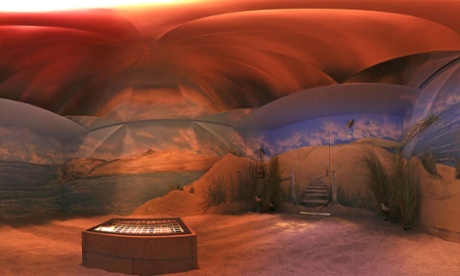 There has been an inn on the site since at least 1819, and by 1834 it was called the Three Horseshoes. The Kirk family have owned the hotel since 1981, and it is now run by the two sons and their wives. The family feeling is evident in friendly, down-to-earth service, and staff who are competent but also happy to chat. Extensions have made the place a bit of a warren, but the original bar is still at its heart.
A daily carvery gives the dining area an unfortunate Harvester aroma, but the much more upmarket brasserie serves mainly locally sourced meat, cooked two or three ways and paired with a seasonal vegetable, playfully presented. I try pork belly and cheek with "textures of cauliflower", and chicken with confit leg and "asparagus in various forms". Both are excellent, as is the "toffee apple" (sponge, ice-cream, cream and foam) and the cheese, chosen from a rather retro trolley. Breakfast is a more standard hot and cold buffet – there is table service only on quieter days – though Staffordshire oatcakes with cheese make a welcome alternative to sausages and bacon.
Rivalling the spa, brasserie and service as the hotel's best feature is its location – on the edge of the Peak District, with views of the Roaches, a row of bleakly beautiful gritstone crags. With countryside like that, who needs a beach?
• Accommodation was provided by the Three Horseshoes (01538 300296, 3shoesinn.co.uk) which has pub doubles from £99, garden rooms from £180 and overnight spa packages from £120pp
Ask a local
Amy Goodfellow, hotel receptionist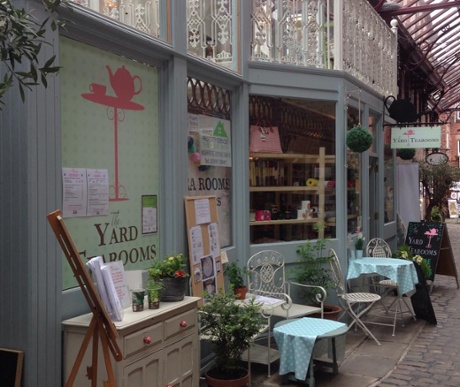 • Shop
Leek is famous for its antiques: there are shops galore. Getliffes Yard has a good range, plus cafes, tucked away down a cobbled street, and undercover.
• Secret spot
The war memorial clock tower, right in the centre of the town, opens once a month to allow visitors inside to see the clock mechanism and the views over Leek.
• Visit
In the pretty village of the same name, Cheddleton Flint Mill is a watermill once used to grind flint for the pottery industry. Run by volunteers, it gives a real insight to a bygone era.