Having never been on a proper African safari before, or even to a safari park, I feel quite excited as I pass through the gates of Port Lympne – disproportionately so for a journey from Ashford International that isn't Paris-bound. This is mainly on behalf of my 22-month-old daughter, who for the first time will get to see animals that aren't ratty park pigeons or cats, but also on account of the fun safari-camp vibe that is apparent as soon as we enter the wildlife park.
Khaki-clad staff from the bush-lodge-style reception toss our bags into an open-sided truck and we're driven to our digs down a bumpy lane beneath thick foliage, passing monkey enclosures and two rhinos in a field.
The Treehouse Hotel is the latest option within the 100-acre park grounds, where accommodation runs the gamut from boutiquey Mansion Hotel in a stunning stately home to safari-style tents at Livingstone Lodge and Elephant Lodge. Also new this year are Pinewood huts, next to the tiger enclosure. The Treehouse suites, opened this month, are intended to add a more luxurious choice and "attract the London market", says managing director Bob O'Connor. "We didn't want to copy CenterParcs; we wanted something really cool, really contemporary."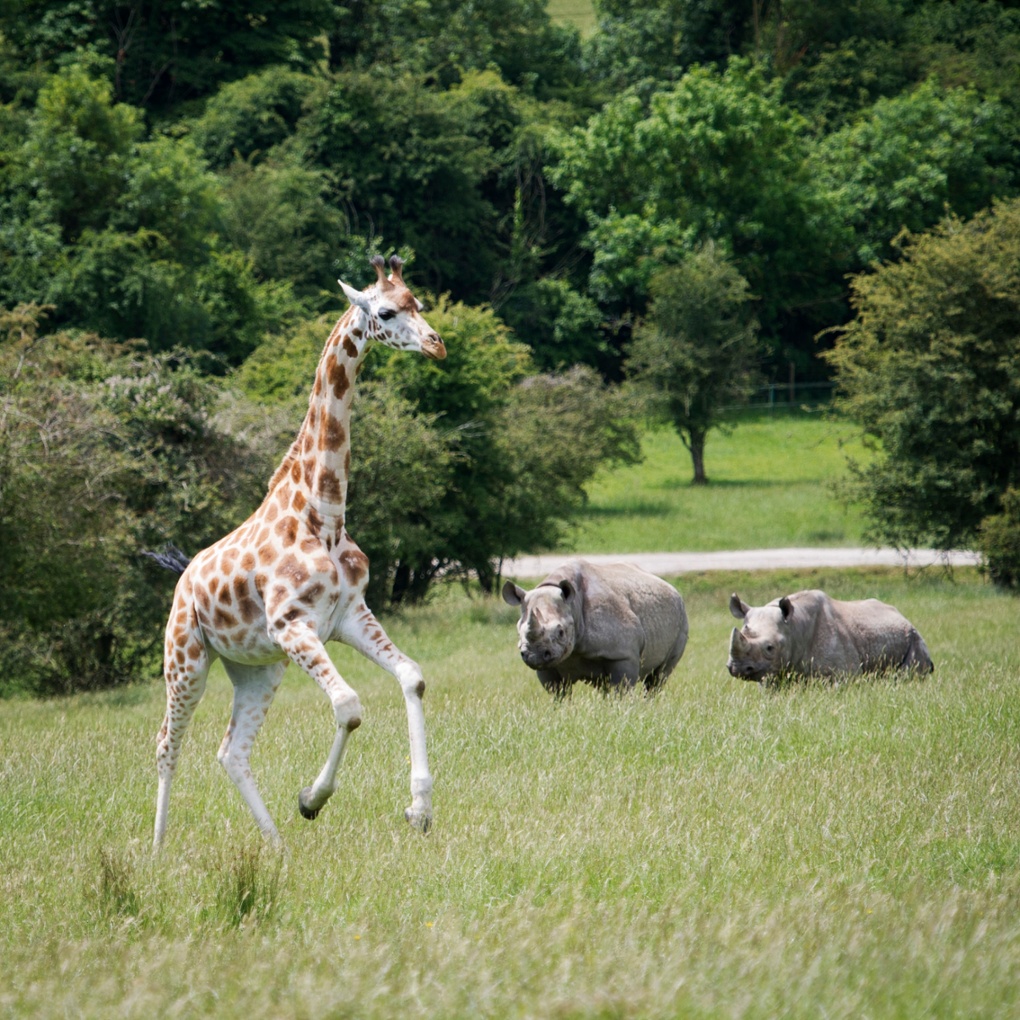 Accommodation is an extra year-round moneyspinner for the charity that owns the park, the Aspinall Foundation, started in 1984 by casino owner John Aspinall (which also owns his first wildlife park, nearby Howletts). It is primarily a conservation body, running captive breeding projects for rare and endangered species, which it reintroduces to the wild. Western lowland gorillas, black rhinos, Javan langurs and European bison have all been able to make the move from southern Kent to their natural habitats. How will we fare doing the reverse?
The word "treehouse" is, as usual, misleading: these are slick cabins at the top of a steep slope above the rhino enclosure, with trees dotted around, and terraces overlooking 26 miles of flat savannah-esque-if-you-squint scenery to the Channel and France, with rhino pottering about below.
Interior designer Tara Bernerd has done good: the obligatory grey/neutral colour scheme has enough unusual textures and taste not to bore – midcentury-style lounge chairs and bench, concrete lampshades, sandy fabric wallpaper, sliding ryokan-style glass-panelled door, black-and-white wildlife photos (including a terrifying shot in the bathroom of some fighting, snarling gorillas). There are two bedrooms off an open-plan living space with a decent kitchen, and floor-to-ceiling glass doors opening on to the terrace. Very stylish, I like it.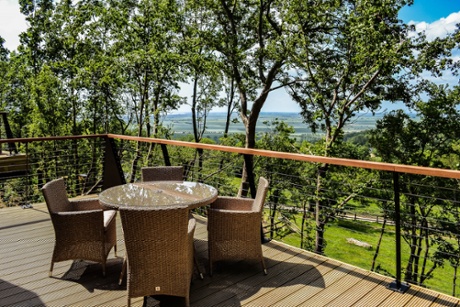 But – and it's a big but – there are hitches for those with toddlers. They don't have enough cots, so we have to drag a mattress off one of the spare beds for ours to sleep on. The bedroom doors are very heavy and slam shut, so we have to prop them open with a table so we can hear her. The steps up to the lodge from the path are extremely steep, too widely spaced for little legs, and not gated off at the top. Maybe these rooms aren't really aimed at young families – but this isn't specified and otherwise they work well for us.
Off we go on a group safari to feed giraffes, watching their heads suddenly plunge to the tubs of food hanging off our truck. Treehouse guests get a golf buggy for exploring certain areas, and free entry to both parks. The hotel restaurant is closed for a wedding, but there's a Clubhouse at the foot of the Treehouse slopes doing snacks and drinks, plus there are three menus from which to order room service, breakfast and hamper deliveries.
Next day we watch gorillas eat breakfast, and enter an enclosure to hand-feed Colobus monkeys. We carry on to see tigers and Barbary lions in their enclosures – an area a fellow guest describes as "a lot more cagey" – but the toddler is losing interest and after a disgusting lunch in the park snack bar the magic has died somewhat. The Treehouses are fabulous but, after three days in captivity, we are eager to return to our natural habitat.
• Accommodation was provided by the Treehouse Hotel (0843 777 2275, aspinallfoundation.org/treehouse-hotel). Treehouses sleep four and cost from £300 a night low season, £500 high season, self-catering
Ask a local
Damian Aspinall, chairman, Aspinall Foundation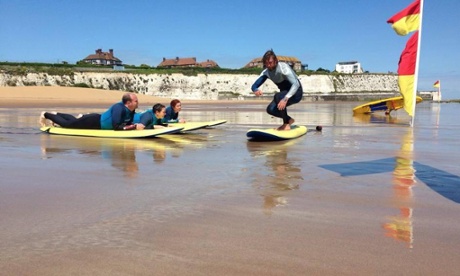 • Pub
A recent discovery of mine is The White Lion pub in the village of Tenterden. It has its own ale called Lionheart, great cocktails, and a Sunday roast using locally sourced produce. It also has bedrooms.
• Beach
There are many beautiful beaches in Kent, seven in Broadstairs alone. Botany Bay is a great spot and nearby Joss Bay is also popular as it has a surf school (jossbay.co.uk, surfboard hire £15 a half-day, surf lessons from £35).
• Walk
The Royal Military Canal in Hythe passes by Port Lympne and its tranquil banks provide great opportunities to spot wildlife such as swans, grey herons, kingfishers and reed warblers.