I was in Tokyo with The Pale Blue Dots (Super Furry Animals' Huw "Bunf" Bunford's side project) shooting a video for their ambient soundscape Tokyo Hotel Silence. On an evening off, I was directed to Golden Gai, a small area of the Shinjuku district, by our local guide.
This collection of six ancient alleyways is like an old Japanese shanty town, and is how large parts of Tokyo once looked. It's dark and run down and, if I didn't already know Tokyo, I'd have been a little scared. The blocks of small buildings house about 200 tiny bars, all of which feel as though you're drinking in someone's living room. Some have themes, some only let in people who've been introduced by other regulars, but some want to attract tourists.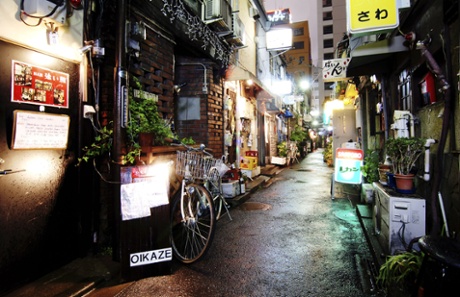 First we visited Cambiare, a bar inspired by the Dario Argento's 1977 psychedelic-horror film, Suspiria. Up an unpromising-looking staircase we found a perfect replica of the bar from the film. We enjoyed a few cocktails and then went on to Nightingale, a futuristic bar that felt packed with just six of us there in there.
We stayed there for hours, chatting to the other customers and the guy behind the bar, who showed us his vinyl collection. I really wish I could remember some of those albums, but I'll never forget Golden Gai.
• Watch Tokyo Hotel Silence by The Pale Blue Dots, directed by Mark James