Cartagena is a city of colour and of contrast. It has the most beautiful architecture – you can just walk around, looking up at the balconies overflowing with bougainvillea. This is where I wrote Central Reservation. I'd been out all night and the song does describe, still, the feeling that I get from going there. It's just so awe-inspiring. A place where you can see the curvature of the earth, the way the sea moves, it kind of sums up the excitement and sense of possibility.
The city hasn't changed much in the 15 years since I was first there. Although recently I went down a street which was just horrible – full of loud music and gift stores, proper tourist nastiness, and I was like: "Oh no! This is what's happened. Shit!" But that was just one street and the rest of the place, as far as I can tell, is as beautiful and old-world as it ever was.
Even if you don't speak Spanish, you can still communicate. No one will bend over backwards or be sycophantic to tourists, but they have a warmth and openness and beautiful humour.
It's good to walk around the ramparts, especially with children. The whole city is walled; the ramparts overlook the sea on one side and the city on the other, so are great for enjoying the views. And there are all of these little tunnels: you can run down them and then run out in a completely different place – kids love it.
There's an amazing club called Havana, just outside the old town, with a brilliant house band – it's the Spanish equivalent of seeing Radiohead in your local bar.
The best thing to do is get lost in the Old Town. It's thrilling because every corner you turn is different and every view is amazing. It's incredibly reassuring that there's still somewhere in the world with all that history. And though you never really get lost – because it's not massive and you can find your way – the feeling that you could lose yourself is wonderful.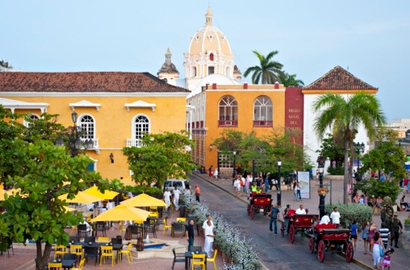 There's a beautiful hotel called Casa San Augustin. The street it's on is a bit noisy but it's just so nice – a little bit fancy. I've been trying to find a lovely place called Casa Peter Tompkins, where I stayed when I was last there, but I think it's changed it's name to Casa Peter – but there's lots of affordable accommodation in the city.
Cartagena isn't a beach holiday place even though it's on the coast – in fact, the local beaches are pretty disgusting. But you can take a boat to Sport Barú where there's a tropical beach. Actually, it's kind of weird as it's manmade but the water's calm and it's a beautiful, tiny cove. The ride over can be bumpy, though.
I almost don't want to mention Espíritu Santo restaurant (35-60 Calle del Porvenir) because it's so lovely. It's really a large, airy dining hall with beautiful tiled walls – a cafeteria almost – and thick, oak tables and local people talking full-on. It's the same food they'd be selling in a poncey restaurant in a more touristy area – a whole fish in amazing coconut sauce, with fried plantain – but with no pretence, no bullshit, just a really good meal and really cheap. Tourists don't go there for some reason and I don't know why, because it's fantastic.
Another great restaurant is La Cevicheria (Carrera 24), a little corner place that's a bit more upmarket. It serves fresh fish and delicious tacos.
For peoplewatching, head to the squares. There are little empanada (pasty) stands everywhere, with ladies who cut fresh mangoes – you can just sit for a minute and take it all in – maybe a band is setting up, or dancers. There's music everywhere on the streets – you just stumble upon it.
• Mystery, double A-side limited-edition 10-inch by Beth Orton (bethorton.bigcartel.com), with remixes by Nico Muhly and Andrew Hung, is out now