Without scrutinising the small print, you wouldn't know that this is a Marston's pub (but run by its Revere Pub Company subsidiary). An imposing Victorian pile in leafy Fulwood – just outside Sheffield city centre – the Florentine is the eighth Marston's pub to be stripped of its corporate branding and "premiumised", as Revere MD Colin Sadler described the process.
Such faux-indies are an irritating sleight of hand that insults our intelligence. Far more so, in this case, than the actual product. Clearly, the Florentine is too polished (the refurbishment cost around £700,000) to be a genuine independent business. Everything looks like it was bought, box-fresh, from an interiors catalogue, last week. That highly professional fascia around the wood-fired pizza counter ("… this is where the magic happens …"), was, you suspect, given a lot of thought at head office.
There is none of the individuality you get in a character-led boutique venue. Instead, the pub is an overwrought mishmash of hip, contemporary design styles: equal parts Shoreditch diner, Soho members' club and modish country house hotel. Yet, for all that, I quite like it.
My suite, Charolais (£120 a night, and a similarly OTT juxtaposition of Moorish tilework, jazzy Chesterfield sofas and hulking, post-industrial iron coffee table) is huge and comfortable. Give me a toasty room with powerful Wi-Fi and proper wooden hangers, and, in a way, I'm sold, but I was also impressed by the six-foot wide bed (minus points for overly plump, polyester-filled pillows), the immaculate walk-in, twin-head shower and the exemplary tea tray (fresh milk, ground coffee, artisan chocolates from Sheffield's Cocoa Wonderland).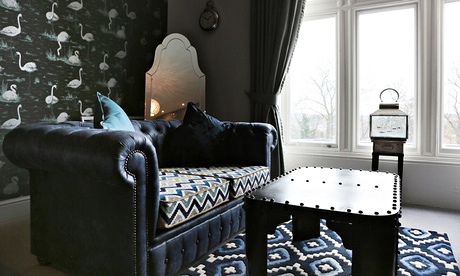 Down in the pub, once you stop ticking-off the design clichés (Penguin Classics' wallpaper, next to butchers' diagrams of cattle), it's easy to be seduced by the low lighting, buzzy background chatter of dining locals and the friendly, obliging staff. Warning: music seeps up to the bedrooms until late.
As well as a wood-fired pizza oven, the kitchen has a charcoal Josper grill (as head chef John Mahoney puts it, "a barbecue in a box") – which, using 28-day aged Yorkshire beef, produces terrific steaks. Overall, the food was swings and roundabouts. The béarnaise sauce was slightly over-seasoned (there are worse crimes). More problematically, a starter of smoked mackerel pâté tasted predominantly of lemon juice. However, next morning, I was served excellent eggs Benedict. And you don't have to drink Marston's boring beers, which include the house Florentine Gold (pint from £3.19). Two guest ales and several craft bottles offer an escape.
Why is Revere/Marston's coy about identifying itself in all this? Premier Inn is the trusted brand in the budget sector, and Revere could become a byword for serviceable, good value, not-quite-boutique inns. They've nothing to hide.
• Accommodation provided by The Florentine. Travel from Manchester to Sheffield was provided by First TransPennine Express (tpexpress.co.uk)