It is crucial to remember, when cycling with children, that their good mood and enthusiasm depend entirely on how long it has been since they last ate. It is also vital to know that in small French towns there is no point arriving for lunch at 1.57pm and expecting anywhere to serve you.
Turned away by the local bar, and hungry after cycling 20km, we dashed into the boulangerie in Mêle-sur-Sarthe three minutes before closing time and bought what they had left: two baguettes and a €7 box of petit-fours – tiny strawberry tarts, rum babas and coffee eclairs. These made a memorable lunch on the wall in front of the war memorial as we watched teenagers whiling away the afternoon, smoking and circling the square on their scooters.
The French government recently unveiled a 443km cycle route between Paris and Mont Saint-Michel (veloscenic.com), much of it on traffic-free cycle paths. Since another key rule of bicycling with children is not to be over-ambitious, we only attempted a fifth of the total route.
Over three days in mid-April we cycled 90km along the prettiest stretch, which runs through the Perche region of southern Normandy. The route here runs along abandoned railway tracks, now converted into car-free voies vertes, or green ways (voiesvertes.com).
This kind of track is ideal for children because it is flat and easy, and so deserted that you can let them ride away out of sight without worrying that they'll get run over. And there are so few other cyclists that they can veer all over the track without alarming anyone. They can stop, hurl their bikes to the ground and investigate ditches and derelict railway workers' huts and wander into forests, before continuing, with no parental nagging. The safety of the routes allows them to cycle independently in a way that is never possible in London.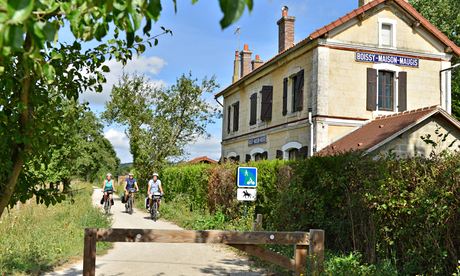 Over the past 20 years, this part of Normandy has become a weekend retreat for Parisians, whose arrival has pushed up the number of restaurants and antique shops. The villages remain quiet but you can assume there will be cafes (provided you get the timing right), boulangeries where the bakers make their own Easter eggs, and crèmeries with locally produced yoghurt, butter and cheese.
April was a beautiful time to visit. Much of the cycle path went through tunnels of trees, whose branches were just beginning to turn green; there were apple orchards on both sides, and pink-white blossom was sprinkled confetti-like on the paths. Ivy hung from old footbridges and abandoned railway sidings were covered with cowslip, dandelion, campion and the occasional wild purple orchid.
We heard cuckoos in the woods. All along the route we passed working farms – with cows, goats and huge Percheron horses – and stone chateaux with round turrets. There was a sweet scent of cowsheds and rotting hay.
We stayed in a gîte, La Mourandière, near Boissy Maugis, which is on the Véloscenic route. The owners made us breakfast, with homemade yoghurt and jam, and were very kind to our children, Rose (10) and William (8), showing them how to set up a movement-sensitive wildlife camera in the woods behind the house. While we were there it caught nighttime pictures of foxes and deer, and had recently captured families of wild boar rooting through the undergrowth and dormice stealing apples from the barn.
The nearby Bistrot des Ecuries, a converted farmhouse, also has guest rooms, and a sophisticated menu of duck, veal and trout, but was happy to heat up frankfurters for the children.
Other important things to remember when taking kids cycling include having a cycle rack on your car to get the bikes to the start of the safe route and to carry small bribes (chocolate eggs/sweets) to keep them going over difficult moments, such as when they fall off and announce (mistakenly) that they have broken both wrists.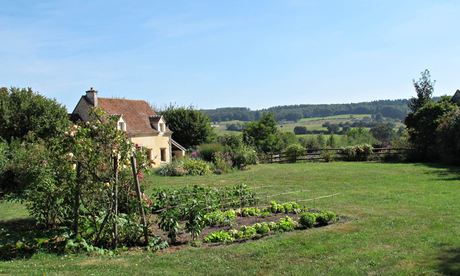 I gave up trying to make them drink the delicious organic apple juice for which this region is famous and let them have whatever disgusting fizzy drinks they wanted at every stop. It's like fuelling a car: one can of bright orange Fanta is good for about 17km.
We cycled 27km one day to Condé-sur-Huisne and back, and managed a 30km round trip the next day to Mortagne-au-Perche, catching the Saturday morning market, where tiny stalls sell odd pairs of items – walnut oil and plum jam, say. We rode 17km to Mêle-sur-Sarthe and back on our third day.
If you take the overnight ferry in both directions (unspeakably exciting for children, perhaps a tiny bit exhausting for adults), you can do three days of cycling over a long weekend. Before driving home, we took a horse and cart ride through the forest, with a lovely local farmer, Céline (attelagenaturedansleperche.blogspot.co.uk), who explained how residents are delighted at the new work brought by the weekending Parisians – the new demand for builders to restore houses, and waiters to serve in restaurants (and for cart rides with Percheron horses) but are dismayed at the soaring house prices.
It will be a while before we can undertake the full Paris to Mont-Saint-Michel route – carrying luggage and coping with longer daily distances. If we had been more ambitious and made the children get up early and cycle for long stretches morning and afternoon, they might have been persuaded to do 50km a day. But for their age and legs, 30km was a relaxing distance that made this feel like a holiday rather than an endurance test, and left us time to do other things. In any case, at the end of each day they were exhausted and asked to go to bed – an almost unprecedented request.
• The trip was arranged by Visit Orne Tourism (normandy-tourism.co.uk). Ferry travel was provided by Brittany Ferries (0871 244 1400, brittanyferries.co.uk) which has return crossings from Portsmouth to Caen from £258 for a car and four passengers. A week at gîte La Mourandière (+33 2 33 25 53 07, lamourandiere.com) costs from €315