I must have crept a hundred metres away from the track, pushing through thick jungle then finding a faint trail that led downhill towards the roar of the river. Everything was alive down here on the forest floor. A tiny bird with brilliant puffy white beard and red legs stood his ground, emitting a sound like a pneumatic hammer, but what I wanted to see I could only hear, chuntering away to itself up in the tree tops.
Camera in hand, I craned my neck to get a view. Clouds of tiny flies swarmed around me, but I resisted the urge to swat them away. At the back of my mind was a warning from Eduardo, our guide, about snakes. Something rustled behind me and I span around.
Standing there was a little old lady in a white smock. Her hair was long and very black. She gazed past me impassively, her face expressionless; her fingers were busily weaving some fibres that she'd pulled from the bushes. At her feet, which were bare, was a small grey pig, behind it a chicken and behind that, a sleek hunting dog which also avoided my eye. I tried my one word of the indigenous Kogi language: "Anchiga." No reaction. When I'd heard the language spoken it had sounded like something learned from prairie eagles a hundred thousand years ago. In this spirit, I tried again. "Aancheega."
Nothing.
I took my field book out. She showed interest. By chance it fell open at the hummingbirds, of which Colombia boasts a staggering 162 species, many of them bafflingly similar. The old lady, without hesitation, pointed out the selection that live around her home, the jungles of the Sierra Madre de Santa Marta.
I pointed up into the tree and began leafing through the pages. At the toucans she stopped me and tapped a gnarled fingertip on the keel-billed toucan, a magnificent jungle beast with a rainbow-coloured bill as long as my forearm. She took a couple of steps to the side and pointed up. I followed her gaze and there it was, high in the canopy, stroking its bill on a branch and sunning itself in the early morning rays.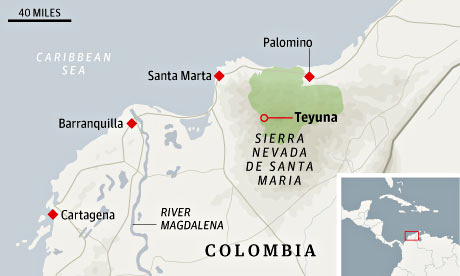 I took a few photographs then turned to show her the results, but the woman and her menagerie of followers had melted away into the forest. She had not said a single word to me.
I was on the trail that leads to Teyuna, a ruined city deep in the jungled mountains of the Sierra Nevada, a snow-capped range reaching up to 5,500m high that is visible from the palm-fringed beaches of Colombia's Caribbean coast. Word about Teyuna has been trickling out of Colombia ever since its rediscovery by treasure hunters in the 1970s, but problems with rebel militants and narco-traffickers discouraged any visits until the Colombian Army finally secured the area in about 2005.
By that time expectations were high: "The new Machu Picchu!" "The Lost City!" Increasing numbers of intrepid backpackers began to do the five-day trek with guides from the coastal town of Santa Marta and now it sees about 8,500 visitors a year. In 2011, a million people went to Machu Picchu.
For the most part, those 8,500 people get in and out without any interaction with the inhabitants of this emerald forest. There are thatched huts beside the trail, a few sombre faces peering around corners or from behind trees. Sometimes a woman, dressed in white and barefoot, will skip past, avoiding eye contact. On her back will be a child, staring mutely at the strangers. They never speak or smile, these long-haired ghosts.
Most guides are Colombian, which means they're outsiders, and know no Kogi or Wiwa, the two languages of the tribes along the trail. They march their visitors, almost all from Europe or North America, quickly onward. The point is to reach the Lost City and then get back to the fleshpots on the coast.
I might have done the same had I not had the good fortune of finding Eduardo, a guide with mixed Wiwa and Kogi parentage, who speaks both languages, as well as Spanish. Together with his two brothers, Eduardo has resolved to do something about the stranglehold that outsiders have on the trekking through his own people's land and has set up a guiding business. I was with Eduardo and another guide, Zalemaku, who is Kogi.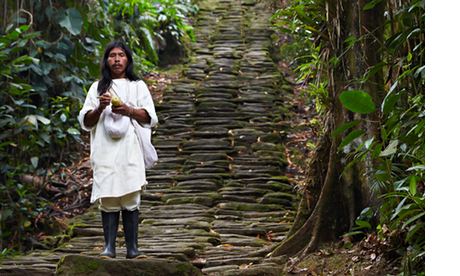 It was Zalemaku who found me at the foot of the tree, entranced by the toucans. We rejoined the trail and pressed onward, soon catching up with Eduardo and his two younger sisters, Anna and Lucia, who had come along to see the city for the first time. The old lady was there too, chatting in Kogi, and we had to have another good look through my bird book.
We had started two days before, and the first overnight stop had come after a stiff three-hour ascent from a village in the foothills where the land was a mix of grass and forest, mostly owned by non-tribal campesinos. The second day, however, had brought us higher and deeper into the forest.
We slept in hammocks in a tin-roofed shelter and swam in the crystal-clear Buritaca river, while giant iridescent blue butterflies flapped overhead. Early explorers had collected these wonderful creatures, killing them with the reverberations of shotgun fire, but the tribes, Zalemaku explained, would never do anything like that. "If we kill anything, the mamos tells us to pay compensation to the mountain."
"What is a mamo?" I'd asked.
"Like a priest," was his explanation.
I had just rejoined the group when Zalemaku spotted an old man up ahead. "That," he said, "Is a mamo."
The mamo, like all the locals, was taciturn at first, but once Eduardo started chatting to him in Kogi, he soon relaxed and became friendly. I asked him what his role was.
"We take care of the forest," he said. "This is the place of our ancestors and there are many spiritual sites."
What concerned him now? Did he like the fact that tourists come up to see the Lost City?
He corrected me: "For us it was never lost. We like the tourists coming if they want to understand our culture. What changed this place is that the colonialists took away the gold from Teyuna. That is why things are wrong."
The robbing of Teyuna by conquistadors happened in 1578, but for the mamo it seemed like a recent event. "The city is the Mother of the world's equilibrium. We want them to put the gold back." This is the core of Kogi philosophy: the earth must be kept in balance. In a remarkable documentary made by the BBC in 1990 called The Heart of the World, Kogi mamos called on the world to listen to their warnings about the environment, about the fatal imbalance that rapacious consumption was causing.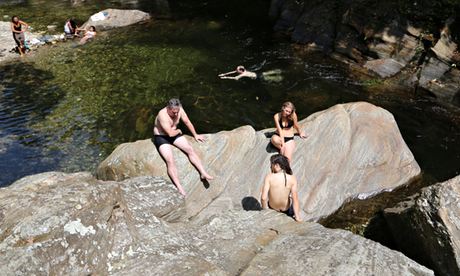 As we walked up the mountain it was obvious that the tribes have a subtle understanding of the forest. Although they do practise some slash-and-burn agriculture, they also keep gardens beneath the forest canopy, growing coca, bananas and coffee in small-scale patches that barely disrupt the flora and fauna all around. It is a contrast to the massive banana monoculture on the coast: Santa Marta is the source of many of Europe's bananas. Hemmed in on all sides by voracious land-hungry agro-industry, the indigenous lands do seem like threatened sanctuaries of idyllic biodiversity.
Land is not the only issue, however. On the third day we met Eduardo's brother, Laurenzio, who was bringing another group down, and he pointed out that language is another worry.
"Our languages are in real danger of extinction," he said. "The young men now want only to speak Spanish. They see it's the only way to be accepted."
Five centuries after Europeans charged into their territory, there is still no dictionary of either Wiwa or Kogi, nor any teaching in them.
I stood aside on the track to let a Kogi man leading a mule go by. A small child sat astride the horse, necklaces of beads swinging.
"Anchiga!" No response. "Zunggway!" That was my latest attempt at contact, "hello" in Wiwa. Neither got anything but a blank stare.
I rather admired their impervious hauteur. With Zalemaku and Eduardo, however, they were different. The men would greet each other and fetch from their hand-woven shoulder bags a little bundle of coca leaves. This bundle was then thrown into the other man's bag and they would have a two-minute orgy of chatter. While they talked they would ladle lime paste out of a gourd, a poporo, and place it on leaves that they then popped into their cheek. They would thoughtfully wipe the ladle on the side of the poporo, just like an old gent might tap his pipe bowl. Over years this hardens into a thick collar of limestone.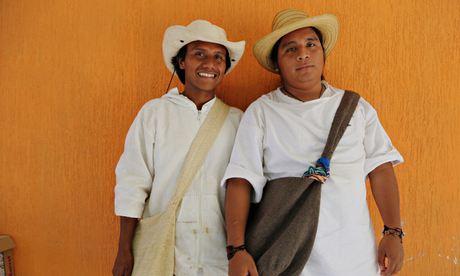 "They say it is the measure of a man's wisdom," said Eduardo who was only to be found without a leaf stuffed into his cheek when he was horizontal in a hammock. I could see that without these passports to conversation and diplomacy I was hopelessly hamstrung.
We kept moving. By mid-morning our cook, Enrique, caught up and overtook us. He'd already done us breakfast – arepas (cornflour pancakes) and eggs – and needed to get started on lunch at the next stop.
The path on this third day was spectacular, inching its way up steep cliffs laden with orchids and dangling lianas. Hummingbirds thrummed past our ears, land crabs glowered from pools, and a tiger heron stood poised over a pool in the river. The sheer cornucopia that is the Sierra Nevada is staggering. Little wonder that it was recently declared the world's most irreplaceable environment.
By mid-afternoon we had reached Paradise Camp, the most crowded of all the camps in the park, but with some gorgeous swimming holes nearby. At dawn we were up and away again, splashing across the river and starting up the 1,200 stone steps that lead to Teyuna.
It was a long hard climb up through the clouds, but when we finally emerged on a stone terrace at the lower end of the city, it felt like we had arrived on top of the sky (see cover).
Built around 800AD, the city covers a massive area, only part of which has been uncovered. With Zalemaku explaining how the settlement fitted in with the way the indigenous people lived, we wandered up immense flights of steps, eventually reaching a Colombian army post at the top. From there we had a misty view of curving terraces spreading down the mountain and into the clouds below. Another walking group was just leaving and we soon had the site to ourselves: a majestic and mysterious location, three days' walk from any car, mobile phone or computer, a place where the only sound was the squawks of parakeets (the Santa Marta parakeet, another unique species). There are few signboards and precious little knowledge about this place: it remains enigmatic and unknowable, rather like the descendants of its original inhabitants.
After a couple of hours the clouds had swarmed up over the site and began sending down a persistent rain, so we started back down.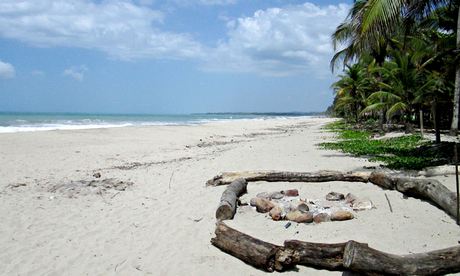 Three days later I was staying, as many visitors do, at a beach resort called Palomino. I was wishing I'd been more careful about insects: my forays off-piste into the jungle had cost me dear in terms of ticks and sand flies. At dawn I stood in the breakers hoping the salt water would somehow ease the itching. Gazing back inland I could see the great white summits of the mountain glinting far above, an astonishing sight amid the coconut palms.
That evening I sat in a beach bar and ate patacón pisa'o, fried plantains with local soft cheese. I had just finished when I noticed a small band of people with long glossy black hair standing among the tables. They were wearing simple white smocks and each carried several shoulder bags woven from natural fibres. They looked a bit baffled, as though trying to make sense of what they were seeing. I wondered if they had come down to collect shells. Eduardo had told me that Palomino beach, now rapidly turning into a tourist hotspot, was the traditional place for Wiwa and Kogi to collect a particular shell used for making lime paste, an essential part of for their coca ritual.
These people did not stare, but their impassive sombre faces attracted some attention. A few diners turned and smiled, obviously uncertain what to make of this, but since the group did not do anything, speak to each other, or even show any signs of curiosity, people soon lost interest and returned to their meals.
I got my notebook out and glanced through it. What was that word for hello in Kogi? I couldn't believe that the only word I'd learned of the language of the people in whose land I was travelling had already slipped my mind. Anchiga! That was it. I looked up, ready to try it out one last time, but the little band of silent people had already melted away into the night.
How to do it
The trip was provided by Sumak Travel (020-36424246, sumak-travel.org) which promotes local community tours and initiatives. A private 15-day tour of Bogota, Cartagena, the Amazon rainforest and Tayrona national park (for the Lost City hike, with Wiwa and Kogi guides), including accommodation, internal flights and transfers, guided activities and excursions and most meals costs from £1,685pp. The price including direct flights from Heathrow to Bogota with Avianca is £2,135pp. Wiwa Tours office: Carrera 3, #18-49, Santa Marta; +57 320-510-9287; info@wiwatour.com.
Further information
UK airport transfers and rail tickets were provided by Holiday Extras (0800 977 5171, holidayextras.co.uk)
• This article was amended on 28 April 2014 to correct the spellings of patacón pisa'o and poporo.