Jupiter Hotel
This mid-century motor inn has been turned into a boutique hotel in the heart of Portland – think classic motel with ultra-modern glass and steel facelift somewhere between Twin Peaks and a cosmopolitan truck stop – and is just minutes from downtown. The 80 minimalist rooms have murals ranging from forest scenes to Spider-Man and John Lennon. It's a happening place, with the Doug Fir lounge serving Northwest fare (Idaho trout with mango and lime sauce), local brews and cocktails. Bikes and ZipCar rentals are available.
• 800 East Burnside, +1 503 230 9200, jupiterhotel.com. Doubles from $119.
Crystal Hotel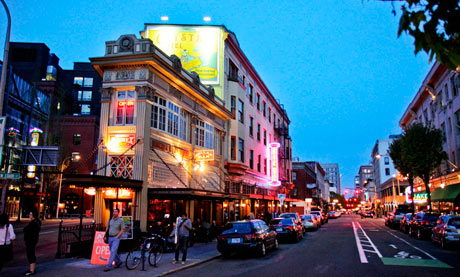 Located just across the street from the Crystal Ballroom, where James Brown, Marvin Gaye and the Grateful Dead all played in the 60s, the Crystal is run by McMenamins, which operates numerous hotels and brewpubs in the Pacific Northwest. It was originally a hotel, then a gay bathhouse, and it has retained a lot of the historic features and photographs of the original building. The decor in each of the 51 rooms is inspired by a song or performance from the Crystal Ballroom's past 100 years and deep-hued walls, black-velvet drapery and animal print upholstery lend a rock'n'roll vibe. Room rates include use of the saltwater soaking pool. Onsite, the Zeus Cafe offers local fare, and Al's Den has live music performances.
• 303 SW 12th Avenue, +1 503 972 2670, mcmenamins.com/CrystalHotel. Doubles from $85.
Kennedy School
This hotel is housed in a 1915 school building – but a very ornate one. The once-abandoned elementary school is now one of Portland's quirkiest hotels, with 57 guestrooms that still retain original features such as chalkboards and cloakrooms. There's a restaurant in the courtyard (lots of steak and sausages), several small bars, a heated pool and a McMenamins brewery. Pet-friendly.
• 5736 NE 33rd Avenue, +1 503 249 3983, mcmenamins.com/KennedySchool. Doubles from $115.
Tierra Soul Urban Farm and Guesthouse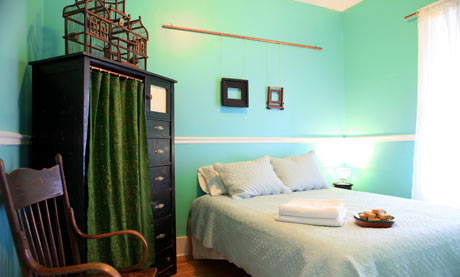 This farmstay in the hip Mississippi Avenue historic district has four guestrooms and a 1969 Barth Caravan trailer. Tierra Soul has its own bee sanctuary and spa, and also offers sustainability and permaculture workshops, nutritional therapy, art and healing – all very Portland.
• 4614 North Michigan Avenue, +1 503 489 7645, tierrasoulpdx.com. Doubles from $95.
Friendly Bike Guest House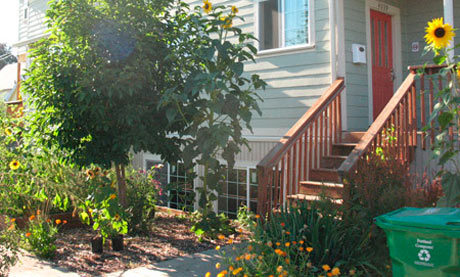 Portland is a very bike-friendly city, and the Friendly Bike provides cyclist-oriented accommodation in one of Portland's most close-knit neighbourhoods. Less than two miles from the centre and the Riverside Loop cycling trail, the guest house is surrounded by the restaurants and pubs of Williams Avenue and the Alberta Arts District. Guests have access to a fully equipped kitchen, and a washer and dryer. Dorms and private rooms are available, along with a personal locker and an indoor bike lockup.
• 4039 North Williams Avenue, +1 503 799 2615, friendlybikeguesthouse.com. Bunk beds $36, doubles from $76.
Ace Hotel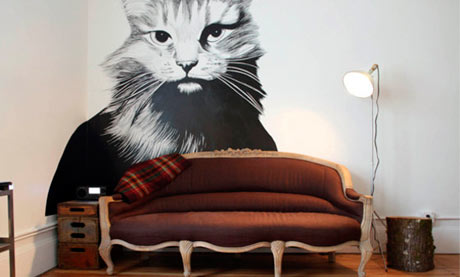 Part of a small boutique chain, the Ace is downtown near the Pearl district. Its 79 minimalist rooms incorporate retro-styled Pacific Northwest art, recycled materials and vintage furniture. A photobooth in the lobby is a fun touch, and there are free rental bikes for getting around town. Its Clyde Common restaurant and bar is a great place to hang at the end of a day sightseeing, and it's popular with locals as well.
• 1022 SW Stark Street, +1 503 228 2277, acehotel.com/Portland. Doubles from $125.
Portland's White House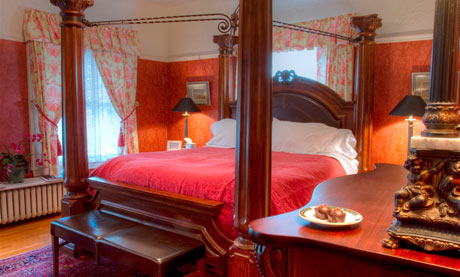 Built in 1911 as a summer home for a lumber baron, the White House was the most expensive home in the Irvington district area at the time. The massive white columns, circular drive and fountain are certainly impressive on arrival. The interior has been restored to its original splendour, with chandeliers, sweeping staircase, leaded windows, gilt ceilings, a parlour with grand piano and a grand ballroom. The home is filled with porcelain and oil paintings from the 18th and 19th centuries. There are five guestrooms in the main house and three more in the carriage house.
• 1914 NE 22nd Avenue, +1 503 287 7131, portlandswhitehouse.com. Doubles from $135, including breakfast
Hotel Fifty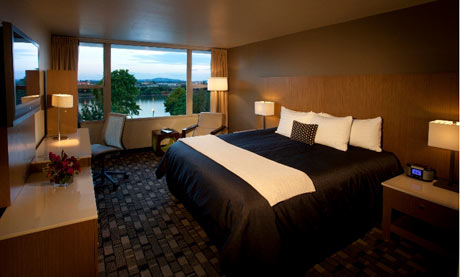 Right on the river downtown, the Hotel Fifty's location is hard to beat, with the Tom McCall Waterfront Park opposite. Rooms are spacious, with muted colours, if somewhat corporate. There's a bistro and bar, as well as a spa, and guests have free access to 24-hour fitness facilities. Dogs of up to 50lb are welcome, and will be provided with a box of premium treats so they will feel special, too.
• 50 SW Morrison Street, +1 503 221 0711, hotelfifty.com. Doubles from $129.
Everett Street Guesthouse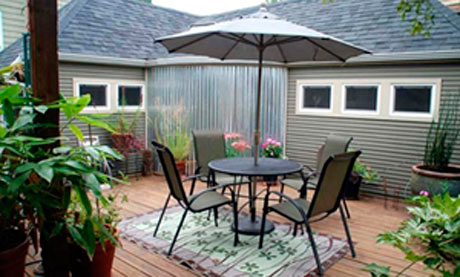 This laid-back B&B bills itself as a peaceful urban oasis, with "no frilly curtains, teddy bears or potpourri". The 1907 Craftsman-style home is warm and welcoming, filled with arts and crafts from the innkeeper's previous life as a gallery owner. Minutes from the Pearl district, it has two guestrooms in the main house and a separate studio cottage (breakfast not included with cottage). A large deck and a library room with computer and fridge are available to guests.
• 2306 NE Everett Street, +1 503 230 0211, everettstreetguesthouse.com. Doubles from $100 including breakfast
The Georgian House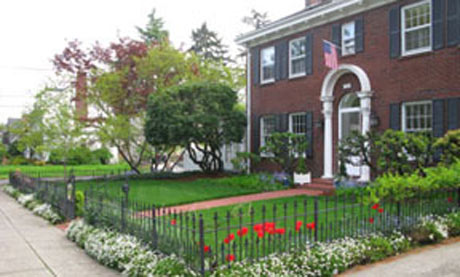 This B&B is a beautifully restored 1922 colonial house in the north-east of Portland, known for its historic mansions. The home has leaded glass windows throughout, a winding staircase, oak floors and sun porch, and lush gardens – breakfast ingredients often come from the backyard. The four guestrooms are comfortable, with brass beds, hand-sewn quilts and antiques.
• 1828 NE Siskiyou, +1 503 281 2250, thegeorgianhouse.com. Doubles from $113, including breakfast.
Note: prices do not include local tax
Shelley Seale is a freelance writer, editor and author
• For more information on holidays in the USA, visit DiscoverAmerica.com