Y ou visit a place, find it a challenge and a bit foreign at first, but gradually fall in love with it. Too soon you're back home, fighting a lump in your throat as you unpack your souvenirs. For Mac, slick exec of Knox Oil and Gas (Houston, Texas), that's how his Scottish trip plays out. He arrives at a tiny coastal village, a man on a mission to purchase the whole place for oil exploration and get back to Texas for tea. In the end, he goes home with an aching heart and a collection of shells that he longingly sniffs.
So goes the story of Local Hero. It's a film I adore for lots of reasons – but especially the way it evokes a sense of place. With Tanera Mòr, an island off the north-west coast of Scotland, up for sale, and the resonance between Local Hero and Donald Trump's acquisitive adventures in Scotland, it feels like a good time to revisit the movie. Every viewing has left me longing to travel to its fictional village, Ferness. Finally, exactly 30 years after the film came out, I managed it.
But being Mac isn't straightforward. While the exterior village scenes of Ferness were filmed in Pennan, on the Banffshire coast in north-east Scotland, the beach was shot way over west, at Camusdarach, and the hotel and pub interiors elsewhere again.
With a background in documentary, Forsyth later admitted he wasn't prepared for such smoke and mirrors. (Nor, perhaps, are fans who have their picture taken in Pennan's famous red phone box. For the film, they built a wooden replica in a more cinematic spot.) But what the atomised reality of film locations does give you is a template for a road trip that's fabulous, even if you aren't nuts about the film.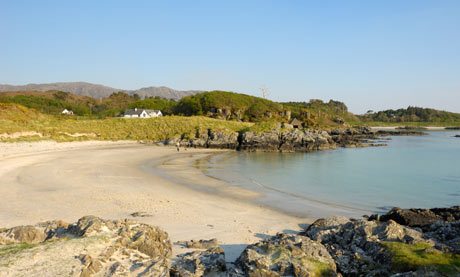 Being nuts about it, though, I suggest to my brother (along for the ride) that on the first night we watch the DVD. After pretty expansive eating at Durn House B&B in Portsoy, an impeccably renovated 18th-century mansion that juggles grandeur with cosiness, we settle back to watch but fall asleep, exhausted. That's OK: I know the script well enough to assure you that practically any of the tourist attractions of the area are supported by the film. A visit to a whisky distillery? Try these lines:
Urquhart: "I want you to try this Scotch. It's 42 years old."
MacIntyre: "Old enough to be out on its own."
We choose Glenglassaugh Distillery, near Portsoy, which was revived in 2008 after 20 mothballed years. It seems to run on passion and offers a history-rich tour in a working environment, not a museum.
Staring at the night sky, hoping for the aurora borealis? Happer, the head of Knox Oil and Gas – played by Burt Lancaster – is an astronomy obsessive who insists Mac calls in with sky reports: "Anything out of the ordinary, you telephone me. Night or day."
It's the scenery that steals the show, though. Denis Lawson, who played the inscrutable Gordon Urquhart (hotelier, accountant, lover, barman), says that's part of the reason the film remains his favourite job: "The landscape was like another character, intrinsic to the film. For the beach scenes I remember the excitement, every day, when we left the production caravans behind the dunes. To get on to the set you'd walk on this narrow, wooden, latticed walkway up through the dunes."
For us the drama is amplified by a biblical parting of clouds just as we reach what is known in the film as Ben's Beach (Ben is the old beachcomber whose ancient rights over the sands are a spanner in the oil works). This is a coast with none of the monochromatic perfection of brochure beaches. Between the islands of Rum and Eigg out west, the sand, the grasses and the rocks under your feet, there is colour and contrast everywhere.
Our base in this area, the Old Pines in Spean Bridge, doesn't look much – a modern chalet in a forest – but offers such inventive cooking and a dazzling highland outlook packed with trails that we don't care. Ben Nevis, Loch Lochy and the Great Glen are your neighbours.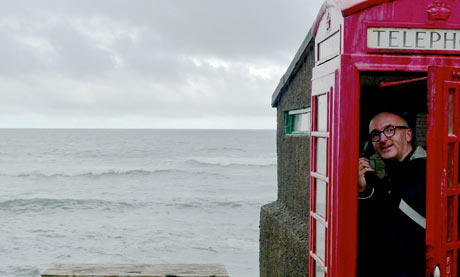 "One of the extraordinary things up there is the light," says Lawson. "Normally you shoot early, but we would begin around noon and prepare scenes for the gloaming, sunset light. It's just gobsmacking. We had a couple of props guys on the beach who would spend hours throwing water across it to catch the light. And the thing I remember about Pennan was a night scene. We had three hours of darkness to get the shots. Normally you run out of light; we were running out of dark."
Pennan looks just as it did in the film, but of course can't be the film. There's barely anyone around, and I feel like I'm ghost-hunting. The only evidence is a weather-beaten plaque on the hotel wall: "Bill Forsyth's worldwide success was filmed in and around Pennan." After a quick call from the phone box, we travel a few miles east to the even more precarious Crovie, so tight up against the water that cars are pointless, and groceries must come down via wheelbarrow. Just relish not being able to park, as it launches you into cliffside rambles. From above, Crovie looks vulnerable, dwarfed by rocks and water.
It's easy to miss the two small film stills just inside the doorway of the Ship Inn, Banff. This was the set for the bar scenes, and we drop in after taking a bird's eye view of Cullen, its beaches and red sandstone rocks, known as The Three Kings, from the grand viaduct. In this bar, Mac drunkenly admits he wants to swap his life with Gordon. "I'll make a good Gordon, Gordon," he says.
But it's not to be. Mac is sent back in Happer's helicopter, superfluous in his boss's new dream for Ferness. It felt right to end our journey with a glimpse of Loch Ailort, where Forsyth filmed Mac flying towards the horizon. While he has to consider how his life has been turned on its head, you can stop off at the Glenuig Inn, stock up at Macdonald's smokehouse and pack up your shell collection.
• The trip was provided by McKinlay Kidd (0844 873 6110, seescotlanddifferently.co.uk), which offers a Local Hero Coast to Coast trip from £565pp. The five-night, two-centre trip includes guesthouse accommodation with breakfast, four dinners, a dolphin-watching boat trip, scene location cribsheet and a Local Hero DVD to watch before you leave