If adventure is on offer, the adventure-seeker will travel. People make the trek to Australasia just for the privilege of having a bungee cord slapped around their ankles. They'll go all the way to Chile to get in a tiny plastic boat and float down treacherous rapids. But if your budget, time and fear levels don't stretch to an international adrenaline-boost, – and the internet says the infamous South African surf is "a bit sharky" anyway – Staffordshire has a collection of buzz-friendly adrenaline stations, all within an hour's drive of each other.
I took my mum away for a weekend of theme park fun, which was cruel, as she had never been near a rollercoaster or expressed any desire to address this. Those pre-ride warning signs that suggest people of a "nervous disposition" may not wish to participate are aimed at her. She doesn't do heights or speed. It was going to be an experience, if nothing else.
We started at Drayton Manor (near Tamworth, 0844 472 1950, draytonmanor.co.uk, online prices: 4-11 age group £20, 12+ and adult tickets £25; on the gate family-of-four ticket £108), a cutesy, family-oriented park, which has Thomas Land, a huge play area dedicated to Thomas the Tank Engine, and the ride Ben 10 – based on the cartoon about a 10-year-old.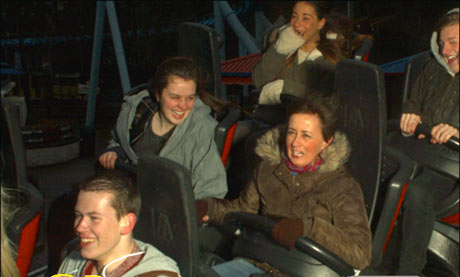 We went straight to G-Force, which starts with a painfully slow loop-the-loop before hammering around the twisty track full-pelt. "This is horrendous!" mum managed to croak, among the screams. It was brilliant. We also went for Shockwave, a clattering stand-up coaster, which was less traumatic, but we chickened out of Apocalypse, which drops you from a height of 54m, which felt too traumatic. Ben 10 was, however, surprisingly scary.
But it's Alton Towers (Alton, 0871 222 3330, altontowers.com, online prices: adult £34.65, child £28.35, family ticket £29.70pp), an hour's train ride, plus a bus journey, from London that does thrills so well. It's a huge place, so the resort's hotel is well worth a look: not only does an overnight stay get you into the park an hour before everyone else but there's a sense of magic that begins as soon as you approach its Willy Wonka-esque entrance. This continues through the themed restaurants and selection of themed rooms – though sadly we didn't get to see the Moon Voyage, Arabian Nights or Big Pyjama Rooms.
Early in the season is the ideal time to go: for us, the queues were practically nonexistent. The cold snap meant the water rides were less appealing but plenty of cagoule-sporting optimists went for them anyway. I'd last visited in 1998 with school, so we did the classics (Nemesis, Oblivion), but there have been plenty of additions since then, and there was a lot to get through. The whizzy Rita whips you from 0 to 100kmph in 2.5 seconds, and it feels like it. The clever Thirteen seems like a standard coaster until it hits you with a brutal surprise. It works best if it catches you unawares, so just listen out for the creaking.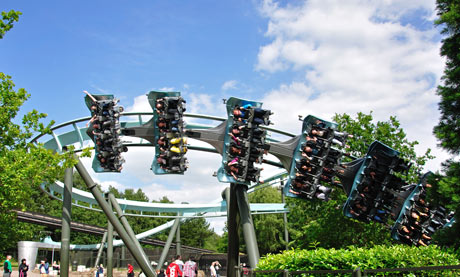 Air, too, was a smasher, and certainly the only time I've flown through a forest belly-down while shouting rude words at the trees. For psychological terror, Nemesis Sub Terra turns a hokey story performance about an alien egg into a frightening experience that had me screaming into the face of one of the poor actors involved (apologies). By the end of the day, my mum had "done" Oblivion and Thirteen twice, so there may be something in this immersion-therapy idea.
Perhaps the most surprising action option in the county takes you to the crisp white slopes of … Tamworth. The SnowDome (Leisure Island, Riverdrive, 08448 000011, snowdome.co.uk, group lessons from £60 adults, £49 children) has real snow, not the brushy dry-slope stuff, though they were cagey about the recipe when I asked. It is open to experienced boarders and skiers and appeared to be hugely popular with all abilities. We were of "no ability", so we had a two-hour, beginners' lesson with instructor Dave Clarke. By the end, he had us flying down the baby slope – all three metres of it – with the breezy confidence of old hands, though sadly the après-ski involved a sandwich and a cup of tea, not the fondu and Glühwein of my dreams. Still, we had conquered a mountain of fears over just two days, so Val d'Isère here we come! After a few more lessons in Tamworth, that is.