With Christchurch unable to host Rugby World Cup (rugbyworldcup.com) matches after February's earthquake, the spotlight is on Dunedin: the South Island's second city will now host three of England's four group games. Eighteenth-century Scottish settlers built the city in Edinburgh's image, and it was boosted by a goldrush in the 19th century. Its university (otago.ac.nz) is the oldest in New Zealand and one of the most prestigious, lending the city a multicultural, youthful air. Dunedin's vibrant, compact centre is surrounded by fantastic countryside, great beaches and teeming wildlife.
Cafes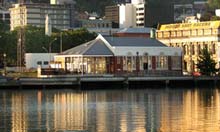 Customhouse (18 Fryatt Street, thecustomhouse.co.nz) is an airy, upmarket cafe-bar-restaurant on the harbour, housed in – yep – the former custom house. Potpourri (97 Stuart Street) is good for an afternoon pick-me-up – try its delicious apple crumble muffins. George Street is full of cafes, including Governors at No 438. A Dunedin institution, it has been catering for hungover students since 1977 and makes the best cheese rolls around. These Dunedin delicacies comprising bread slathered with a secret cheese recipe (rumour has it onion soup mix is involved), folded up, grilled, then spread with butter and served with a cup of tea.
Strictly Coffee (23 Bath Street, strictlycoffee.co.nz) is one of Dunedin's coolest cafes. It has a retro vibe with lots of red and black leather, and a cute courtyard garden. Locals will drink six "long blacks" in one sitting – not to be attempted if you're unused to New Zealand's strong coffee.
Restaurants
Technique (Harbour Terrace, +64 3 479 6172, for bookings email bookings@op.ac.nz) is the training restaurant for Otago Polytechnic, where you can enjoy a tasting menu for under £20 – bargain. Paasha (31 St Andrew Street, paasha.co.nz) is best for Turkish food, while the student area is full of great sushi joints. If you want to splash out, go to Plato (2 Birch Street, platocafe.co.nz). Ignore the menus on the table and choose from the seafood on the blackboard. I had paua patties (abalone, the surprisingly tasty slug of the sea), squeaky fresh tuna on a herb risotto, and liquorice and five-spice ice-cream with rhubarb compote. Collectors' kitsch lines the room – and keep an eye out for sporting superstars: All Blacks captain Richie McCaw was on the next table.
Bars
Albar (135 Stuart Street) was originally Central Bar – allegedly the first five letters fell off and the new name stuck – and it reflects Dunedin's Scottish heritage, serving whisky and haggis. Inch Bar (8 Bank Street) has a good selection of beers, including local brew Emerson's on tap. Pequeno (50 Princes Street, pequeno.co.nz) is a hidden gem behind the Savoy building. Find it down a graffiti'd alley off Moray Place – belying the insalubrious surroundings, it's a classy joint serving cocktails and tapas. Lower Stuart Street has plenty of restaurants and bars, including hip hangout Carousel at No 141 (carouselbar.co.nz). Also look out for anywhere serving Green Man (greenmanbrewery.co.nz), a local, award-winning organic beer.
Accommodation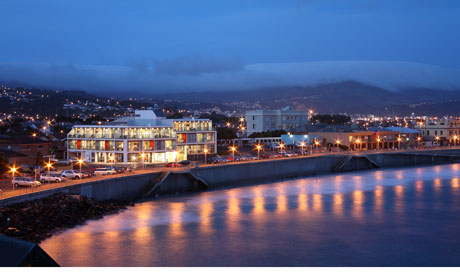 For backpackers, Merrin recommends On Top (12 Filleul Street, (+64 3 477 6121, ontopbackpackers.co.nz, dorm beds from £13); clean modern doubles at LivingSpace (192 Castle Street, +64 3 951 5000, dud.livingspace.net, from £32 a night,); and self-catering flats at Quest Dunedin (333 Cumberland Street, +61 3 9645 8357, questapartments.co.nz, from £66 a night).
James suggests the Tourist Court Cottages, a 15-minute walk from the centre (+64 3 477 4270, motel-accommodation-dunedin.co.nz, from £49 a night). More adventurous visitors might want to try dormitory accommodation at The Lodge on Dunedin's Quarantine Island, where new arrivals were contained in the 19th century. (+64 3 478 0874, theisland.org.nz, suggested donation £7 a night).
On the Otago peninsula, Larnach Castle (+64 3 476 1616, larnachcastle.co.nz) has lodgings to suit three budgets: The Stables (cheapish), Larnach Lodge (mid-range) and the new Camp Estate (very expensive). For a real treat, stay at the St Clair Beach Resort (+64 3 456 0555, stclairbeachresort.com, doubles from £96), a new luxury hotel in a swanky suburb south-west of the centre. It was the best place I stayed in New Zealand by a big margin.
Culture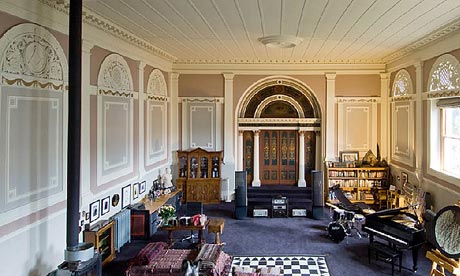 Dunedin has a vibrant live music scene (see dunedinmusic.com). Logan Park, the university sports ground just across the road from the new rugby stadium, hosts festivals and outdoor gigs. Re:Fuel (640 Cumberland St), a cafe/bar on campus often has jazz by local musicians. Also try tiny Mou Very (357 George Street), upstairs at the Captain Cook Tavern (354 Great King Street); and the Chicks Hotel (2 Mount Street) in bohemian Port Chalmers. Ash & the Matadors are an up-and-coming local band.
Moray Place is home to a cluster of art galleries, such as Temple (templegallery.co.nz) and Blue Oyster (blueoyster.org.nz), while Gallery De Novo (gallerydenovo.co.nz) on Stuart Street) displays a changing line-up of New Zealand artists.
Beaches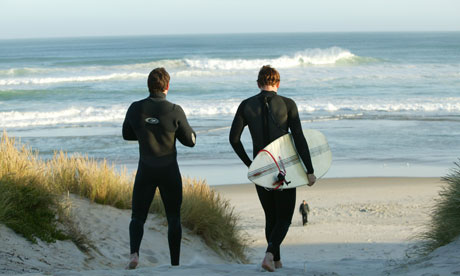 You're spoilt for lovely beaches in Dunedin: St Clair, St Kilda, Black Head, Brighton … But perhaps the most magical of all is Tunnel Beach, a few kilometres south-west of the city. In the 1870s John Cargill, a local bigwig, blasted a tunnel through the cliff so that his family could bathe in privacy. A steep grassy track leads to the tunnel, which has 72 stone steps down to the beach. The stretch of golden sand is flanked on three sides by sheer, sea-smoothed cliffs with natural caves and rock arches. Legend has it that Cargill's daughter drowned there, so he paid a high price for his piece of paradise. Check the tides before you go and avoid lambing season, when the track is closed.
Outside the city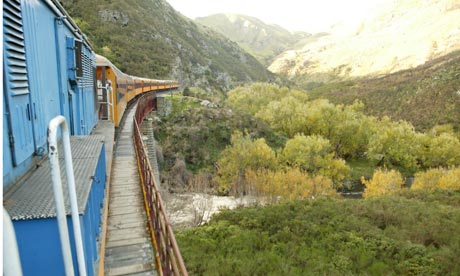 The major wildlife draw around Dunedin is the Otago Peninsula (otago-peninsula.co.nz). I took a Monarch boat trip (wildlife.co.nz) to the Royal Albatross Colony at Taiaroa Head, the birds' only mainland breeding colony in the world.
Also on the peninsula I visited Nature's Wonders (natureswonders.co.nz), a family-run conservation project. We zoomed around on all-terrain Argo vehicles, spotting dozens of New Zealand fur seals and their playful pups, and even a couple of rare yellow-eyed penguins.
To the north, the Taieri Gorge Railway (+64 3 477 4449, taieri.co.nz) offers a relaxing journey through spectacular scenery.
Remaining tickets for the 2011 Rugby World Cup go on sale on 4 July at tickets.rugbyworldcup.com. For further information about New Zealand and the world cup, go to newzealand.com/rugby. The Real New Zealand Festival (realnzfestival.com) will feature more than 1,000 cultural events during the tournament.
Emirates (0844 800277, emirates.com/uk) flies to Auckland and Christchurch daily from Heathrow, Gatwick, Manchester, Birmingham, Glasgow and Newcastle from £950 return.
• James Hacon is a local tourist consultant (twitter.com/jameshacon), and Merrin Bath organises Dunedin's annual fashion week (idfashion.co.nz)