The sun is high over snow-capped peaks, breath freezes on the air, and between the trees, darting, dashing, dancing – I can see Santa Claus.
In fact, I can see a hundred of them. I'm at the Santa Claus World Championships in Samnaun, Switzerland, where competitors sledge, sprint, and sing their way through a gruelling programme of Christmas-inspired tasks as they fight to be crowned the world's best Father Christmas.
Known as the ClauWau, the two-day contest marks the opening of the winter season in Samnaun, a ski resort at the heart of the "three-nations corner", where Switzerland, Austria and Italy meet.
Part international Christmas party, part alpine sports medley, ClauWau is fiercely contested but highly inclusive. Challenges include gingerbread decorating, chimney climbing and sleigh driving, and anyone over 18, in a team of four and dressed as St Nicholas can enter for free.
Sounds bonkers doesn't it? And it is. But for me, the combined lure of festive foolery and a good fondue proved too strong – so I gathered three friends with the requisite Christmas spirit and took off to Switzerland to give it a shot.
After a three-hour drive from Zurich airport, we pulled into Samnaun with Driving Home for Christmas on the hire car radio, and prepared to get seriously seasonal. The first stop for would-be Santas was the opening ceremony – a candy-striped feast of glühwein and goodwill, where each team introduced itself with a short presentation.
Karaoke proved a popular formula, but 2010's winning foursome, the Auwer-Chläus, produced a Christmassy skit featuring dramatic explosions and beautiful St Nicholas costumes complete with cardinals' hats. Their splendour cast shame on my own costume effort – a pom-pommed red number apparently designed for a novice clown.
If my team were displeased that I'd registered them under the name "Sub Claus" (a pun I spent two days shame-facedly explaining), they were even less impressed to be told our presentation would involve singing The 12 Days of Christmas.
Tragically, our audacious a capella rendition was marred by the language barrier. I intend to have all film footage destroyed, so you'll just have to trust me on this one.
After a blissful night's sleep at the Hotel Garni Chasa Castello, we met a second English team – Anglaisclaus – who had flown in from Newcastle overnight. Pledging mutual support, we readied ourselves for the first physical task, a time trial in which competitors sprint up a steep snow-slope before sledging down again on "zipfy bob" sleds.
Whooping, laughing and occasionally screaming, Santas whizzed past in relay until finally it was our turn to approach the start line. The announcer roared a countdown for "ZEE BRITISH TEEEEAM!" and we charged for the summit, a phalanx of TV cameras at our backs.
In a manoeuvre worthy of Bridget Jones, I tripped at the top of the fearsome sled run, missed the sledge entirely, and tumbled down the course face-first. Cameramen high-fived, my team spluttered in horror, and I limped to the sidelines, quietly retching.
In honesty, I don't think our hopes of ClauWau victory ever recovered from this early setback. After a breather and a restorative mug of hot squash, the high-spirited Santa throng assembled for a parade through the village of Samnaun.
"It's like a Jarrow March for Santas," mused my team-mate Rachel, as the parade passed a gaggle of onlookers, "but a happy one, and with much better weather."
Next up was "Santa's Journey", a geography task that challenged teams to identify global landmarks from pictures. As any Santa worth his sherry knows, navigation is a vital skill when you're racing round the world in a single night. "No conferring!" warned the organisers as we pooled answers with team Anglaisclaus and tried to look innocent.
Back in the marquee that had hosted the previous night's presentations, the teams split in half to tackle a pair of creative challenges. Two members would decorate a gingerbread heart, and two paint a picture to sum up Christmas – each in 20 minutes.
Setting about with paint brushes and piping icing, we pulled off a half-decent biscuit and poster combo featuring assorted trees, snowmen and stars a-twinkling. Other teams were less traditional. Santa is Back, a crew of Mexican-style Clauses, produced a touching image of St Nick downing tequila shots in a sombrero.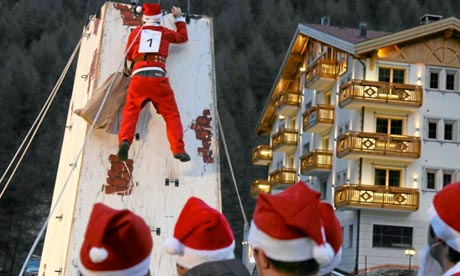 By now it was early evening, and we moved outside to find a chimney-shaped climbing wall glowing under floodlights. While convention has it that Santa goes down the chimney, at ClauWau they double the fun: each Claus ascends while carrying a sack, and rings a bell at the top. Only when they have abseiled back down can the next team member begin their climb.
Communication was key to this, and to the task that followed – the hat race. This surreal spectacle saw contenders dash round an assault course inside a giant Santa hat, picking up presents. Visibility came care of a tiny window at the front, ensuring we moved with all the grace of a pantomime horse.
It was our final task, the "Steinbock Sprint", that truly sorted the bearded elders from the boys. The steinbocks looked like wooden rocking horses, and were equally tough to move over distance. Posses of Santas had to complete a relay on said creatures while trying not to fall off backwards.
Our slow and steady approach was never a medal-winning strategy, and so it proved a few minutes later when the Auwer-Chläus scooped the title for a second year, along with 1500 Swiss Francs (about £1,000), with the same amount going to a charity. Hats off to them – those Swiss give great Santa.
The ClauWau is mad, but also magical, and would make a holiday high point for skiers or snowboarders looking to enjoy a longer break. The resort has mostly red runs, for intermediate skiers, but there are plentiful off-piste opportunities for old hands, as well as gentler slopes. Freestylers and adrenaline-junkies should head directly for the park, a jump-filled haven that welcomes all abilities.
Oh, and there's one more incentive – you didn't hear it from me, but Samnaun is a duty-free zone, so alcohol and cigarettes are available tax-free. Perfect your sledging, start growing that beard, and the next Santa coming to town could be you.
• Next year's ClauWau (clauwau.ch) is on 23-24 November. Swiss International Air Lines (swiss.com) flies from Heathrow to Zurich from £114 return. Doubles at the Hotel Garni Chasa Castello (+41 81 861 8060, chasacastello.ch) cost from £180, with breakfast and use of spa facilities