As in many walks of life, the best way to hunt down vintage clothing is to follow the money. So says vintage fashion expert William Banks-Blaney, owner of WilliamVintage in London's Marylebone and one of the leading lights of the UK's vintage fashion scene.
"If you go to where the money was during a certain era, you'll find the vintage stores in that area tend to have more of the clothes from that time," says Banks-Blaney, siting 30s Berlin and 70s California as examples. "That said, certain cities have always been wealthy, which is why London, Paris and New York are brilliant vintage destinations for any decade, and why, for example, thanks to the music scene in Nashville, you can always find great 50s, 60s and 70s stock there," he says.
Banks-Blaney travels the world hunting down rare and beautiful clothing and believes that while you can never guarantee what you'll find and where you'll find it – if you're after clothes from a particular decade, you will tend to find the biggest collections in the cities that were booming at the time. So with his help, I've put together a decade-by-decade guide to some of the best cities for vintage, plus suggestions of what to look for when you arrive.
1930s, Berlin
Why? Artistic and musical movements are closely tied to fashion and Berlin was definitely a cultural hotspot at this time. Berliners had a reputation for louche and rebellious behaviour and the city was one of the great centres of Bauhuas as well as art deco. Fans of 30s fashion should also look to Chicago, which was the capital of jazz in the 30s.
What? Flapper dresses are a good buy – although you have to be thin and flat-chested to really pull them off – as are dresses cut on the bias. This style, which skims the body, started to appear around this time, and a bias-cut dress from the 1930s looks just as contemporary as anything you could buy now. Labels to look for include Louise Boulanger and Elsa Schiaparelli.
Try Schwarze Truhe, 54 Karl Kunger Strasse, +49 30 5321 2305, schwarzetruhe.de
1950s, Paris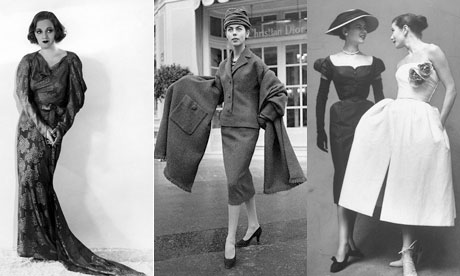 Why? As the world began to rebuild after the war, Paris emerged as the centre of the fashion world. In the late 1940s and 50s Dior's New Look – all cinched waists and full skirts – transformed fashion and attracted luxury retailers from the US who came to Paris and then went home to create their versions of the looks that they saw. This was the decade when fashion became more of a world movement, with similar shapes being created across the globe.
What? New Look style dresses which expose the arms and cinch at the waist before flaring out, and almost cylindrical bolero jackets that emphasise the waist. Keep an eye out for anything from Christian Dior, obviously, but also British designers such as royal couturier, Norman Hartnell, and Hardy Amies. Jean Dessès is another find; he trained Valentino and Armani and his dresses are still spotted at the Oscars on the likes of Renée Zellweger, Kristin Davis and J-Lo.
Try The Hôtel Drouot auction house, 9 rue Drouot, +33 1 5324 1278, drouot.com
1960s, London
Why? Britain was genuinely cool in the 1960s – it was partly down to the music scene, but also television shows such as The Avengers which summed up a new attitude and reflected the growth of modernism. London designers invented the 60s look and the first supermodels, Twiggy and Jean Shrimpton, were both 60s British icons.
What? Mini dresses and almost space-age looks, inspired by the era of space exploration, that use futuristic metal discs and plastics. Look for the classic names you'll recognise such as Mary Quant and Ossie Clark, André Courrèges and Pierre Cardin, but also for clothes from John Bates, who did the wardrobe for The Avengers, and Jean Patou where Karl Lagerfeld was creative director at the time.
Try WilliamVintage, 2 Marylebone Street, 020-7487 4322, williamvintage.com
1970s, Los Angeles
Why? Although the 70s is thought of as the age of disco, with New York and Studio 54 at its heart, the iconic maxi dress belongs to the culture – and climate – of LA. It was a hippy look driven by the alternative communities that sprung up along the California coast, and imitated by the moneyed creatives who worked in the LA's booming film and music studios. The laid-back vibe, with its flares and slacker style, was a backlash against the modernism of the 1960s.
What? Original rock band T-shirts from the era, as worn by the surfers and skaters, while for maxi dresses, it's about labels you might not have heard of, such as Mardi Gras and Carolyn of California. For something a bit different, hunt down Bill Gibb's knitwear for things like crocheted baby doll dresses slashed to the navel.
Try The Way We Wore, 334 South La Brea Avenue, +1 323 937 0878, thewaywewore.com
1980s, Dallas
Why? Although this was a time of global economic boom – think Wall Street, "greed is good" and so on, one of the biggest boom areas was, of course, the oil industry, so this part of America was indubitably where the money was. It was a decade dedicated to conspicuous consumption, power dressing and branding yourself with designer labels. Women went from wanting to marry the millionaire to wanting to be the millionaire, and so shows such as Dynasty and Dallas weren't just television fiction, they reflected the attitude and aesthetic of the time, as well as the financial power wielded by the Texan oil barons of the decade.
What? Big shoulder pads, masculine looks, conspicuous labels or iconography such as Chanel's Cs, Versace's Medusa or Gucci's Gs. Look for Jean-Charles de Castelbajac and Issey Miyake, as well as items from Nolan Miller, who designed the wardrobe for Dynasty, and Catherine Walker, who frequently designed for Princess Diana.
Try Archive Vintage, 2912 Maple Avenue, +1 214 999 8921, archivevintage.com
1990s, New York
Why? While you can pick up 1990s fashion almost anywhere, New York is a haven for it. It was where architect IM Pei was championing the minimalism of loft apartments. It was also home to the likes of Calvin Klein and Donna Karan, whose pared-down minimalism in silk, linen, cotton and velvet really epitomised the decade that was a backlash against the over-the-top 1980s. Carolyn Bessette Kennedy was the real 1990s icon – her crisp white shirt and plain, perfectly-cut black slacks sum up that unfussy look where neutrals, black, black and more black were the only colours to be seen in.
What? As well as Calvin Klein and Donna Karan pieces, also look for Herve Leger and Azzedine Alaïa who began the backlash, creating strong and dramatic looks that evolved into the very minimalist look that summed up the decade.
Try Manhattan Vintage Clothing Show (manhattanvintage.com) holds regular sales and shows and lists vintage outlets