It was 5am, pitch black, on a road in the middle of nowhere, and we were negotiating in Spanish with two armed men standing behind a locked gate. After travelling 12 hours by coach from Venezuela's capital, Caracas, we were beginning to doubt that we'd arrived at our intended destination – a ranch in the vast grassy plains of Los Llanos – and regretting watching its rear lights disappear into the darkness.
But finally, after much talk, checking and re-checking the scrap of paper that was supposed to announce our arrival, the men unlocked the gates, stepped aside and said, "Welcome to El Cedral." We collapsed on to our rucksacks in relief.
It was Sebastião Salgado's epic photographs of the country's landmark mountain, Roraima, that had inspired us to spend three weeks touring Venezuela. As two women whose backpacking days were in the distant past, our simplest option would have been to book a guided tour. But these are expensive, and anyway, we didn't want to pass our limited time being chaperoned around the country with a group of fellow Brits – so we dusted down our backpacks with plans to book locally when we could. Even a dire warning issued by a photojournalist just weeks before we set off ("Outside of Baghdad, Caracas is the most dangerous capital in the world") could not deter us.
We knew Venezuela was not going to be a budget option but we were unaware of just how expensive it would be. "Bring plenty of dollars," one Briton living there had advised us. We didn't, and paid dearly for it – if exchanged on the thriving black market (which most travellers do), you got twice as many bolivars for your dollar. And with inflation running at about 25%, our guidebook's pricing was hopelessly outdated; restaurant and hotel bills weren't that much cheaper than you'd expect to pay in London. On top of that, this month's partial devaluation of the currency by President Hugo Chávez means prices could rise even further – although by bringing the official exchange rate into line with the black market, tourists should get a better deal and won't need to take large quantities of cash dollars with them.
We didn't need to worry about prices, though, after paying in advance for our three-day stay in Los Llanos, the great plains that cover a third of the country and stretch from the Andes all the way to the Orinoco river. We'd come here for the wildlife, and as day broke on that first morning at El Cedral, a 130,000-acre cattle ranch, or hato, in Apure state, the wildlife appeared even sooner than we'd anticipated. Hundreds of birds wheeled above our heads, while others turned the grass into a carpet of many colours, the scarlet ibis being the obvious star.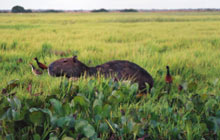 The 7km road from the gates to our cabin was littered with potholes. But these weren't the only objects our driver struggled to avoid. Capybara (the world's largest rodent that looks like a giant guinea pig) and their young ambled by, blissfully unaware of the word "roadkill". And not 100ft from where we'd be sleeping, a sign caught our eye. "Danger: Crocodiles" it read. Behind it, dozens of caiman dozed on the banks or idled in the water. "Do Not Cross" the sign helpfully added. Well, we knew not to, but did they?
With so much wildlife up close, it seemed almost unnecessary to take the two daily "safari" trips that are included in the package. But how could we resist the promise of seeing giant anteaters, red howler monkeys, pink dolphins, pumas and jaguars? Plus our ever watchful guide, Rafael, was a walking ornithological guidebook, pointing out white-tailed kites, kingfishers, spoonbills, black vultures, whistling ducks, Orinoco geese, black skimmers, egrets, savannah hawks, tiger herons, hummingbirds, black ibis and burrowing owls, to name a fraction of the 340 bird species registered here.
Two of the stars at El Cedral are the Orinoco crocodile and the anaconda. The crocodile, South America's largest predator, has been introduced as part of a conservation breeding plan. And the project seemed to be going well. A pair of eyes in the water, Rafael explained, belonged to a female keeping a motherly eye on her nearby nest. At more than 3m long, she made the caiman look like children's toys. The anaconda, a shy creature by contrast, was harder to locate. When one was eventually found, it was a juvenile, but still impressive at almost 3m.
With all the flora and fauna it's easy to forget that Los Llanos is actually cattle country. And watching El Cedral's cowboys, or llaneros, looking as if they'd ridden straight off the set of a Sergio Leone film, it's obvious why the place is often compared to the United States' wild west.
Hugo Chávez's roots are in Los Llanos, and his influence is still felt here today. As part of government land reforms, many hatos are effectively being nationalised. The idea, it seems, is to make idle land productive; Venezuela, after all, is reported to import more than 70% of what it eats. El Cedral had been targeted not long before we arrived, and the feeling among the workers I spoke to was that this was a good idea. That may be, but when you see huge tracts of land being ploughed up by tractor after tractor, it is hard to believe this unique ecosystem will be unaffected.
We left El Cedral as we'd arrived – in pitch black. At 4.30am we stood with Rafael by the gate and as headlights approached, he stepped out, waving his torch like a ground crewman guiding down an aeroplane. The bus stopped, and so began our longest journey – a 24-hour, three-coach trip to the opposite end of the country, to Canaima national park in the far south-east and magical mountain Roraima.
Some words of warning about travelling by coach in Venezuela. On all overnight trips, the air conditioning will be turned up to full. This means it's freezing. An extra jumper will not suffice. On board, you'll be shown only the world's worst films. On occasions, the same film repeatedly. I can now recite almost word perfect every line from Nicolas Cage's Bangkok Dangerous. However, when you're wrapped up warm, they're pretty comfortable, too.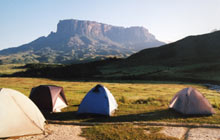 When we finally clapped eyes on Roraima – the towering 2,700m flat-topped mountain, or tepui, and inspiration for Conan Doyle's 1912 novel The Lost World – we began to doubt we'd be able to do what we'd been planning since booking our trip: climb it. "You'll be fine," our guide, Elke, assured us. We weren't convinced.
Six days are needed to make the trek (the super-fit can do it in five; the super-rich can take a helicopter), including two nights on top, and you have to use a certified guide and porters to carry your camping equipment and food. It took two days of fairly straightforward hiking to reach "base camp". On the third day, we left the open grassland for hot, clammy rainforest and a gruelling, slippery, leg-shaking final ascent.
With a surface area of 34 sq km (Roraima straddles three countries, Venezuela, Brazil and Guyana), we explored only a tiny portion of the summit, but saw enough of its alien landscape to find a geological surprise around every corner: giant black rocks balanced impossibly on top of each other, like cairns built by giants, crystal valleys, waterfalls, and "jacuzzis" – water-filled holes in the rock that make for an icy plunge bath. There is wildlife that exists only here, but not the dinosaurs of Conan Doyle's imagination. Small black frogs, which cannot hop, abound, as do black butterflies. And carnivorous plants struggle to survive in a place where heavy rainfall washes away most of the soil.
Perched high up in our "hotel" – basically an overhang of rock under which we camped – we enjoyed a delicious three-course meal cooked by Elke on a one-ring camper stove, and finished with hot chocolate with a nip of rum. As we watched the sun set, and heard the haunting cry of the nocturnal oilbird in the dark, we felt, literally, on top of the world.
We came back down to earth with a bump at Angel Falls. With a drop of 807m, it is the highest uninterrupted waterfall in the world, 16 times higher than Niagara. Set deep in rainforest in Canaima national park, until recently the falls were named after the American adventure pilot Jimmy Angel, who "discovered" them in 1937. Last year, Chávez renamed them Kerepakupai-Merú, or "waterfall of the deepest place" in the indigenous Pémon language. "One could say he was the first one to see it from a plane," Chávez said of Angel, "but how many millions of indigenous eyes saw it, and prayed to it? No one should refer to Angel Falls any more."
Whatever its name, when we finally got to see it – it's accessible only by plane – this "wonder of the world" was little more than a trickle. We knew it was risky visiting in April, the start of the rainy season, but still we were disappointed. However, that night, as we settled into our hammocks in a rudimentary camp across the river, a tropical rainstorm broke. Awoken at 5am the next day for our return journey in a tiny six-seater, the falls had been transformed from a pathetic stream to a thunderous, fabulous display.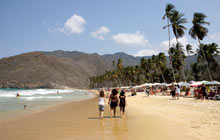 With a packed agenda behind us, all we wanted from our last few days in Venezuela was to relax. And Puerto Colombia, a small port on the north coast in Henri Pittier national park – with its pretty colonial buildings and distinctly laid-back Caribbean feel – was just the place to do it. The town's main beach, Playa Grande, has a magnificent backdrop of mountains and rainforest, and was a cool place to spend a day; we also caught a lift with local fishermen to the nearby secluded beach of Playa Cepe, but the 40-minute rollercoaster ride over huge waves proved just a little too exhilarating.
Backpacking Venezuela was exhausting, thrilling, taxing, fun. I just hope that the current financial situation doesn't make it an unaffordable, lost world for future travellers.
Getting there
kayak.co.uk lists flights from London to Caracas from around £600 rtn inc tax.
Activites and accomodation
Hato El Cedral from around £55pp pn full board, inc safari tours. Six-day Roraima trek around £320pp with New Frontiers Adventures. Plane trip to Angel Falls with Tiuna Tours (+58 416 586 17 52, tiunatours@hotmail.com). Doubles at Posada Semeruco in Choroní, Aragua, from £40 per night.