Lake District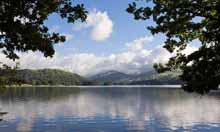 Kate Rew, founder of the Outdoor Swimming Society
With rain running down from remote fells, the Lake District offers some of the purest swimming in the country, from ice-cold tarns in sparse mountain air (perfect for a plunge after a hot climb) to happy splashy times in effervescent becks. My favourites include Rydal Lake, a warm shallow must for anyone passing on the A591, Blackmoss Pot (possibly the best river pool in the country), and the Great North Swim in Windermere, which has 5,500 swimmers this year. Sometimes it's great to swim alone, but sometimes it's great to flock.
• A double room at the Glen Rothay Hotel, Rydal, Ambleside starts from £85 a night.
Wild Swim: River, Lake, Lido & Sea by Kate Rew is available for £9.99 (RRP £12.99) with free UK p&p from the Guardian Bookshop.
Brecon Beacons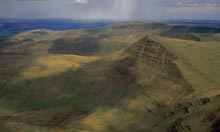 Wyn Davies, veteran long-distance walker
The Beacons Way is an east/west guided walk across the stunningly beautiful Brecon Beacons National Park. Devised by the Park Society, and in particular the late John Sansom, it starts at Skirrid Fawr, the "Holy Mountain", near Abergavenny and ends, appropriately, at the hamlet of Bethlehem, near Llandeilo, seven memorable days later. For those with an interest not only in walking over mixed terrain with spectacular scenery, but also in the history, culture and heritage of this part of Wales, this walk would take some beating.
The "Holy Trail" embraces the natural beauty of the National Park, the serenity of ancient Llanthony Priory, the Church at Patricio and the National Nature Reserve at Craig Cerrig Gleisiad. In contrast, are the ascents of Table Mountain and the Beacons culminating with panoramic splendour at Penyfan. Add the history surrounding Offa's Dyke and Craig-y-Nos, the legend of the Lady of the Lake at Llyn y Fan, the magnificence of Carreg Cennen Castle, the largest iron-age hill fort in Wales, and you have all the ingredients for a classic walk.
Brilliantly led by Rob Knowles, it's a truly wonderful walk. The fact that I am about to do it for the fourth time is some indication of its continuing appeal.
• Rob Knowles is currently leading an eight-day walk across the Beacons Way. For the next date, contact him on: + 44 (0)7971 190768, email: rskrsk@hotmail.co.uk.
Dartmoor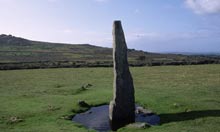 Dixe Wills, author of Places to Hide in England Scotland and Wales
Haul yourself up on to Dartmoor under your own steam and you become immediately aware of just how far up in the clouds it is. What I love most about the south of England's only true wilderness - and there's nigh on a thousand square kilometres to love - is its stubborn refusal to be tamed in any way. Camping near Crazy Well Pool - a flooded mine shaft south of Princetown - the huge granite tors close by seem to mock the tiny bits of debris we humans have left there - a few ruined tinners' huts, the odd stone row, and a couple of crosses. And if all the wildness gets too much, there's always the option of heading to the 15th-century Peter Tavy Inn - one of my favourite pubs in Britain - for a pint of Dartmoor's own Jail Ale.
Exmoor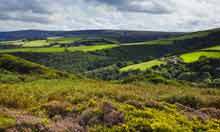 Marcus Di Vincenzo, event organiser for the Exmoor Beast
Exmoor is fantastic for cycling - but it's not easy. We called our event the Exmoor Beast for a reason. It's hilly around here - you can ascend the same amount of metres as pro riders do on the famous Mont Ventoux climb in the Tour de France. Porlock Hill, Dunkery Beacon, they are really tough climbs. The things that make Exmoor so appealing are its quietness, and therefore corresponding safety for road cyclists, but also it's very accessible. There is a lot of accommodation very close by so you can step out your door, get on your bike and have access to what amounts to a massive open-air Centre Parcs. The views are brilliant. If you lift your head up when you're cycling, you'll be stunned. The Exmoor Beast started three years ago. The idea wasn't to make it a race, it was to show people that riding across this beautiful moor can be a day of fun. But Exmoor is also a stage on the Tour of Britain road race, which starts on 19 September, so you can test yourself on the route the professionals take.
Peak District
Ed Douglas, author of Tenzing: Hero of Everest
Geologically, the Peak District is split in two – like yin and yang – between the white, limestone south and the dark, gritstone north. Many tourists prefer the gentler southern dales. But for a rock climber, gritstone is like the finest claret to the Peak's limestone plonk. Grit is a rough, hard-skinned sandstone, blurred and cracked by wind and rain, occurring only in northern England and, apparently, Mongolia. It makes you climb in a particular way, fluid and powerful. The long brow of Stanage Edge outcropping above moors just west of Sheffield is gritstone's most famous cliff. There are hundreds of routes to try here, for novices and experts alike.
• For an introductory rock-climbing course on gritstone, try local guide James Thacker. The closest campsite at High Lees is stunning.
Loch Lomond and Trossachs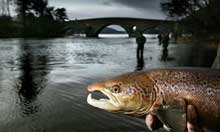 Roger Drapper, owner of James Bayne Fishing Tackle
We're based in Callender, the gateway to the Trossachs, so have lots of fishing around us - whether it's for salmon or sea trout on the rivers Teith, Tay or Dochart, or brown trout on any of the many lochs, from Loch Tay down to the Lake of Monteith. But one my favourite places to fish is Loch Drunkie, which is in the heart of the Trossachs, surrounded by the trees of the Queen Elizabeth Forest Park. It's set between Loch Achray and Aberfoyle, and it's not on a main road, so it's pretty much deserted. I go out into the middle of the loch in a float tube and fly-fish – you can't cast from the banks because of the trees. I've had otters coming up to me, osprey flying overhead and watched deer drink at the water's edge. It's incredibly scenic and peaceful. There are lots of hotels and B&Bs in Callender and a couple of caravan sites that allow camping. But if you come with a backpack, you can always wild camp in Scotland.
• James Bayne Fishing Tackle, 76 Main Street, Callander, Perthshire, which can organise permits, guides and boats for fishing in the Trossachs. +44 (0)1877 330 218.
Pembrokeshire Coast National Park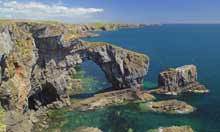 Jim Krawiecki co-author of Welsh Sea Kayaking
What better way to explore over 250 miles of fantastic coastal scenery than from the sea. A slender kayak can sneak between the rocks, into the tightest of caves and out to explore the dozens of off-lying islands. Sea kayaks, being so small amongst the rolling swells and the towering cliffs, give a unique and intimate insight to a secret world.
A roaring tide race known as "The Bitches" forms part of a dramatic and challenging journey for experts around Ramsey Island. This is a wild place with seals, dolphins and thousands of sea birds.
Further along the coast at the natural harbours of Solva and Porth Clais, newcomers to sea kayaking can enjoy a more tranquil experience with the help of local guides.
• TYF Adventure run guided kayaking trips and courses. Coastal Puffin bus services are excellent and there are plenty of campsites. See the Pembrokeshire Coast National Park Authoriy website for more details. Guidebook: Welsh Sea Kayaking.
New Forest
Brigitte Tee, wild mushroom expert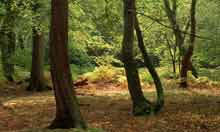 Mushrooms grow in different areas at different times, so I've covered most of the forest in my search for ceps and chanterelles, hen of the woods, hedgehog mushrooms, beafsteak fungus and oyster mushrooms among others. In winter, if the weather is nice I often go somewhere new and get lost. Half the fun of getting lost is that you quite often find more mushrooms. The views are lovely, but if I had to pick, I'd say my favourites are Rhinefield/ Bolderwood – home of giant Douglas Firs and Redwoods and the famous Knightwood Oak - even though they are well known. It's lovely in autumn when the leaves are changing or when there's a winter frost. I once came across two huge beech trees that had been struck by lightening and were still burning. I've come across white and brown owls and even saw a baby deer on the ground. It was so camouflaged that the only part you could see was its eye opening and closing.
• Brigitte Tee is the only licence holder entitled to pick and sell the many diverse wild mushrooms that grow in the New Forest where she is based. She runs Mrs Tee's Wild Mushrooms, which supplies restaurants and holds courses in identification, seasonality, preparation and use of wild mushrooms. Mrs Tee's Wild Mushrooms, Gorsemeadow, Sway Road, Lymington, Hampshire, + 44 (0)1590 673 354.
Cairngorms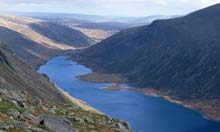 Euan Wilson, Highlands and Islands Adventures
When you go mountain biking in the Cairngorms National Park, you know you are in a very special place. Within the park are four of Scotland's five highest mountains, which together give us the largest area of Arctic wilderness - land above 600 metres - in the British Isles. We also have the Scottish Outdoor Access Code, which says that everyone can have access to most land and inland water in Scotland, providing they do so "responsibly".
Bearing that in mind, the Cairngorms are a fantastic place to let rip on your mountain bike. There's a huge range of trails, from a sedate ride around Loch Morlich and the skills course at Glenmore Lodge, to a brilliant full-day epic taking in a few of the summits that make up the Cairngorm massif. Among the descents are some perfect singletrack routes combining the best of Scottish riding - technical and challenging but dowsed in amazing scenery. It's impossible to leave the saddle after a day here without a massive smile on your face - and the cafes are good, too, for that post-ride cake and tea.
• Useful websites: Fantastic cafe, with the best cakes in Aviemore; Aviemore area of the Cairngorms National Park; Braemar area of the Cairngorms National Park; Highlands and Islands Adventures offers guided mountain bike tours.
Snowdonia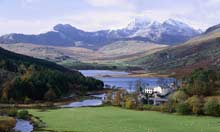 Reg Thorpe, head of conservation management at RSPB Cymru
I'm lucky enough to have lived in the park for 15 years – it's my backyard, I suppose. The really special thing about it is that you can go from sea level at the coast at Harlech right up to the top of Snowdon in a relatively short distance. Because of that you can see a whole range of habitats, from the sea, through sand dunes and oak woodlands out to the top of the mountains. At this time of year, you can see manx shearwaters feeding off the shore and sandwich terns at the beach. Oak woodlands are best during May/June when they are full of pied flycatchers, red starts and wood warblers. We hold the bulk of the UK populations for many of these species of bird.
The RSPB has an osprey viewpoint on the Glaslyn marshes. It's worth visiting, not just for the ospreys, which are the only breeding pair in Wales, but it has a fantastic view up to Snowdon and you can look across to other mountains. One of my favourite spots is the Nant Ffrancon valley up along the A5. It's relatively close to Bangor but it's really, really wild and unspoilt.
• Find guided walks at the RSPB 's Conwy centre. The Glaslyn Osprey centre is open 30 March to 4 September 2009.
Norfolk Broads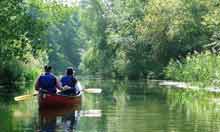 Mark Wilkinson aka TheCanoeMan
The best stretch of the Broads to paddle is from the top of the river Bure down to Wroxham. It's very picturesque – we put you in the river at an old mill house and the water is gin clear here. The first two miles is typical Norfolk scenery - open fields and big skies – but there's lots of wildlife about. You might see otters, barn owls, marsh harriers as you gently paddle downstream. This section takes around two-and-a-half hours until you reach two cracking pubs sitting side by side at Coltishall Common – the Rising Sun and the King's Head – where you can stop for lunch. The second half of the run is down to Wroxham and it takes around three hours to paddle – but it's nothing too strenuous. Because it's tree-lined, it can be blowing a hoolie elsewhere, but it will still be flat calm here. There are lots of kingfishers, black caps and bitterns on this stretch, but you're unlikely to see another soul.
• TheCanoeMan organises canoe hire from £40 per day for a two-man canoe, B&B canoe trails with two nights' B&B and two full days paddling, £175pp guided, £150pp unguided, inc packed lunches. +44 (0)1603 499177.
Northumberland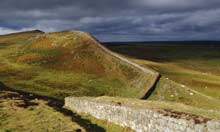 Gary Reed, Hadrian's Wall Adventure
What takes people by surprise when they get here is that they are coming to see this piece of antiquity, but what they're not expecting is the landscape that it sits in. There are certain points where the landscape is really dramatic. A good place to start is the Roman Army Museum, at Carvoran. It's just a wee museum but has a film on a loop, showing an aerial view of the wall as it is today, and then computer generated shots of Roman soldiers, so it gives you an understanding of how dramatic it was then - and still is now.
Just round the corner from there is a fabulous bit of wall called Wall Town Crags. If you really want to get a dramatic view this will give you a taster. If you look to the west you can see the Galloway Hills, the Solway Coast, and in the distance the Lake District. But if you want a 360-degree view head to the highest point at Windshields Crag.
A place that people often miss if they are walking the wall is Vindolande, because it lies a mile away from the wall. It's the only ongoing archaeological dig site within the vicinity of the wall. There's a small team of archaeologists and they invite volunteers to dig from all over the world. In the last two weeks they've found a big stone alter in fabulous condition. Every time I take people down there they are always pleasantly surprised.
• Gary Reed runs guided walks, camping treks and adventure tours of the wall. 01434 344 650/, hadrianswalladventure.co.uk. As well as being an outdoor activities instructor and expedition leader, he lectures in geography and heritage studies and is a fellow of the Royal Geographical Society.
South Downs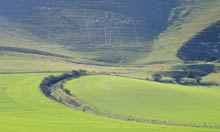 Ed Ewing, assistant editor of Cross Country, an international magazine about paragliding and free-flight
With nine sites either in or close to the new national park, the South Downs is one of the most popular places in the country to go paragliding. Devil's Dyke, just behind Brighton, boasts a road to the top, decent pub grub, and even a bus service in summer time, making it the perfect place to get your first taste of this exhilarating sport by taking a tandem flight with a licensed instructor. Given a gentle breeze, you will soon be floating above the hills, skimming your feet across the grassy slopes, and admiring the views for a good half hour or so. Although adventurous, tandem flights need no training - 91-year-old Reg Rose-Innes became Britain's oldest paraglider passenger here in 2006.
If you want to take things further, several schools offer courses, which will see you go solo in a day or two, and gain your first stage license within a week. Sussex school of paragliding, Airworks and Air Adventure are good places to start, with tandem flights from £125 and five day courses at around £500. Once hooked, you need to join the Southern hang and paragliding club to gain access to all the sites. Good pilots in the Southern Club regularly use thermals to fly 100 km or more from here. On a nice Sunday in summer sites can get crowded, but don't let that put you off: once up, you're free as a bird.
North York Moors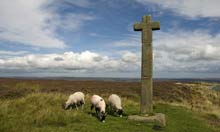 Martin Wainwright, Guardian northern editor and author of The Coast to Coast Walk
The North York Moors is the park for long, wild walks in a sea of heather, purple in August, that stretches for mile after mile, rising and falling around the landmarks of times past. Extraordinarily numinous, these include prehistoric burial mounds, medieval crosses and beautifully-incised stone boundary markers which commemorate enclosures and land ownerships struggles in the 18th and 19th century. Alas, the evocative 'golf balls' of RAF Fylingdales early warning station have been replaced by a dumpy pyramid, but technology has left other traces: the plume of steam from the restored railway between Pickering and Whitby and the abandoned mineral line at Bloworth Crossing where three magnificent long distance paths - the Cleveland Way, the Coast-to-Coast Walk and the Lyke Wake Walk - intersect. Between the high moors, with their grouse, curlew and peewits, lie beautiful green valleys such as Farndale, Great Fryupdale and Bilsdale, with the famous thatched Old Spout House Inn (a museum now, but drinks are available next door at its Victorian successor). Add the Fossil Coast to all this - the great, crumbling cliffs between Whitby and Scarborough with their ammonites and alum mine tunnels - and you could 'staycation' here for ever.
Yorkshire Dales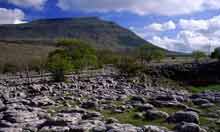 Tony Varley, chairman of the Fell Runners' Association and fell runner for 28 years
What attracted me to fell running initially was as a way of keeping fit. Being out in the countryside you get the changing scenery and conditions under foot – not like road running, which I find boring. Fell running is therapeutic; in a strange way it's relaxing - mentally, if not physically – and a great way of getting rid of stress.
The Yorkshire Dales is most famous for its Three Peaks Challenge, which last year was used as part of the world long-distance running championships. It starts of in Ribblesdale and takes you over the three highest peaks in the park, Pen-y-ghent, Whernside and Ingleborough – that last climb is perhaps the toughest point of the race. It covers open fell, track and even some road. But if you're a beginner, the Dales are not as rugged as some of the Lakeland fells. You don't get the same boulders – although that's not to say there are not some challengeing routes of course.
If I hadn't taken up fell running I wouldn't have seen much of the scenery that I have - it's taken me all over the UK. I've run Ben Nevis, Snowdon, the Lake District, the Isle of Mull ... You really start to appreciate what the UK has to offer.
• For a round-up of all the events celebrating the 60th anniversary of the UK's national parks see nationalparks.gov.uk