Back to basics . . . but with knobs on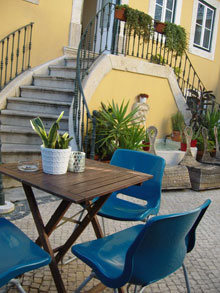 "I might watch the pennies, but I don't need to return to bedbug-ridden hostel bunks." If you find yourself thinking this you're long out of touch. The growing number of flashpackers (career breakers and retirees) means today's hostels boast higher standards and more private rooms. Other hostel bonuses often include staff offering advice on cheap eats and activities, plus free internet access, while some luxury hotels are, unfathomably, still charging outrageous fees.
At HostelWorld.com, you can find the eco-friendly Jetpack Hostel in Berlin, which claims to be powered by 100% renewable sources (private rooms from £19.20 per night), or Oasis Backpackers' Mansion in Lisbon's buzzing Catarina district, which prides itself on its high-pressured showers and "cult cocktail hour" (private rooms from £36.73 per night).
House swapping
Nicole Feist, the blogger behind the hugely informative Home Exchange Travels (homeexchanger.blogspot.com), says she's been inundated with enquiries about this money-saving mode of travel. She points out that home exchanges are not just for long-haul, long-term trips to places such as Australia. "We love doing exchanges over long weekends, and, in Europe, budget airlines make it even easier," she says. For good European coverage, Nicole recommends Dutch site homeforexchange.com, or try the Guardian's own home-exchange service, guardianhomeexchange.co.uk. Both cost around £35 for one year's online listing.
Find a city B&B
Now that all small hotels are labelling themselves "boutique" and using this as green light to raise prices, it's time to revert to the good old-fashioned B&B. When in Rome, stay with the Romans via Sleeping Rome (0039 068 620 9286, sleepingrome.com, from £20pp). In Paris, try Alcôve & Agapes, which offers full profiles on each host to ensure a truly personal experience (bed-and-breakfast-in-paris.com, double rooms from £60: note that the office is shut until Oct 14.)
Stay in an apartment
Self-catering is the most obvious way to save on restaurant bills. Into Barcelona (intobarcelona.com) offers a range of funky apartments in the hip Born district from £154 a night for four people. They also arrange quirky walking tours and cookery classes, which not only give you inspiration for home cooking but also give you tips on picking up the best bargains at local markets. Food tours cost from £130 per group for a four-hour tour for up to eight people. For more stylish and affordable European rentals, see i-escape.com
Let's do lunch
Going out for dinner is a big part of the holiday experience and one we're loath to sacrifice. However, you can get your gourmet fix for less by simply changing your schedule to take your main meal at lunch. One place to do this in style is Gothenburg, home to five Michelin-star restaurants. Michelin-star eating during a credit crunch? You can when it costs less than £10 a head for a main course, salad and soft drink. Try Fond (fondrestaurang.com, 0046 3181 2580), and, across the city, look out for "dagen rätt", the daily lunch special.