My idea of paradise is...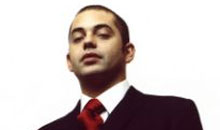 Symi in Greece. I don't like tropical islands - I get bored - but I always go back to Symi, which is a tiny island near Rhodes. I first went when I was four and I've been back 10 or 15 times. The people there are lovely, and I've never found anywhere as nice.
My most memorable meal...
Was in Peru. It was New Year's Eve and I'd had altitude sickness up a mountain. I was recovering and slowly getting my appetite back and I saw an old lady selling what I thought were beef kebabs in the street. They tasted absolutely delicious. It was exactly what I needed - I could feel the protein going into my bloodstream. Then I asked her what it was and she told me it was alpaca heart!
My favourite hotel is...
The Parker in Palm Springs, California. It's amazing. It has these big gardens surrounded by mountains near the Joshua Tree National Park, and inside it's beautifully designed, with really cool cocktail bars and pictures of drunken rock stars. Usually I try not to stay in hotels because they remind me of work; I much prefer to rent an apartment or stay with friends, but the Parker is great.
I'll never go back to...
Changchun, China. We went on a cultural exchange at the end of a month's touring. I managed to convince the rest of the band that it would be a fun thing to do. We ended up in this town in the middle of the country and we were the only Western people there. It was impossible to get around or even order food and was an incredibly intense experience. At the end of the week we played a gig, which went down surprisingly well: everyone seemed into it despite the armed guards.
I never travel without...
Lots of pharmaceutical necessities. My brother and I are both into taking lots of pills and potions with us, and I'm often equipped like a walking pharmacy. I'll take all sorts of things, from prescription drugs to weird holistic remedies and coloured tiger balm. If I have an illness I'll try three different cures! I also always take a head-torch with me. They're incredibly useful in unfamiliar hotel rooms.
When I'm travelling i always miss...
My cat. I find travel very liberating and she's the only thing I miss. She's about 21 years old and every time I go away I think it might be the last time I see her.
I like travelling...
Alone. I like making new friends when I'm away. My girlfriend comes with me sometimes and when she does we don't do anything too adventurous, but when I'm on my own I like to get out and explore. I have never experienced any trouble.
I've always wanted to visit...
Tamil Nadu, in southern India, and the Dogon tribe in West Africa. I wouldn't describe myself as an 'ethnic tourist', but I am interested in different peoples. I particularly want to visit the Dogon to learn about their myths and legends. They are the oldest tribe in Africa and are said to have knowledge of the universe that was only confirmed by scientists when they sent up the Hubble space telescope.
· Ross Godfrey plays guitar and keyboards for Morcheeba, whose new album, Dive Deep, is released on 4 February through Echo Records