A departed Venezuelan icon and a new Argentinian pope may have grabbed the headlines in Latin America this year, but the bigger regional story was of governments struggling to meet the growing expectations of a rising consumer class. This was the year of the crowd for many countries in the region. Whether to advocate change, mourn a loss, praise the Lord, throw a molotov cocktail or bash a pan in protest, people came out on the streets in large numbers.
In Venezuela, throngs first filled Caracas in March to mourn the death of Hugo Chávez. His cancer robbed the region of its most charismatic and controversial politician, a man whose force of personality – and generosity with Venezuela's oil wealth – had powered the resurgence of the Latin American left in the 21st century. With Chávez gone, the crowds returned again and again during the following weeks either to support or condemn his successor, Nicolás Maduro, who was always going to find it difficult to fill the huge political space left by his predecessor.
As some clashes turned violent, there were a handful of deaths. But despite a sharp rise in inflation and scarcities of essential goods, Maduro has struggled on and gained extra powers to rule by decree. By the end of the year, the biggest crowds on the streets of Caracas were shoppers and looters trying to take advantage of a military-enforced, pre-Christmas discount that one army general, Hebert García Plaza, justified on television with the memorably modern lines: "We have to guarantee that all Venezuelans have a plasma television, have the latest refrigerator."
A sense of thwarted expectations and disillusionment was also behind the massive protests in Brazil. The regional powerhouse appeared to surprise itself in June with the biggest demonstrations in almost 30 years. Mobilised on social networks (Brazil is now second only to the US in numbers of Facebook users), more than a million marched in 50 cities to protest against corruption, dire public services, police brutality and the profligate use of tax money to build World Cup stadiums.
President Dilma Rousseff, who is up for re- election next year, moved swiftly to offer concessions and promise extra spending on education and health, but with her government's fate increasingly bound to conservative evangelical congressmen, her promises of political reform had little substance. World Cup organisers are expecting more protests next year.
In Argentina, hundreds of thousands rallied in Buenos Aires against the government of President Cristina Fernández de Kirchner, who – weakened also by a fall that required brain surgery – failed to win the majority needed in legislative elections to change the constitution and run for another term. But her Peronist party remains dominant despite a bruising battle with the Clarín media group. Although down, she cannot be ruled out before the end of her term in 2015.
There were big and often violent street demonstrations elsewhere. Mexico experienced clashes between police and striking teachers, while Chile's students kept up their long campaign of monthly marches in favour of free university education. This looked likely to achieve success after elections in November that saw several student leaders elected to congress and the new president, Michelle Bachelet, promised to implement many of their demands.
Not all of the demonstrations were anti-government. In Colombia, tens of thousands joined a "march for peace" in support of President Juan Manuel Santos's efforts to negotiate with the Farc guerrillas to end Latin America's longest insurgency. During peace talks in Cuba, the two sides made slow but steady progress that suggested a comprehensive agreement – although still some way off – is conceivable.
The "war on drugs" continued to take a terrible toll in the region. This was particularly true in Mexico, where an estimated 80,000 people have so far been murdered and 26,000 disappeared, feared killed. A very different approach is being pioneered in Uruguay – arguably the most socially liberal country on the continent – which is trying to break the cycle of prohibition, confrontation and illegal trafficking with the world's most advanced cannabis legalisation law. The outcome of this policy will be closely watched over the coming year.
On the whole, Latin America remained relatively free of full-blown armed conflicts, though sky-high murder rates and the teargas, percussion grenades and molotov cocktails of domestic unrest highlighted the challenges facing many governments.
Leaders – many of them from leftwing parties that had promised radical change on coming to power – were partial victims of the inevitable disillusionment that comes after a decade or so in office. But in Brazil, Argentina, Venezuela, Bolivia, Ecuador, Uruguay and Nicaragua, they remain solidly ahead of their rivals, thanks largely to gains in the campaign to reduce poverty. This is no small achievement in a region that has long suffered the world's biggest gulf between rich and poor, but that progress has started to plateau.
Largely as a result of sluggish global demand, particularly from China – now the biggest trade partner of many countries in the region – Latin America's economic growth slowed to less than 3%. This was the lowest level in five years, but a stellar performance compared to the eurozone, further underscoring the shift in wealth from the old to the new world. Speeds varied enormously from country to country. Paraguay, Panama and Bolivia led the pack; Chile, Peru, Argentina and Ecuador maintained a steady clip; the two major economies – Brazil and Mexico – were sluggish; and Venezuela came close to slipping into reverse. So far, however, in most countries, employment remains stable and benefits to poorer communities are at or near historic highs.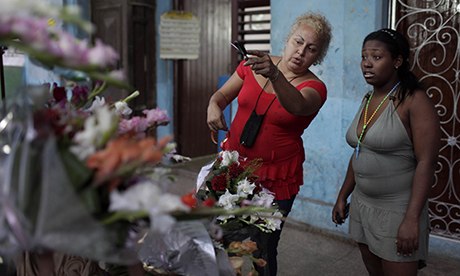 One of the most fascinating shifts has been the expansion of market-orientated reforms in Cuba, long the heartland of Latin revolution. Under President Raúl Castro, there has been an explosion of private restaurants and retailers in the past year, and the government has also promised an end to the dual currency system, after loosening controls on overseas travel last year. While the state remains in tight control, the policies appear geared towards a gradual China-style opening.
Despite continued efforts to promote regional integration, Latin America's economic destiny is still far from in its own hands. Although its dependency – dating back from colonial times – on commodity demand from Europe and later the US has weakened, there is now a stronger reliance on China.
Rafael Correa in Ecuador won an unprecedented third term as president after reforming the constitution to abolish term limits and then promptly abandoned the country's biggest environmental project. The initiative had been designed to save part of the Yasuni national park in the Amazon from oil firms, but it was dropped after international support failed to meet the revenue goals of the government. Correa's options are limited because his government is increasingly reliant on Chinese loans, which are backed by promises of oil sales. In Nicaragua, President Daniel Ortega is also in the process of rewriting his country's constitution so he can stand again. He too is pushing for a massive Chinese infrastructure project – a Nicaraguan rival to the Panama Canal.
Washington's influence in the region remains huge, and continues to stir up resentment in many places. This was evident in the reaction to remarks by the US secretary of state, John Kerry, that Latin America is in the "backyard" of the US – an expression that never fails to antagonise.
More modern concerns were sparked by National Security Agency leaks by whistleblower Edward Snowden that highlighted the vast extent of US monitoring of Latin American communications. After it emerged that Rousseff and her staff had been bugged, the Brazilian president promptly cancelled a planned state dinner with President Barack Obama in Washington. More indignant still was Bolivian President Evo Morales, whose plane was forced down and searched for Snowden, apparently following a tipoff that he might be on board. He was not.
Efforts to exorcise the ghosts of the bloody and politically divisive "dirty war", which was at least partly backed by the CIA during the 1970s, achieved mixed results. Chile confronted its past with memorial events and documentaries to mark the 40th anniversary of General Augusto Pinochet's coup, which resulted in the overthrow and death of the democratically elected socialist president, Salvador Allende. But efforts in Guatemala to seek justice for the victims of former military dictator Efraín Ríos Montt collapsed when his genocide conviction was overturned and a retrial ordered that opens up a possible escape route.
Argentina's bloody past also threatened to haunt Latin America's first pope, Jorge Bergoglio, whose record during the military dictatorship was widely scrutinised after the Jesuit archbishop of Buenos Aires was the surprise choice of the papal conclave in March. But Pope Francis – as he became – rode out that initial storm and has since become immensely popular in this predominantly Catholic continent thanks largely to his simple speaking style and emphasis on addressing poverty. In a year of crowds, the biggest of them all was for the mass that Pope Francis gave on Rio's Copacabana beach, which drew an estimated 3 million people. With Chávez gone, it is quite possible that the pope has now become the most recognisable Latin American on the planet.