A poem about Elvis written and performed by Bono is to be broadcast on Radio 4 next week. Elvis: American David was first published in 1995, but this recording was made two years ago, when Bono decided to read the whole 850-word poem aloud during an interview. It has been described by the interviewer as "effective, but bonkers".
That's not much of a review. Surely verse by a poet such as the U2 front man deserves a closer reading? Below, some extracts, explicated.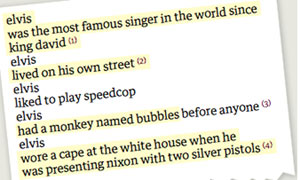 1 The disregard for the traditional rules of capitalisation is maintained throughout. This may echo the unconventional orthography of ee cummings, or he may have composed it on his phone. Who knows?
2 This is a clear reference to the fact that the street address of Graceland is 3764 Elvis Presley Boulevard, although this stretch of Highway 51 South was only rechristened in 1972 and Elvis died in 1977. He was said to be underwhelmed by the honour, but he did record an album titled From Elvis Presley Boulevard, Memphis, Tennessee in 1976.
3 By all accounts Elvis did have a monkey – a chimp, actually – but it was called Scatter. The animal was fond of alcohol and looking up women's skirts, and he bit. Elvis was wont to refer to him as "you coconut-headed little motherfucker".
4 It was actually one second-world war commemorative Colt .45 pistol, although, for security reasons no presentation took place. Elvis requested the 1970 meeting with Nixon in a rambling, handwritten letter: "I have no concerns or motives other than helping the country out," he wrote. "So I wish not to be given a title or an appointment. I can and will do more good if I were made a Federal Agent-at-Large."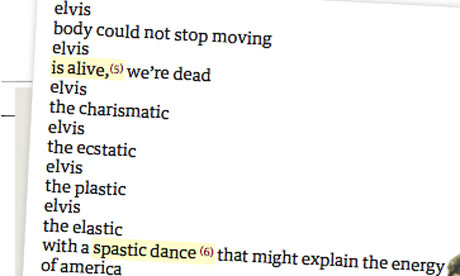 5 The unlikely theory that Elvis might not have died in 1977 gained some currency toward the end of the last century, but today most scholars accept that even if Elvis had remained alive, he'd be dead by now.
6 Bono wrote the poem in 1995, shortly after the Spastics Society changed its name to Scope, in response to complaints that the old word for cerebral palsy had become offensive. Was he making a timely allusion to the degradation of a former medical term to the status of playground insult? Or was he merely abetting this degradation?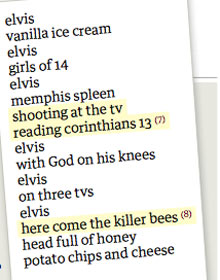 7 The bible chapter ends "And now abideth faith, hope, Love, these three; but the greatest of these is Love", and was said to be Elvis's favourite. The story of Elvis simultaneously reading the bible and shooting out one his three TVs possibly apocryphal.
8 What? Where? Why killer bees? Alas, we may have to simply accept that the poet was willing to sacrifice clarity in order to find a rhyme for cheese.
9 A late nod to accusations of racism surrounding Elvis, paraphrased from the Public Enemy song Fight the Power. Some websites have erroneously rendered this line "don't mean shit to chucked", which just proves they didn't check to make sure everything made sense, perhaps understandably. Honestly, where would you start?
10 This is the 104th appearance of the word "elvis". This leads us to certain questions: what, for example, would the poem be like if you took all the elvises out? How would it read if you took everything else out, so that only the elvises remained? And what would happen if you then removed them, so that nothing remained? Would that solve the problem?