Avatar: The Way of Water review – a soggy, twee, trillion-dollar screensaver
Thirteen years in the making, James Cameron's insipid, overlong followup to his sci-fi record-breaker is a very expensive beached whale
Peter Bradshaw
15, Dec, 2022 @11:35 AM
Avatar review – James Cameron's laboriously silly blockbuster shows its age
Ahead of the release of new chapter, the first in the franchise yields little – even the much-vaunted tech is old hat
Peter Bradshaw
21, Sep, 2022 @2:00 PM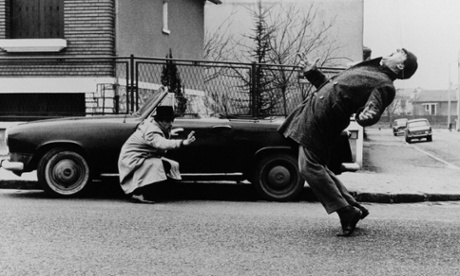 Jean-Luc Godard: a genius who tore up rule book without troubling to read it | Peter Bradshaw
Godard was the inspired maverick of the French New Wave, the Lennon to Truffaut's McCartney, and kept his radical imagination to the very end
Peter Bradshaw
13, Sep, 2022 @8:22 AM
Is 'fake data' the real deal when training algorithms?
The use of synthetic data is a cost‑effective way to teach AI about human responses. But can it help eliminate bias and make self‑driving cars safer?
Laurie Clarke
18, Jun, 2022 @1:00 PM
Fish out your glasses! 3D movies are about to make a comeback
The much-hyped and much-delayed sequel to Avatar is set to bring about a return to 3D but are audiences interested?
Stuart Heritage
17, May, 2022 @1:26 PM
Is anyone excited about Avatar 2, or is James Cameron's 3D revolution doomed?
The first trailer for Avatar: The Way of Water promises an extravaganza – but do we really want to put our eyes through the meat grinder all over again?
Ben Child
29, Apr, 2022 @10:38 AM
Crossword roundup: puzzles in various dimensions
We take in 3D crosswords and wordplay in other forms in our pick of the best of the broadsheets' cryptics
Alan Connor
10, Jan, 2022 @10:50 AM
Soft Bodies review – tech simulations of life's squishy stuff
Artists reinterpret the rules of soft-body dynamic computer technology to make a show which now casts new light on the Covid-19 era
Hannah Clugston
16, Sep, 2020 @1:41 PM
Cunningham review – powerful 3D documentary about a dance pioneer
This highbrow study is fascinating less for its fancy 3D footsteps than for its insight into choreographer Merce Cunningham's life and work
Cath Clarke
11, Mar, 2020 @3:00 PM
Now in 3D! Merce Cunningham's mind-blowing dance
A superb documentary immerses you in the choreographer's creations and shows off his own wild and weightless performances
Lyndsey Winship
09, Mar, 2020 @11:00 AM
An Evening With Whitney review – Houston hologram is ghoulish cash-in
M&S Bank Arena, Liverpool
If you close your eyes you can bask in the late star's magnificent voice, but open them and this jerky simulacrum is unsettling
Dave Simpson
28, Feb, 2020 @11:03 AM
Experiments on cuttlefish are cruel | Letter
Letter: Peta's Julia Baines deplores the supergluing of 3D glasses on to the sensitive marine animals
Letters
12, Jan, 2020 @5:53 PM