The ZenWatch is one of the most attractive square Android Wear watches on the market. The OLED screen is gently curved with a polished stainless steel body inlaid with a rose gold-coloured inset. A traditional brown leather strap with a locking clasp completes the look.
The classic styling may not suit everyone, but at 75g in weight and 9.4mm thick, the watch is comfortable to wear, does not feel chunky and the 1.63-inch Gorilla Glass 3-covered screen is bright and relatively crisp. It is also water resistant to IP55 standards, which means no swimming, but rain is not a problem.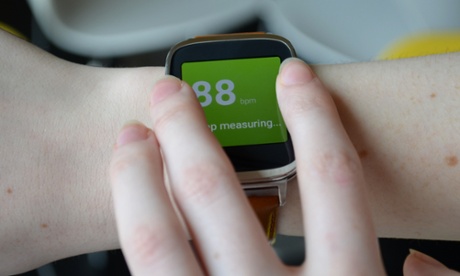 The smartwatch has a built-in heart rate sensor, but instead of being an optical sensor it uses a capacitive one. Two fingers need to be placed on the metal frame of the watch to complete a circuit and measure the wearer's pulse. I found it as accurate as the optical heart rate sensors, but it takes slightly longer to get a measurement.
But because there is nothing that needs pressing against the wrist the watch does not have to be as tight as those with optical sensors, which makes it more comfortable to wear – a bonus considering how rarely I actually use the heart rate functions on any of these watches.
Android Wear
Every Android Wear watch operates like pretty much any other. It connects to an Android smartphone via Bluetooth. Users swipe and tap to navigate the interface, talk to it to input text and conduct searches and receive vibrating notifications on the wrist. On the ZenWatch it is all very fluid and works well.
The ZenWatch differentiates itself with 14 custom watch faces in addition to the built-in Wear ones. These include attractive and useful analogue faces, digital ones with more information such as steps and other time zones, and faces that combine both.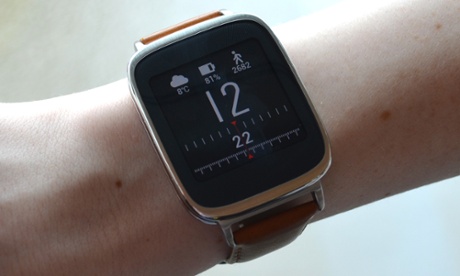 A ZenWatch Manager application on the phone helps customise the watch faces and provides options for muting the phone, finding the watch and setting an alert if the watch and phone are separated.
One of the most useful additions is a smart unlock setting that keeps the smartphone unlocked if the watch is connected. The feature was added into the latest version of Android 5 Lollipop, but for smartphones still on KitKat or lower it's a great asset.
Asus's Wellness fitness tracking app works well enough for heart rate monitoring – fortunately, as it cannot be uninstalled. Up by Jawbone comes pre-installed for tracking steps, but can be disabled.
Battery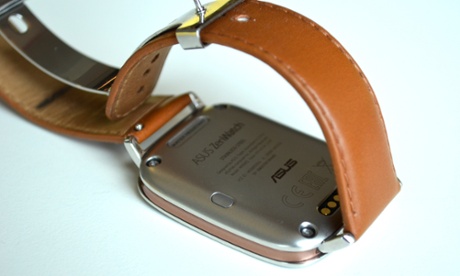 The ZenWatch lasted just under two days on average during my testing. It could just about last two days on some occasions, but on others barely a day and half. I suspect that if you could fully disable the bundled apps and relied solely on the built-in Google apps including Fit for heart rate tracking it would consistently last two days, but I have no way to test that.
Most Android Wear watches last about a day and a half per charge, with the exception of the Sony Smartwatch 3 that lasts about three.
The watch slots into a grey plastic charging cradle with a microUSB port, which works well enough, while a small button on the underside of the watch turns it on.
Price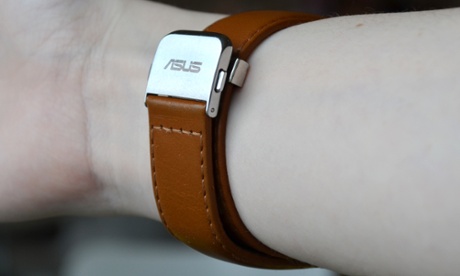 The Asus ZenWatch costs £200, which makes it one of the more expensive Android Wear watches, matching the Motorola Moto 360, but is £25 cheaper than the LG G Watch R and £10 more than the Sony Smartwatch 3.
Verdict
The Asus ZenWatch is a surprise. It is comfortable, looks great and works well. The heart rate monitor is well suited to infrequent checks, and the screen is bright and can be clearly read in sunlight.
Having to charge it at least every two days is a drag, but almost every other smartwatch short of the Pebble suffers from the same drawback.
The always-on ambient display mode using the OLED screen makes it a very good watch for actually telling the time, which others have neglected.
Overall, the ZenWatch is easily one of the best Android Wear watches available and a solid contender for the incoming Apple Watch.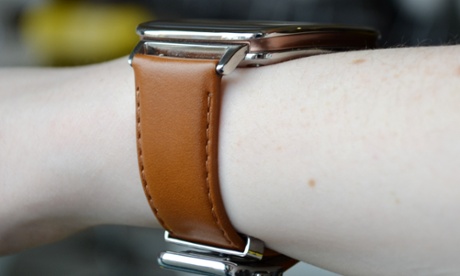 Pros: comfortable, attractive, normal/replaceable watch strap, heart rate monitor, curved glass

Cons: less than two-day battery life, bundled apps cannot be removed, another charging cradle to lose
Other reviews
• Sony Smartwatch 3 review: great design, good screen and decent battery
• LG G Watch R review: chunky, masculine, and fast
• Samsung Gear S review: can a smartwatch with a phone built-in replace a smartphone?