Music streaming service Spotify has upped its public numbers, announcing that it now has 75 million active users, with 20 million of them paying for its premium subscription tier.
That's a rise from the previous figures – 60 million active users and 15 million subscribers – announced by the company in January. The announcement's timing is no coincidence, coming days after Apple unveiled its rival Apple Music service.
"What a difference a year makes! At the end of May 2014, we reached 10 million paying subscribers and 40 million active users. Today, we have reached more than 20 million subscribers and more than 75 million active users," claimed a post on Spotify's blog.
"10 million subscribers in our first five and a half years – and another 10 million subscribers in just a single year! That's an average of one new subscriber every three seconds over the last year."
The blog post highlighted Spotify's $3bn of royalties paid out to music industry rightsholders, including $300m in the first quarter of 2015, and published some new claims of the payouts that artists of different sizes can expect to earn in a year from the streaming service.
According to Spotify, with 20 million subscribers, a "niche/indie artist" could expect to generate $1.2m a year in Spotify payouts, while a "heritage artist" would generate $2.6m. It also claimed that an artist in the company's top 100 chart could get $3.3m, while a "global superstar" could generate $13.9m.
These claims will be picked over in the coming days especially the "niche/indie" figure, with a number of independent artists having publicly complained about much smaller payouts from their streams on Spotify and other services.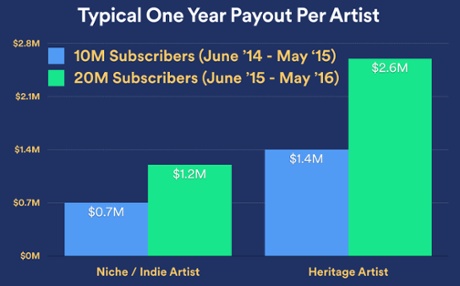 Note, these figures refer to the royalties paid to labels and music publishers, rather than the final sums actually paid to musicians and songwriters – how the former compares to the latter is a can of worms that is being enthusiastically opened and shaken out in public within the music industry in 2015.
Spotify's announcement reveals that it has increased its conversion rate from free to paid. In January, 25% of its users were paying for the service, but that percentage now stands at 26.7%.
The company has faced growing scrutiny of its "freemium" model, with musicians like Taylor Swift unhappy that they cannot withhold music from Spotify's free tier, and some labels agitating for Spotify to do more to convert free users into paying subscribers, in order to increase its royalty payouts.
"If we build the revenue model around 'freemium', the music industry will be much larger than it's ever been before, more artists will be able to make a living by being artists and more people will listen in turn," Spotify's chief executive, Daniel Ek, told the Guardian in a recent interview.
Spotify's announcement also came as the company raised $526m in new funding, which valued it at $8.5bn. The investors included telco TeliaSonera and Goldman Sachs, among others.
Other new investors in Spotify include UK asset managers Baillie Gifford, Landsdowne Partners and Rinkelberg Capital; Canadian hedge funds Senvest Capital and Discovery Capital Management, according to the Journal.
TeliaSonera chief executive Johan Dennelind said the investment was part of a strategy to solve what he called "the industry puzzle" – seeking new ways to grow as the core business of telecom operators slows.
Like many European rivals, TeliaSonera has found it difficult to increase revenues in the face of fierce competition. Dennelind said Telia could decide to take further steps with companies operating in what he called the border area between the telecom, media and internet industries.
Spotify is under pressure from the Apple Music service announced on Monday, as well as rivals such as Pandora, Deezer and Tidal.

The Swedish company does not disclose details about its ownership but co-founders Daniel Ek and Martin Lorentzon have sold stakes in the business and no longer own a majority.