The chief executive of Spotify, Daniel Ek, has predicted that the free online music service will help the industry grow to as much as 10 times its current size, in a future where old distinctions between providers break down.
Having paid out $3bn to music rights holders so far, Spotify is pitching itself as a competitor to traditional broadcasting, having recently added news, weather, podcasts and videos to its service. "The old-world paradigms we used to have are no longer true. When I think about music in the future, I don't make a distinction between what's radio, what used to be the music library, and so on," Ek told the Observer in a rare interview. "It's only going to be listening – and, as that goes forward, this old notion of these different industries or different competitors will collapse and merge together."
Spotify is stepping up its efforts to appeal to mainstream radio listeners by emphasising its collection of playlists "programmed" by an in-house editorial team and suggested to users based on the time of day, popular activities and their listening habits. "We're getting better and better at giving upcoming artists exposure on the service and creating tools to give those new artists a way to market themselves. In the future, people will listen to more music from a bigger variety of artists," said Ek. "And if we build the revenue model around 'freemium' [a business model that gives basic products away for free], the music industry will be much larger than it's ever been before, more artists will be able to make a living by being artists and more people will listen in turn."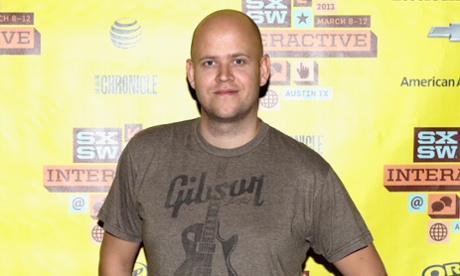 Spotify will have to win over its doubters first, including convincing them that it can turn more of its 45 million free users into paying subscribers – it has 15 million of the latter – and thus increase the money earned by artists and songwriters, via its payouts to the labels and publishers that represent them.
Some artists, most famously Taylor Swift, have been criticising Spotify's "freemium" approach, which allows people to listen for free to its basic, advertising-supported service.
The boss of the world's largest music label, Universal Music, called free streaming "not something that is particularly sustainable in the long term". With industry rumours of Apple egging major labels on to restrict Spotify's free service, Spotify is feeling the heat. "It's no secret there's been a lot of debate," said Ek. "In any industry which is in a massive transition, those kinds of debates occur, so I don't think it's surprising. And suppliers always want to get paid more, which is also not very surprising."
Ek added that Spotify is "aligned with the industry" on its desire for more subscribers, but returned to the idea of Spotify as the new radio – traditionally a free, ad-supported medium – to stand his ground. "The entire recorded music industry has somewhere between $14bn and $15bn in trade-sales value. Now look at the radio industry, which in the US alone is around $16bn in revenue and globally is about $80bn – four times the size of the music industry," said Ek. "If we're able to transition the traditional radio behaviour online, you're looking at a music industry that's much larger than it's ever been. If you do that, and also add subscription to the mix, especially at Spotify's conversion rate, you'd be looking at a music industry that would be $100bn to $160bn in size. That's the key argument that I think gets lost here."
Spotify is far from the only company pursuing this aim. Deezer, Rhapsody, Tidal, SoundCloud and other streaming services are jockeying for attention, although it is technology giants Apple and Google that are more likely to be Spotify's nemeses. On Monday, Apple is expected to unveil its new rival to Spotify, with hundreds of millions of iPhone and iPad users to market to, and deep pockets to secure exclusive music from popular musicians.
Google has one service already live under its Google Play brand, and another in testing.
Ek claimed that Spotify's music focus will be its trump card. "We don't really do anything else other than selling music, so we're the most aligned with the music industry," he said. "We don't have the search box that we're making money from, or the hardware that we're making money from."
The downside to this is resources: Spotify reported revenues of €1bn in 2014, compared with Apple's $199.7bn and Google's $66bn. The costs of running a streaming music service – Spotify reported a loss of €165m in 2014 – are a drop in the ocean for hardware and search-engine businesses.
"Yes, obviously it's easier if they want to absorb the costs into other places. But we believe in the business model of Spotify, and believe that ultimately we'll become profitable at some point," said Ek.
"If we think there's 10x potential yet to be unlocked, why wouldn't we invest in that growth rather than optimise for short-term profitability? We think this is a huge opportunity."