Samsung's Galaxy Note 4 is all the phablet anyone could ever need, and while it might be a stretch to operate with one hand, it does promise to be a device to do everything you could ever need - at least on a mobile device.

After stretching the screen from 5.3in in its first Galaxy Note phablet, then up to 5.5in and then 5.7in, Samsung decided to stick with the 5.7in size and instead concentrated on build quality and software for the fourth and latest Note, hoping, as ever, to keep up with competition from LG and Apple.
You'll still need at least two hands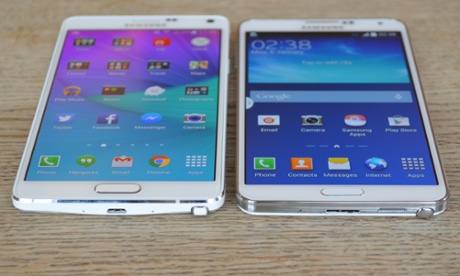 Side-by-side it's a game of spot the difference between the Note 3 and the Note 4. The biggest change is that, like the Galaxy Alpha, the Note 4 has Samsung's new metal frame, which swaps the cheaper looking plastic for hard metallic edges.
The back is the same plastic, fake leather as the Note 3 which still feels cheap, especially compared to the cat-ear-like back of the the Alpha.
It feels solid and the best made of Samsung's smartphones to date - a big improvement over the Note 3 and the Galaxy S5.
The big screen makes the phone difficult to hold and use in one hand; the plastic, fake leather back and hard edges provide a reassuring grip, but even with Samsung's one-handed mode it isn't a satisfying experience. It isn't impossible and can be done in a pinch on the tube, train or bus.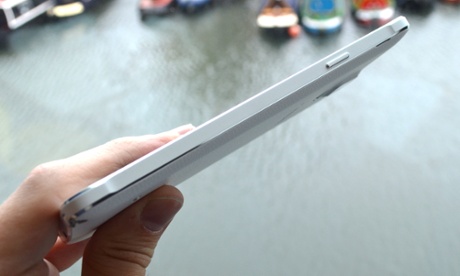 The quad-HD screen is crisp, bright and has wide viewing angles, which makes viewing videos, photos and browsing websites a more satisfying experience than on a smaller 5in smartphone, much more akin to a tablet.
The very high pixel density on the large screen of 515 pixel per inch allows smaller text to be read, but may require a magnifying glass to see it. For comparison, the 5.5in Apple iPhone 6 Plus has a 401ppi and the Note 3 has 386ppi – the difference is visible on the tiny scale, but the merits of such a high resolution are debatable. The stylus, which slides out from the bottom of the phone, makes manipulating text on a tiny scale possible, but whether people are likely to want to do that is unknown.
The Note 4 is 8.5mm thick and weighs 176g, which is 4g heavier and 1.4mm thicker than the iPhone 6 Plus and 27g heavier but 0.4mm thinner than LG's 5.5in G3, neither of which have a stylus. It is also 8g heavier and 0.2mm thicker than the Note 3.
Specifications
Screen: 5.7in quad HD Super AMOLED

Processor: 2.7 GHz quad-core Qualcomm Snapdragon 805

RAM: 3GB of RAM

Storage: 32GB plus microSD slot supporting up to 128GB cards

Operating system: Android 4.4.4 with Samsung TouchWiz

Camera: 16-megapixel rear camera, 3.7-megapixel front-facing camera

Connectivity: LTE, Wi-Fi, NFC, Bluetooth 4.0 with BLE, IR and GPS

Dimensions: 153.5 x 78.6 x 8.5mm

Weight: 176g

Powerful but lasts two days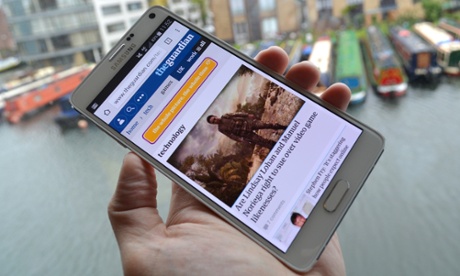 The Note 4 has the most powerful Qualcomm processor to date with a top-of-the-line 2.7GHz Snapdragon 805 with 3GB of RAM. That makes the phablet fly, with no lag even with two different program side-by-side on-screen and many more running in the background.
The phablet will be able to handle pretty much anything. Most of that power goes to waste most of the time, but the new processor is also very power efficient. It lasts a solid two days on a charge even with heavy use, including push email all day, hundreds of notifications and three hours of browsing, 30 minutes of gaming and an hour of music streaming over Bluetooth.
When the battery does run out, the Note 4 charges fast using the USB power adapter that came with it, charging around 50% of the battery in 30 minutes, as long as it isn't completely flat to start with.
Software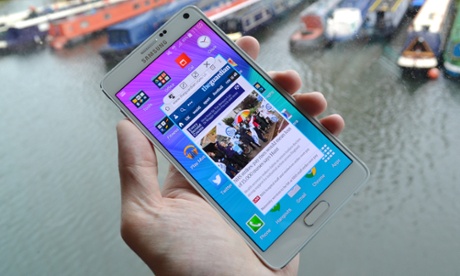 The Note 4 has Samsung's version of Android called TouchWiz, which includes a raft of small tweaks and changes.
Compared to the Note 3, Samsung has pared back on the confusing clutter. Gone are the useless gestures and power-sapping gimmicks, instead replaced by some useful features that are off by default but can be turned on when needed.
The option to increase the screen sensitivity to allow use through gloves is handy for the winter, while direct call that answers the phone when lifted to the ear is intuitive.
The biggest additions are around multitasking, allowing two apps to be used on-screen at one time. Multi-window only supported about half the apps I had installed including Chrome, Evernote and Gmail, but Twitter, Google Docs and Dropbox were notable exceptions.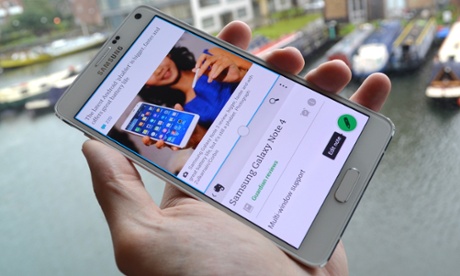 Other windows can be windowed by dragging down from the top left-hand corner, which I managed to do several times by accident while trying to pull down the notification shade.
Stylus: useful for some, ignorable for most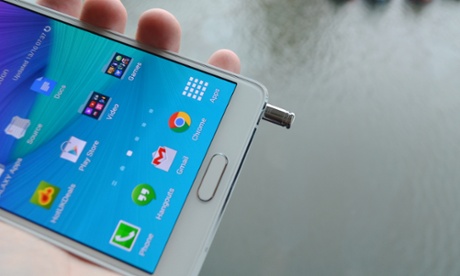 The Note 4 has Samsung's 'S Pen' stylus, which slips discretely into the bottom of the phone. Most will likely use it a couple of times and then safely leave it in the slot, but scribbling on notes could be useful for some.
Selecting text, managing multiple windows and interacting with spreadsheets is also considerably easier using the stylus like a mouse pointer.
Camera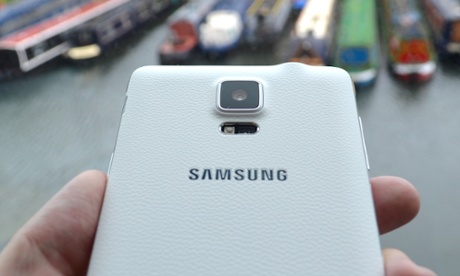 The Note 4 has a similar camera to the Galaxy S5 with added optical image stabilisation, which removes hand shake from photos and helps prevent blur in low-light conditions. Video is also made a lot smoother.
Images are generally sharp, with good detail and exposure. Low-light performance is also good, while Samsung's camera app does a good job of balancing ease of use and manual adjustments.
Of note is the rear camera selfie mode, which locks onto the user's face and vibrates until it captures a selfie. The heart rate sensor positioned just below the camera on the back can be used as a shutter button for front-facing camera selfies, while the new wide selfie mode is a cross between a panorama and a selfie, making sure everyone can fit in the picture.
Fingerprint scanner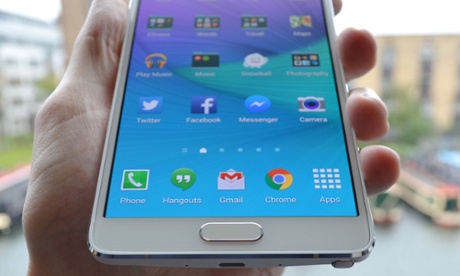 The fingerprint scanner on the Note 4 lets users unlock the phone and log into various websites, services and apps using a swipe of the finger. It is accurate 95% of the time and is generally faster than taping in passcodes and passwords, using one of three fingers or two thumbs.
Heart rate sensor
A heart rate sensor on the back of the phone allows users to record their fitness using Samsung's S Health app, along with steps and other activity-based fitness measurement. It works as advertised, but is more novelty than useful feature – heart rate monitors will only be useful when they are continually monitoring a user's heart rate to see real changes, rather than ad hoc measurements.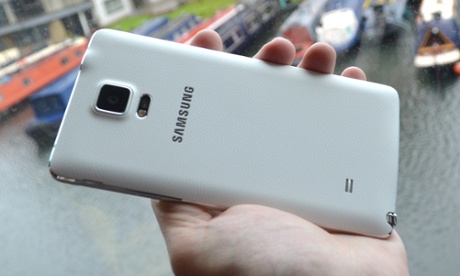 Price
The Note 4 costs £629 in black, bronze, pink or white, which is £10 more than the iPhone 6 Plus and £249 more than the LG G3, which costs £380.
Verdict
The Note 4 is the best phablet Samsung has made yet. As very large phones go is it one of the most usable, most powerful and the stylus really can be useful in some circumstances.
One-handed use is difficult, but that is the compromise of having a screen larger than 5.5in or 5.7in this case. LG's G3 is still easier to use one handed, but has a smaller screen.

Whether people should buy a phablet is another issue, but the Note 4 is the king of the Android phablet heap lasting two days on a charge and arguably the best developed phablet available at the moment.
Pros: large, sharp, colourful and bright screen, very solid build, great camera, great battery life, good fingerprint scanner, neat stylus

Cons: too big for comfortable one-handed use, heavier than the competition, expensive, TouchWiz will annoy some
Other reviews
• Samsung Galaxy S5 review: bigger, faster – but still plastic
• Samsung Galaxy Alpha review: a direct iPhone 6 competitor
• HTC One M8 review: a lightning-quick, five-star phone
• LG G3 review: the most usable phablet to date
• Google Nexus 5 review: a flagship smartphone that costs the same as a mid-range device

• Sony Xperia Z3 review: great battery life and quality camera
• Apple iPhone 6 Plus: it's a very big phone and it feels great - review
• iPhone 6 review: thinner, faster and slightly cheaper